Flavio Coppola
Flavio Coppola, painter, muralist and street artist, lives and works in Florence, Italy. Born in Venezuela in 1962, he  qualified in Artistic Liceum  in 1980 and received a Diploma in Advanced Studies in painting at the Fine Art Academy of Rome in 1984. He worked as a restorer of frescos, stucchi and wall decorations, in various churches in the Liguria region and for private clients.  He has participated at numerous art-shows, performances and installations, both group and individually, in the Florence and Romans scene. Active as a street-artist since early 1990, he introduced a new spirit to the well known 'Madonnaro' discipline in Florence and many locations in Italy and Europe and all over the south of Italy and was invited to participate at the following street-art festivals: Mercantia  Certaldo nelle edizioni  from 1998 to 2005; Antica Fiera delle Grazie nelle edizioni from 1990 to 2001 e from 2009 to 2014, Linzer Pflasterspektakel  (Austria) in 2007, The Colours of Valkenburg (Olanda) in 2008 and the Sarasota Chalk Festival (US) in 2011.
Francesca Arsi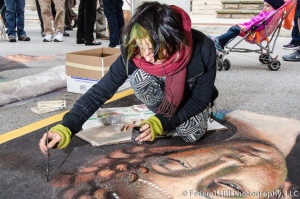 Francesca Arsì, painter, musician, street artist, lives and works in Assisi, Italy. Born in Genova in 1984, she is qualified in restoration and wall-painting in 2005. She worked as restorer of frescos, stucchi and wall decorations,  in various churches in the Liguria region and for private clients. She has a Batchelor's degree in painting at the Academy of Genova in 2009 and graduated in superior studies in painting at the Academy of Torino in 2012.  She has participated at numerous art-shows, both group and single in the genovese and torinese scene. Her work selected for Athens Art 2010 and she has had shows in the gallery Marena Project, Torino and at "The Others" (Torino 2013).  Francesca performs musical decomposition along with Hairi Vogel. (2013 -) Active as a street-artist since early 2014, she introduced a new spirit to the well known 'Madonnara' discipline in Florence, Assisi, Siena and all over the south of Italy and was invited to participate at street-art festivals in Toulon, Almere and Scheveningen. At the yearly 'Antichissima Fiera delle Grazie' in Curtatone , Italy, (the world's biggest reunion of traditional 'Madonnari') her work was awarded by the Rotary Club.
Michael Kirby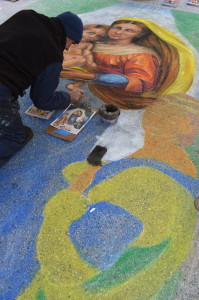 Michael Kirby is considered to be one if not the top street painter in the world. Mr. Kirby has been creating and developing the art form for over 15 years. He has competed and won the majority of the street painting festivals in the world including festivals in Italy, Germany, Holland, USA and others.  The majority of the work created by Mr. Kirby for the streets and pavements of the world uses one point forced perspective. This technique is more commonly called 3D art. Mr. Kirby and his studio, Murals of Baltimore, are leaders in this new development in the art form. He is able to create work that seems to lye below ground or set like a pop up book. The themes are generally conceived by the client and the studio. Michael Kirby enjoys creating work that deals with social and local issues. His goal is to use the visual arts to help solve these issues. Street painting is a unique way to be able to achieve these goals due to the "in your face" aspect of the art form. The streets are a daily necessity of people and a street painting utilizes this space to show its ideas.
Tomoteru "ToMo" Saito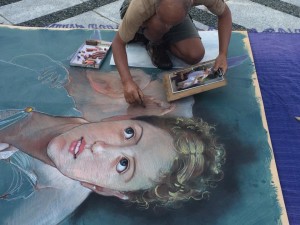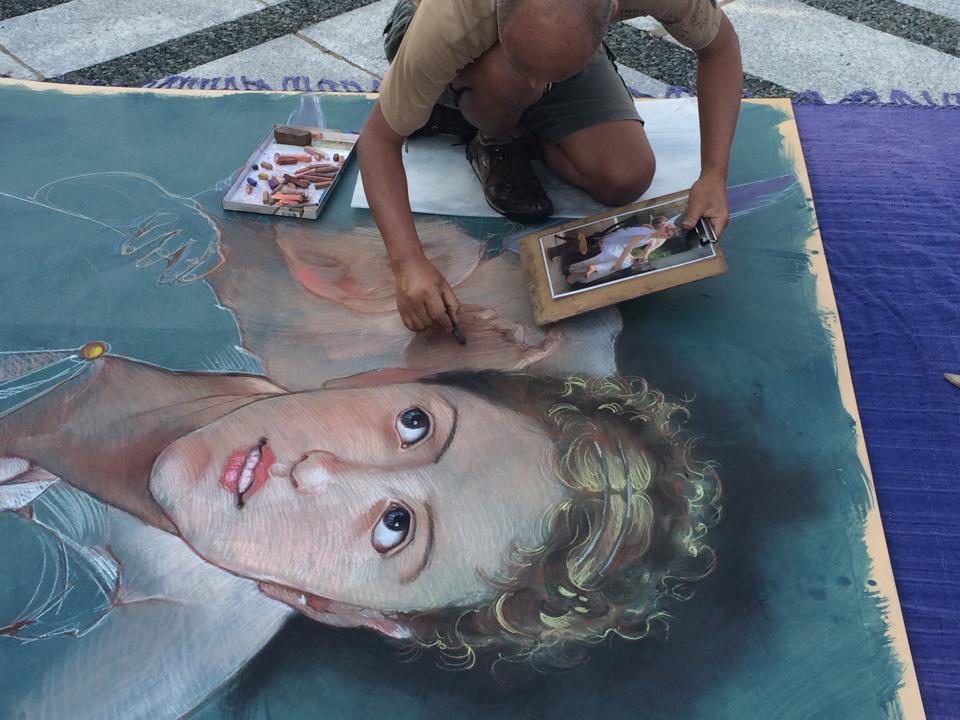 Tomoteru "Tomo" Saito was born and raised in Osaka, Japan and now lives and works in Florence, Italy. He studied at the Designer's School in Osaka and worked as an architect in Tokyo before moving to Italy where he is now a "Madonnaro," or street painter. Besides classical 2-D street painting, he also creates anamorphic 3-D street painting. He holds some of the most prestigious awards in street painting, most notably from the Grazie di Curtatone Madonnari Competition in Mantova, Italy, where he was awarded 1st place among "Maestri Madonnari" in 2000 and 2001. He participates in street painting festivals throughout Europe, the U.S., Mexico, Hong Kong, Dubai and more.
Vera Bugatti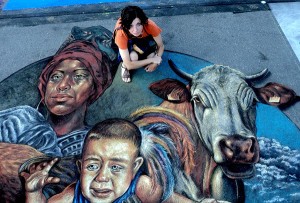 Vera Bugatti (1979) is an Italian Artist and Street painter.
She got a Liberal-Arts degree and she researched on XVI century editions so in everyday life she is a Librarian too.
She took part in various exhibitions and she performed in several Street Art events all over the world winning awards in Italy, The Netherlands, France, Germany, Ireland, Croatia, Austria, Malta, Sweden, Denmark, Bosnia & Herzegovina, Russia, Latvia, Portogallo, USA and Mexico. Her chalk work is also featured in the books: 'Sidewalk Canvas' by Julie Kirk Purcell – London 2011; 'Street Art' by Russ Thorne' – London 2014 and The Art of Chalk by Tracy Lee Stum – USA 2016.
Vera was one of the 13 international artists chosen to collaborate with master Kurt Wenner at Sarasota Chalk Festival (USA 2012) to create a large 3D masterpiece.
Since she considers street-painting as a part of her artistic path she tried to find every time new subjects and more different suggestions to have a dialogue with, working with several techniques, ranging from chalk and paints to wire, electric elements and nails.
 Check out Vera's work at www.verabugatti.it/
Jennifer Chaparro and Mercedes Chaparro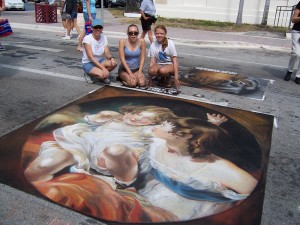 Jennifer Chaparro is an internationally recognized award-winning street painter/madonnara from South Florida.  She grew up in San Diego and has a degree in Design from UCLA. Her daughter, Mercedes Chaparro, has a degree in Architecture from Carnegie Mellon University in Pittsburgh and now lives and works in the Washington DC area.  Jennifer began street painting in 2004 as something fun to do with her daughter, but then turned it into a business and now travels the world creating custom works of art for festivals and special events.  Jennifer received her Maestro Certification in 2011, and is known for her exquisite portraiture, but also for exciting 3D anamorphic street art that boggles the mind. You can see more of her work on her website at www.AmazingStreetPainting.com.
Carlos Alberto GH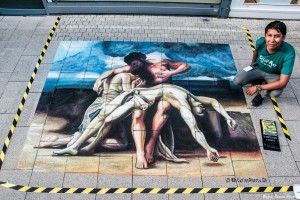 Carlos Alberto GH is an artist  from Guadalajara, Mexico who was introduced to street art by his sister, Adry del Rocío, with whom he frequently collaborates. They have participated in international street painting and mural expositions all over the world including in the United States, Cuba, Sweden, Spain, the Netherlands, Germany, Russia and at home in Mexico. Carlos is a former archaeological restorer on the Mayan peninsula.
Andrea Starinieri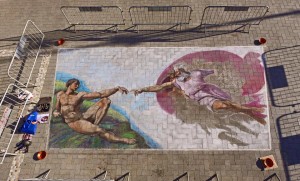 Andrea Starinieri was born in 1977 in Pescara, Italy. He graduated art school in his hometown before moving to Florence, Italy, to attend the Fine Art Academy. After receiving his degree in 2002, Andrea went on working in a number of art galleries in Florence and Granada, Spain. He actually lives in Pescara with his wife Lara and their two kids. He works as a "Madonnaro" (pavement artist) mostly along Via del Corso in Rome.
Katie Better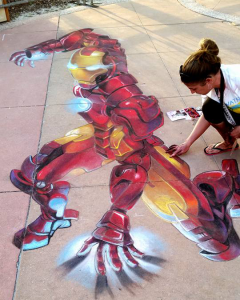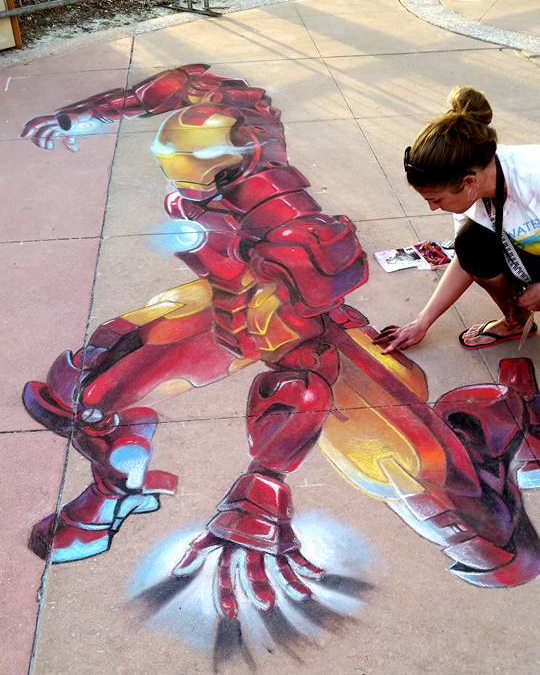 Katie is a native of Maryland and has been chalking since 2012. She is inspired by animation, wildlife, art history and public art. Her first community arts project was "Traum Baum" an interactive sculpture collaboration exhibited at the BMA in Baltimore. She's been working in video games for 5 years and currently lives in New York as a senior motion capture animator for Rockstar Games. She lives by "Take chances, make mistakes, and GET MESSY!"
Check out Katie's work at www.katiebetter.com
Anthony Cappetto and Wendy Stum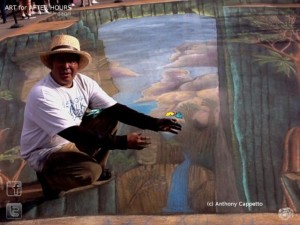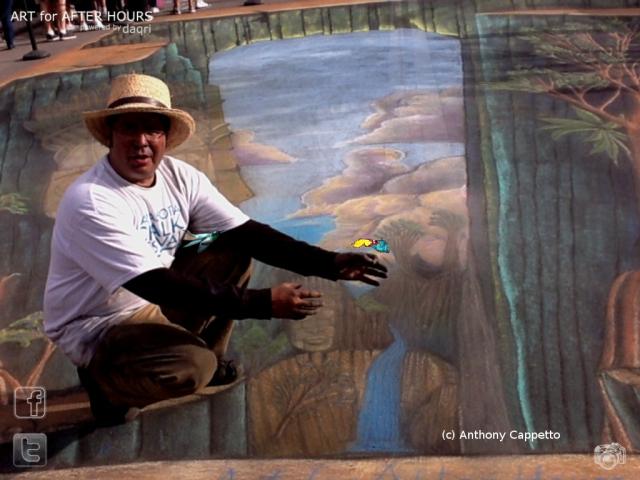 An internationally recognized 3D street painting artist working in chalk and paint who shares his art form throughout the USA and internationally including India, UAE, Japan, Uruguay, Germany, Mexico, and Italy. Anthony Cappetto over the years has been a guest of the US State Department in South America, lecturing, mentoring University students in Montevideo, Uruguay, South Carolina, and Georgia.  An early adopter/pioneer in the use of 4D emerging technologies since 2007 such as augmented and virtual reality (see animated computer model butterflies in Cappetto's hands – picture) as an integrated part of his 3D anamorphic illusions having done public 3D/4D installations in Sarasota, Florida, Mumbai, India, and other locations internationally.  Cappetto was recently invited and participated as part of a select group of world class 3D street painters for the Dubai Canvas Festival earlier in 2015.  Team member of two Sistine Chapel re-creations in California and Mexico.  It is very important to me as a 3D street painter to design and create 3D interactive art where the public can pose and be in (and sometimes within) the art when the sizes allow.  I look forward to sharing my 3D art with everyone at the Festival.   anthonycappetto.com
Wendy Stum attended her first street panting festival in the late 1990's and started photographing, then video interviewing the artists at work as a way to share the art form with the public. Documenting these festivals eventually led to Blog Now, a street painting themed online journal which covers and promotes festivals and artists worldwide in addition to street painting TV, an online video channel.
John Gingrich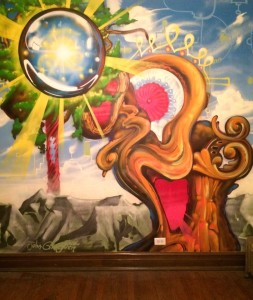 John Gingrich is a Chicago born artist who creates art based off the practice of meditation. John was a part of the first graduating class of the Chicago High School for the Arts, Chicago's first public arts high school. He is currently a senior painting major at MICA, with a concentration in Sustainability. John has done several murals throughout Baltimore and Chicago. In the fall of 2015, John was the winner of the Emerging Technology Center's 'Ride the Wave' competition, a mural design and painting competition open to all MICA students. He shows in group exhibitions in Chicago regularly with fellow graduates from the Chicago High School for the Arts. In the Spring of 2016, John studied abroad for the semester in Florence, Italy, immersing himself in the murals of the Renaissance. John's murals and paintings can be seen at behance.net/johngingrich
Barbara Epstein Gruber
A native of Baltimore, Barbara Epstein Gruber attended Catonsville Community College, received a BFA in painting from the Maryland Institute College of Art, studied in the graduate fine arts program at the University of Pennsylvania and earned her MFA from Brooklyn College. Her work can be found in private and corporate collections throughout the US, Europe and the UK and has been featured in numerous local and national publications. Ms. Gruber's work has won Best in Show and Honorable Mention at national and regional levels by such esteemed jurors as Klauss Kertess of the Whitney Museum, Bernard Chaet, Samuel Hoi, George Gurney of the Smithsonian and Doreen Bolger of the BMA. She is currently an instructor at the Maryland Institute College of Art, The Johns Hopkins University and The Yellow Barn. Most recently, she was a finalist for the William and Trafford Klots residency in Brittany, France.  Ms. Gruber's work has appeared in the New York Times Art Review, New American Paintings, The Baltimore Urbanite, and the covers of the Bluefield Daily Telegraph, The Huntington Arts Review and the Baltimore Messenger and been featured in videos for The Loudoun Times Mirror. Her work can be seen in private and corporate collections throughout the United States, Washington, D.C., Europe and the UK and she is represented in galleries in Maryland, New York, Massachusetts, California and Virginia. Ms. Gruber has been a guest juror for noted arts organizations and is frequently invited to participate in arts fundraisers. Barbara Gruber is currently an instructor at the Maryland Institute College of Art, and the Johns Hopkins University, The Yellow Barn and The Griffin Art Center. She has taught at Anne Arundel Community College, Stevenson University and Howard Community College.
Peter Smith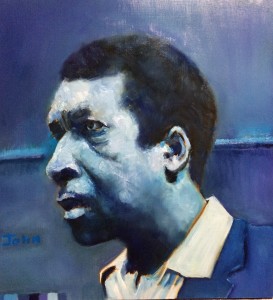 Peter Smith is a Baltimore-based artist plumbing the depths of color relationships and the unexpected moments discovered while capturing the human figure. He entwines musicality within his own gesture, often depicting the musicians who boldly challenged academic instrumentation to establish a new American avant-garde: Jazz. Smith studied with the prominent contemporary painter Mary Beth McKenzie at the Art Students League of New York, as well as various master artists in Baltimore. His work is in numerous private collections in Baltimore, MD.
Will Shanklin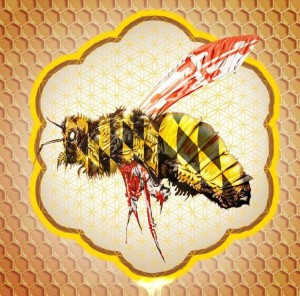 His quiet presence evokes feelings of peace, as he diligently leans over his collection of pens feverishly moving his hand in a rapid movement he says lend to fractal patterns. A graduate of local creative high school, Carver Center for Arts and Technology , Will Shanklin has let his gifted talents and intuition be his guide through his years following high school. From traveling throughout France to starting his own company Shanklin Media, to currently running a Baltimore collective called LED Baltimore where artists have an opportunity to showcase their work to a very large audience; the unassuming passerby. Will has spent years cultivating his craft and style; a psychedelic sci-fi story he likes to call 3:33 that comes to him while he is in a trance-like state fully receptive to the work transpiring before him. Will also finds pleasure from not only creating his own work but also by encouraging others to create theirs as well. Will can be found live painting at a variety of music events, on the bodies of Baltimore residents as articles of clothing, various galleries, and of course, the 52' x 42' mammoth LED screen. www.Ledbaltimore.com
Erik Greenawalt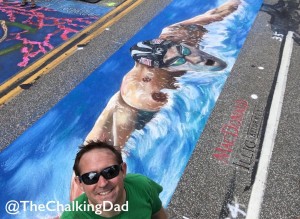 By day, Erik Greenawalt is a CPA (the boring debits and credits type) working in corporate finance for a large Pittsburgh-based grocery chain. But on weekends, he puts on his other CPA hat – Chalk Professional Artist — and adds life to driveways, streets and sidewalks from New York to Florida. Erik's interest in chalk art began about a decade ago when doodling in the driveway with his then-toddlers, Jaycie and Jenna. Crude stick figures began morphing into more-sophisticated Disney princesses and, last year, 3D renderings of Olaf and Emmet the Lego Man. He became known in the neighborhood as "The Chalking Dad" – and the name has stuck. He still takes most of his drawing orders from his daughters (who sometimes chalk alongside him at festivals), which results in fun, colorful pieces — and not just cartoons anymore. You can follow his work at instagram.com/TheChalkingDad.
Pablo Machioli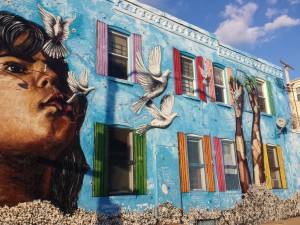 I am from Uruguay, born December 30th, 1976. I immigrated to the United States in 2003 and started making art in 2012. I am a self-taught artist. Art for me is an opportunity to create my own language to express myself: to learn about everything, connect, communicate, and give back to the world. At this point, I don't make art in one style or about one topic, I am learning and exploring, having fun being wild, passionate, real, unreal, and sensitive. My desire is to absorb as much as I can and materialize my vision of the world to share with the people who make me who I am.
Jean E. Razulis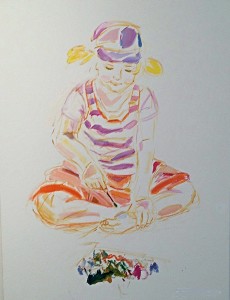 Ms. Jean E. Razulis is an artist currently using acrylic paint on stretched canvas to create large, bold, colorful figurative works of art.  An underlying theme of her work is the energy of life. As a child, Jean studied oil painting and pastels at the Randallstown Fine Arts Academy.  On a full Seagram's Scholarship, Ms. Razulis earned a Bachelor of Arts in Studio Arts at the University of Maryland.  She later attained an MFA from the Mt Royal School at MICA.  Ms. Razulis has displayed her work at local, regional and national venues, including the Palm Springs Desert Museum where she won the Chavant Award.  She has created commissioned pieces for businesses and groups, including Crabtown Project crab  sculptures for the University of Baltimore and Loyola University.
Heejun Ahn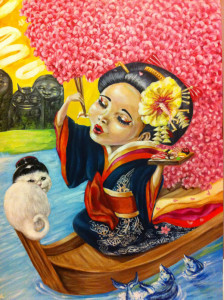 I have been studying at Maryland Institute College of Art since 2013. Influenced by daily human interactions, nature, emotions, voices and flow of energy in the world. I was born in Korea and moved to Canada where I was able to fully commit myself to visual arts. Still experimenting with various styles, mediums and topics.
Chioma Anah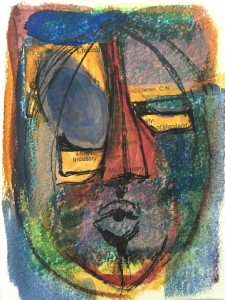 Dr. Chioma Anah is a visual artist, art therapist and licensed counselor residing in Baltimore, Maryland. She is an activist artist, whose underlying themes of her work includes; the psychology and legacy of racism, and the consequences of racial microaggressions. Chioma sees art and creativity as powerful catalysts for clarity and healing, and in viewing her artwork, she wants her audiences to increase their awareness of racism in America, and confront long histories of stereotypes and cultural biases- leading to more dialogue about race. Her current research interests mirrors her artistic themes. Chioma typically works with mixed media- using acrylics with pen and ink and/or charcoal, watercolors and collage. She has exhibited both nationally and internationally, and some of her works are in private collections. Chioma is the owner of C. N. Anah Designs, and the Founder of PerceptA Therapeutic and Training Center, LLC. Chioma received her Bachelor's Degree in Fine Arts from St. Mary's College, Maryland, and her Master's Degree in Art Therapy from Hofstra University, New York. She is also an alumna of the Johns Hopkins University in Baltimore, Maryland.
J. Carlton French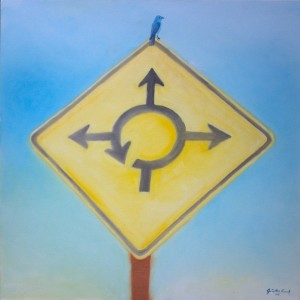 A Cooper School of Art graduate, J. Carlton French works in various sculpture and painting media. His most notable sculpture is Moon Glory, a 65 Ib. bronze of Astronaut Buzz Aldrin, cast from life, publicly unveiled with Aldrin at The Newseum in Washington, D.C. in 1999. French is currently Artist-in-Residence at Sanctuary, an artist retreat in the Maryland countryside.
Bartosz Tararuj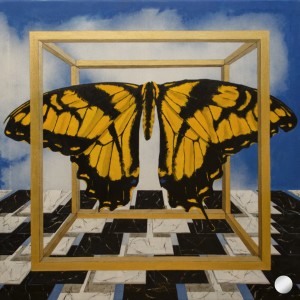 Bartosz Tararuj is a self-taught painter living in Baltimore. His current style of painting is influenced by the hallucinogenic impressions that memories leave behind. The work is a combination of experiences emphasizing the attributes of the subject which contribute to the strongest memories of the artist's experience with them.
"I am especially interested in showing how all in the universe is but one thing and am trying to prove this by seeking the most unlikely connections between the concrete and abstract." – Bartosz
Joshua S. Hawkins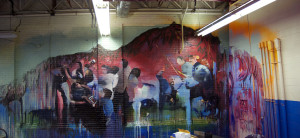 Joshua S. Hawkins is a visual artist residing in Shepherdstown, WV. Born and raised in West Virginia he frequently spent his childhood on his own or with his sister building forts, exploring the woods, creating games and stories. He is a graduate of Shepherd University and currently works as a freelance artist.
Robert Hoffman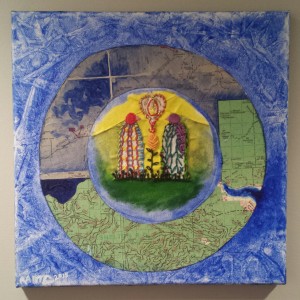 As an artist I work with ornithological icons and motifs, to me birds are the most fascinating creatures in the animal kingdom. As a child I would wander the woods that my Grandparents owned and survey the birds and wonder what they would be like if I created a world that they would live in. When I started college I developed bird creatures that were influenced by gods of ancient history and folklore, starting with imagery similar to the Alkonost of Russian folklore then ones that were similar to the Egyptian god Ra and the Hindu god Garuda. As I continued to develop my ornithological imagery I moved away from the iconographic ideas of bird gods and began simplifying my ideas and came to my present bird imagery.
Tanya Ziniewicz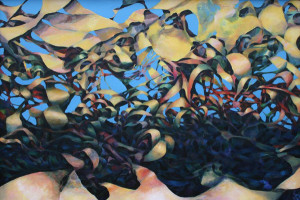 Tanya Ziniewicz investigates subtleties of human interaction, imagination, and transience through a network of organic linear forms that are continually emerging, growing, reaching, and intertwining.  Her images build and traverse paths between observation and invention, logic and emotion, similar to a mind filled with thoughts that sprout and extend, curl and unfurl, tangled like a mass of unwound string or a clustered mound of roots. The forms are invented, stemming from things such as rhizomes, ribbons, neurons, or strands of muscle tissue.  Tanya earned a BFA in Drawing from Cleveland Institute of Art in 2003 and an MFA in Printmaking from Rhode Island School of Design in 2006. She currently resides in Baltimore, MD and has been teaching at Towson University since 2008.
Daniel Heifetz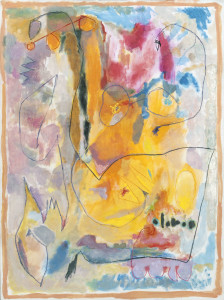 Daniel Heifetz has studied art over the years at the California College of the Arts (1960's), the University of California, Berkeley (1970's), and the Art Students League, NYC (also 1970's). His interests are in figurative works and the abstract, two extremes, one essentially grounded in reality, the other in its absence.  He had exhibited in numerous shows in Maryland and Pennsylvania, and had works in private collections here and abroad.  Recent works can be viewed at http://www.saatchiart.com/dbheifetz
Chaya Schapiro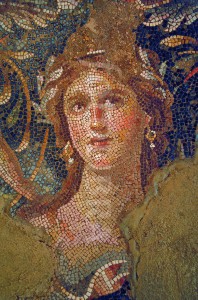 As a painter living in Columbia, MD for 25 years, my art reflects personal journeys and sensibilities. I am interested in exploring art not only as painting for its sake but also as a communication tool to listen to an inner feeling or sensation. The social, historical and cultural context is important to today's individual both in introspection, reflection and how the individual tries to access one's motivation to make choices and responses. As the artist, I have explored and considered my own reactions and choices and how I can relate the abstract thoughts to the body of work. The influences to my work have been varied and considered for a long time. My work in the beginning of my painting journey was a derivative of past painting styles, content and philosophies. The more recent work in the past three years is a description from my lifestyle, personal experiences, philosophy, nature and culture. Our culture's inner voice is often silenced either in our everyday busyness; work environments or general malaise and is ready to be found. The inner voice directs one to make decisions and choices based on ones evolvement as a person. The painting is a way of awakening and provoking the thought in order to listen to our inner voice. I hope to achieve a way to be enlightened, connected and fulfill individuals through the lens of my art.
Marshall Adams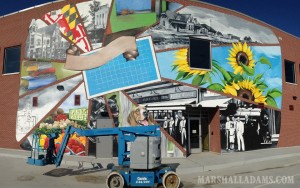 Marshall Adams is a freelance mural artist living in Baltimore, MD. While still earning his Bachelors of Arts degree in 2005, he painted his first commissioned mural for a children's bookstore, which sparked a pursuit of large-scale murals and public art. He has completed over 500 murals as a freelance professional for both residential and commercial clients, and has been selected to complete several state commissioned works of public art. Many of his murals have required the use of scaffolding or lifts, and each year his commissions get larger. Several of his most recent mural commissions in the Baltimore area have been over 100' long.​
TOVEN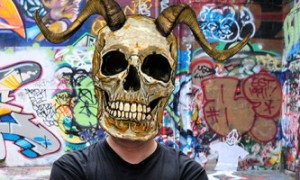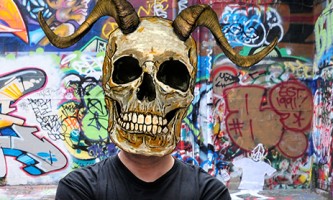 TOVEN is a Baltimore native who began writing graffiti at age 15. He moved to New York City to attend NYU where he discovered the wider world of street art of downtown Manhattan. He has brought the influences of graffiti, street art, and illustration back to Baltimore where he divides his time between art on the streets and street inspired art in galleries.
Paul Mericle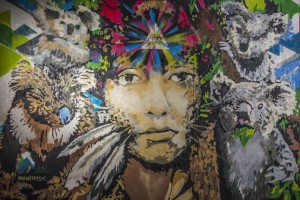 Paul Mericle is a sculptor, painter, and installation artist who lives and works in Baltimore City. His work often builds upon found objects, creating relief sculptures from materials salvaged from construction sites, vacant homes, and other discarded items. As an art teacher for Baltimore City Schools, he created the One Piece Project alongside his students.
Jon J. Steelmns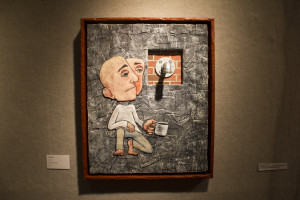 As a young artist growing up on the River De Coulo in the south of the Gembino province of St. George, Jon J. Steelmns developed his chalking skills for many years on his own before being admitted to the Southern Province Chalkers Association. Under the instruction of Master Chalker Carlos Abaya, Steelmns quickly became the star pupil in his weight-class of chalkletes. After graduating with honors and armed with a knack for design and a fearless attitude towards innovation, Steelmns chartered a boat to take his artwork to America. During this journey, his ship suffered a technical malfunction that rendered the steering column useless. Thus a 3 week journey turned into a 7 month horror at sea. Drifting and using the engine only when facing the correct way, the days went by at a painful pace as the crew slowly lost their minds. When the ship ran ashore 3000 miles from its original destination, the 40 man crew had diminished to 17, including our man Steelmns. Using his skills as a chalk artist, he made his way through the United States, stopping in every state before settling in Baltimore, MD. Over the past 10 years he has spent his time working, chalking, arting, and educating the public on the dangers of sea travel.
Maria Mendoza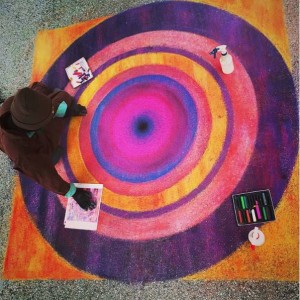 Maria Mendoza was born in Miami, Florida in 1987 and is a multidisciplinary artist based in Baltimore, Maryland. She earned a BFA from the Maryland Institute College of Art. Maria's work combines painting, printmaking, paper-engineering, pattern design and performance art. Her current work, "Transcentricity" takes on the form of multi-layered concentric circles constructed, cut and collaged from her original paintings.  She is influenced by astronomy, ritual, material construction, surface design, and the bold risk-taking and commitment involved in aerial acrobatics. Maria's work has been exhibited in Miami, Baltimore and Washington, D.C.
Daniel Stuelpnagel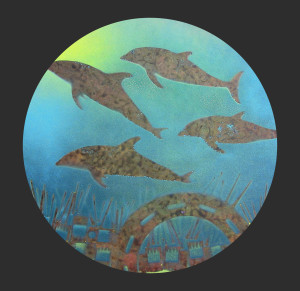 Daniel Stuelpnagel has participated in more than 100 exhibitions from coast to coast, primarily involving geometric abstractions and spectacular portrayals of the Aquasphere.
Christopher Kojzar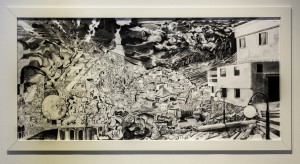 Christopher Kojzar received his B.A. in International Affairs and Economics from George Washington University in 2005 and studies Intermedia and Digital Arts at University of Maryland Baltimore County. In 2013, the Creative Alliance of Baltimore, MD selected Christopher to be one of eight residents for a highly competitive three-year program. He also joined television productions on Bravo, Netflix & HBO to work professionally as a propmaker.
Christopher's multidisciplinary practice encompasses drawing, video installation, publication, functional design, and group performance collaboration.  His visual work is highly representational with raw, sublime, and expressive qualities. He is the recipient of scholarships from the Haystack Mountain School of Crafts in Deer Isle, Maine, the Penland School of Arts and Crafts in Penland, North Carolina, and Common Ground on the Hill in Western Maryland.
He has performed and exhibited in Honolulu, San Francisco, Washington DC, Baltimore, Marseille, France & Buenos Aires, Argentina while his visual art is found nationally and internationally.  After extensive travel, Christopher chose his home base of Baltimore to delve into his studio practice.
.
KC Linn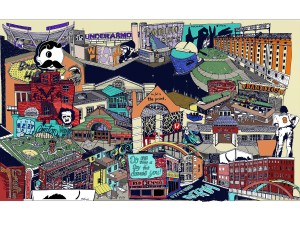 KC Linn is a Baltimore based artist who dabbles in illustration, design and typography as well as traditional art forms such as painting and drawing. Growing up in small town Maryland she has always been attracted to visual stimulation of all shapes, sizes and colors. Her creative adventure began after her 12th birthday when she received a blank skateboard deck and transformed it into the first piece of merchandise for her new business. Mastering skateboard design at age 12 lead to a creative obsession that unknowingly shaped her future.
KC attended Shepherd University where she participated in college athletics and studied painting. In her senior year she joined the Navy where she was a Hospital Corpsman for four years. During this time KC's creative exposure was elevated through world travel and exposure to new experiences. From bootcamp to her last day in the Navy she continuously contributed her skills to multiple projects and was responsible for numerous logo designs, t-shirt, poster and flyer graphics.
KC has exhibited in numerous galleries across the United States as well as abroad including The French Embassy Art Gallery in Saõ Tomé Africa, Walter Reed Wounded Warrior Memorial in Bethesda Maryland, Red Brick Gallery and Phaze 2 Gallery in West Virginia, The Grotto Cafe in Cave Creek Arizona and Spur Gallery in Baltimore, MD. She has done logo design for Stevenson University as well as store graphics for Lululemon. Her illustrative work and paintings depict visual narrations from her past military experience juxtaposed with contemporary culture depicted through parallel realities. She is motivated by daily visions and experiences. Using obscure line work, luminous color palettes, questionable lyric and/or sarcasm, she wants her viewers to feel the same temporary relinquishment from generic life. Her biggest influences are Jessica Hische, Mike Perry, Chipp Kidd and Mr. Bingo. KC currently resides and works in Baltimore Maryland.
Bobby Coleman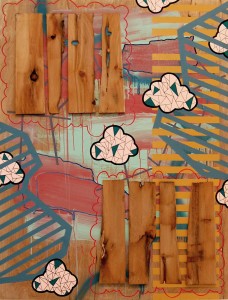 Bobby Coleman is a Baltimore-based painter. His large, abstract paintings deal with themes of graffiti, doodling, building, and mark manipulation. He received his BA in Studio Art from McDaniel College in Westminster, MD and his MFA in Painting and Studio Art from American University in Washington, D.C. His paintings have been exhibited in Maryland, D.C., Virginia, Michigan, California and Ohio.
Sebastian Sears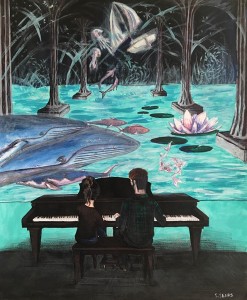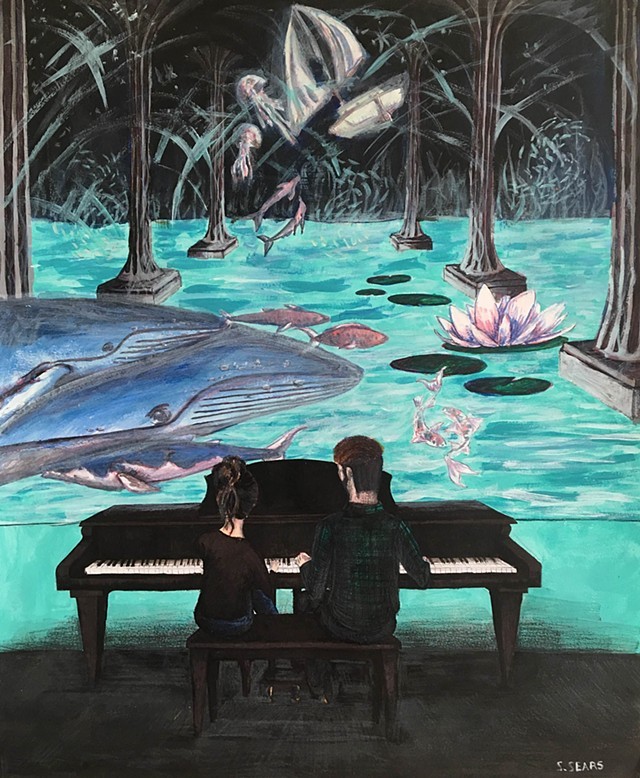 Sebastian Sears is a Baltimore-based artist focusing on themes of disassociation, technological sentience and the unlikeliness of being. In addition to creating several murals, his artwork has also been exhibited at Maryland Art Place, the Creative Alliance and Gallery 788. Sears is also a frequent contributor to local theater productions.
Reed Bmore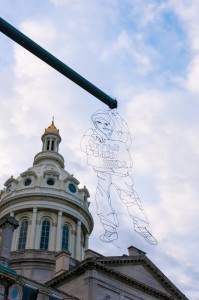 "Oaks may fall while reeds stand the storm" Reed Bmore (°1992, Manila, Philippines) is a street artist who works in the media of wire. By demonstrating the omnipresent lingering of a systematic world, his artwork references childhood expression as well as avant-garde materiality. His artworks question the normal function and conditions of an image in our contemporary visual culture. By exploring the concept of landscape in a nostalgic way he generates diverse meanings. Associations and meanings collide. Space becomes a subjective experience, honed by the viewer. His works demonstrate how life extends beyond its own subjective limits and often tells a story about the effects of social and cultural interaction. Reed Bmore challenges the binaries we continually reconstruct between Self and Other, between our own 'logical' and 'playful' selves. By studying sign processes, signification, and communication, he investigates the dynamics of landscape, the manipulation of its effects and the limits of spectacle based on our own assumptions. Rather than presenting a factual reality, an illusion is fabricated to conjure the realms of our imagination. His works establish a link between the landscape's reality and that imagined by its conceiver. These works focus on concrete questions that determine our existence. Reed Bmore currently lives and works in the city of Baltimore, Maryland.
El Cholso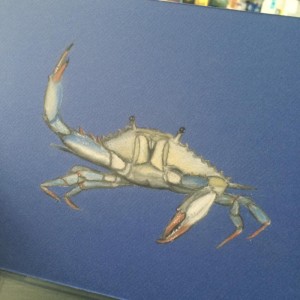 El Cholso–
Was born into the city,
Made his home with a kitty,
Likes to make art a little bitty,
Combs his hair til it's pretty.
Ali Seradge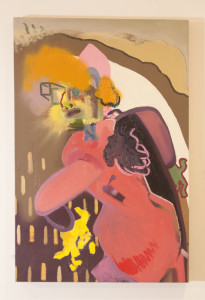 "There are no good guys." – Ali's Mom
Ali Seradge paints and paints. He grew up watching Transformers and the Iran-Iraq war. He still watches idealizations of war and correspondence of actual war. He watches and watches and reads and reads. Patterns emerge as he watches, reads, and listens. He looks for stories old and new where heroes are not often heroic, villains show humanity, and gods punish people for being human.
He attempts to repackage these myths for a modern era when nations are becoming porous, races mixed, and a tipping point for contemporary humanity is fast approaching.
Valerie A. Smith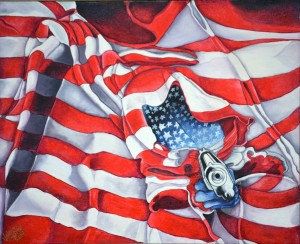 I, Valerie A. Smith, live and work in Baltimore, Maryland. I love to create colorful surrealistic artwork. My preferences is to work with large pieces, however, I can demonstrate my detailed style on smaller canvases. I enjoy working with inks, acrylics, watercolors, wood and mixed medium.
I create a style of work that carries a message or tell a story. I don't want the viewer to just see my work, I want them to think about the story it tells. Occasionally, I create subtle messages within my work and other times these messages are screaming loudly in bold eye catching colors.
I begin my work by building the stretcher for the canvas, stretch the canvas, paint and when I am done, I build the frame for it. It's like seeing my creations born, grow and mature; once my art is framed, I have told another story.
I studied fine arts at MICA (Maryland Institute College of Art), Towson University and graduated from PICA (Professional Institute of Commercial Art). I studied Architectural Design and basic electronics, my varied education gives me an insight of how I want my work to look when completed.
Holland Winslow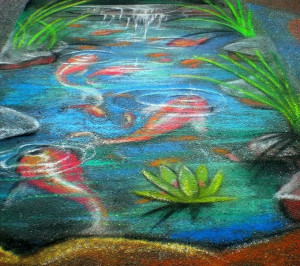 Holland Winslow is passionate about color and expresses this through her vibrant and deep hues in her artwork. She graduated from East Carolina University with numerous art awards and scholarships along the way. She lives in Williamsburg, VA where she is a full time graphic designer for the Commonwealth of VA and owns a small business "Hollandesigns," which focuses in graphic design, streetpainting and murals.
Holland started street painting in 2007. In 2008, she won Best in Show for her "Koi Fish" and many more awards have followed. Since then, she has "taken to the streets" with her chalking, traveling for competitions and commissions, working in both 3D and 2d installations. Through streetpainting, she has gained friends from all over the world and coming together at events is so rewarding and life is like a box of pastels!
NEVS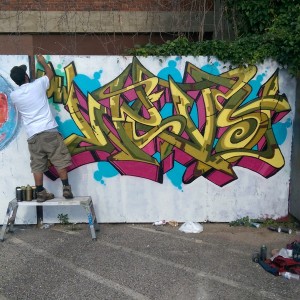 NEVS is a veteran New York graffiti writer who would rather remain anonymous for obvious reasons.