THE APPLE SCRUFFS: THE 1969 BEATLES ROOFTOP CONCERT REVISITED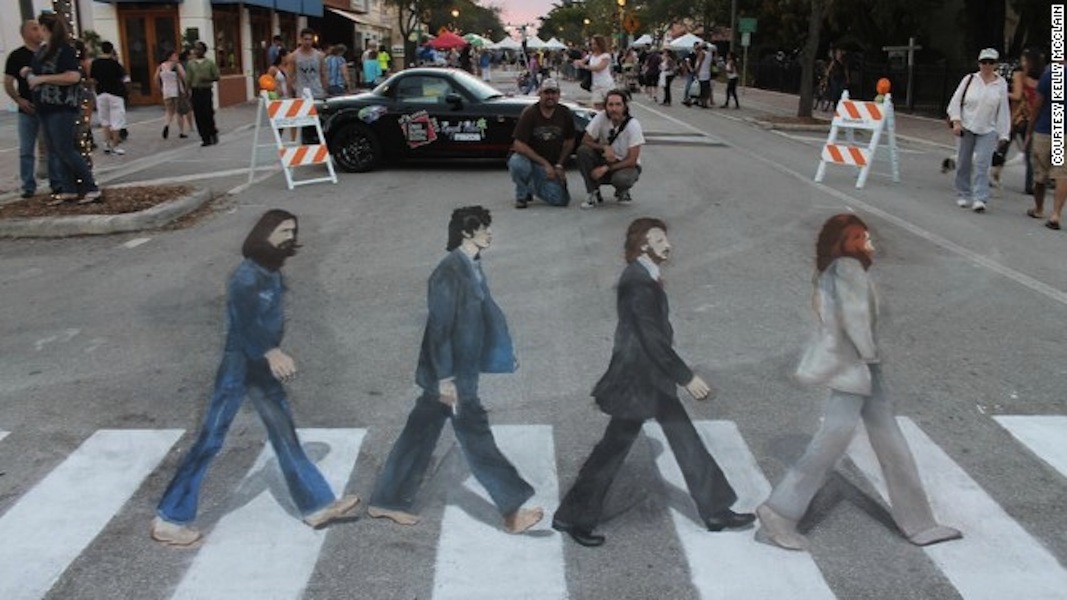 Art by The Chalk Guys
With a dedication to accurately reproducing the music of The Beatles, The Apple Scruffs perform shows that allow audiences to re-discover the fab four's repertoire all over again.  As a quintet, they are able to reproduce songs from The Beatles' later "Studio Years" such as "Strawberry Fields" "I Am the Walrus" and the entire Abbey Road album to name a few.  No costumes, no wigs, just the music that changed the world.
They perform at the close of the Little Italy Madonnari Arts Festival from the roof of Germano's PIATTINI in an ode to the 1969 Beatles rooftop concert above their Apple Corp. headquarters–the last concert they would play together.
Sunday, September 8 5:30pm Germano's PIATTINI
ERIC BYRD TRIO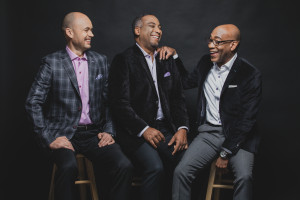 AN DIE MUSIK, Sponsor
For almost two decades, The Eric Byrd Trio (EBT), pianist/vocalist Eric Byrd, bassist Bhagwan Khalsa, and drummer Alphonso Young, Jr., have traveled the world as enthusiastic ambassadors of jazz. Rooted in swing and be-bop, The Trio also embraces gospel and the blues as core elements of their expansive performance style. Their body of work spans seven unique studio and live recordings on which they shine as a Trio and as collaborators with an expanded 8-piece ensemble they call The Eric Byrd Trio: Brother Ray Band, in tribute to The Genius of Soul icon Ray Charles. On each recording, they take a rigorous, modern approach to standards as well as original compositions, playing with great acuity within the broad and rich jazz tradition.
Collectively, they have played with jazz trumpeters Wynton Marsalis and Randy Brecker, jazz guitarists Charlie Byrd and Mike Stern, jazz saxophonists Bob Berg, Buck Hill, David "Fathead" Newman, and Cecil Payne, jazz pianists George Colligan and Kenny Drew, Jr., jazz saxophonists and flautists Sonny Fortune and Gary Thomas, be-bop jazz trumpeter, flugelhornist, flautist, and saxophonist Ira Sullivan, jazz steel pan player Othello Molineaux, jazz vibraphonist Warren Wolf, gospel harpist Jeff Majors, jazz vocalists Vanessa Rubin and Rebecca Parris, gospel vocalist Yolanda Adams, and Cuban American singer/songwriter Jon Secada.
Eric, Bhagwan, and Alphonso are educators with advanced degrees in Music History, African American Music, and Jazz Performance. They frequently give clinics on music history, jazz, and the relationship between the spirituals/gospel, blues, and jazz. Because of their immense knowledge of music, commitment to music education, and ability to teach diverse and international audiences, they have been sponsored by the Untied States Embassy as Kennedy Center/U.S. State Department Jazz Ambassadors touring South America, Central America, the Caribbean, Eastern & Western Europe, and the Middle East. The Trio has also delighted audiences across the globe at the historic Montreux Jazz Festival and in Bolivia, Chile, Colombia, Dubai, Estonia, Honduras, Italy, Peru, Scotland, and Trinidad and Tobago.
Sunday, September 8 3-5pm BJA Soundstage
OTHERWORLD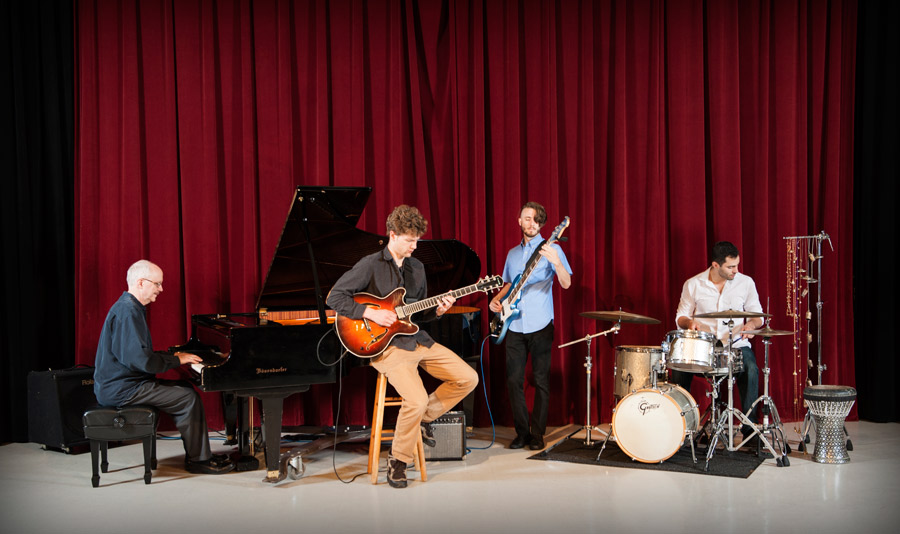 INSTANT SEATS, Sponsor
Inspired by the traditions of jazz, classical, and world music, Otherworld blends these disparate influences into a unique sound that defies easy categorization, featuring intricate, cinematic compositions and soaring improvisation.
Based in Baltimore, Maryland, the group released "Otherworld" in 2015, which won a Global Music Award in the top 10 best albums and has since been featured on NPR affiliate WYPR-FM, Baltimore; Jazz Standard internet radio, London; Berklee Internet Radio Network, Boston; and WPFW-FM, Washington DC's premiere jazz station, among others.
They released their second album, "The Realm", in March, 2019.
Pianist JEFFREY CHAPPELL has performed throughout the United States and internationally with major symphony orchestras and at venues including Carnegie Hall. He has appeared at jazz festivals such as the East Coast Jazz Festival and Key West International. A recording artist, award-winning composer, and bestselling author, he is the Director of Jazz Studies at Goucher College and is on the faculty of Levine Music. He is also the founder of Music Everybody. He studied with Leon Fleisher, Rudolf Serkin, Eleanor Sokoloff, and Jane Allen.
Guitarist JAKE KOHLHAS frequently gigs in the Baltimore area, and he performs with J Pope and Funk Friday, a hip-hop, funk, and soul band. He also appears in The Zimnicki Players, a guitar duo with his former teacher Steve Yankee. He was a scholarship student at Goucher College, where he earned a Bachelor of Music degree. He is on the faculty of Stone House Jam Academy and is in demand as a private teacher around the state of Maryland.
Bassist CHRIS TAYLOR has performed throughout North America with the Baltimore-based soul musician, Bosley. He has also appeared with the funk bands Jackson On The Prowl and The Superland Stage Band, as well as the punk bands Slaughtermelon and The Gutter Monkeys. A graduate of Goucher College, he has studied bass with Golder O'Niell, Ian Trusheim, Steve Yankee, and Pepe Gonzales. He currently teaches privately through Musika Inc., has taught at the Goucher Summer Arts Institute, and is in demand as a private teacher around the state of Maryland.
Percussionist JAKE MARINARI studied frame drum and darbuka with the world-renowned percussionist Yshai Afterman in Israel, and drumset with Ed Nardi, Nick Wight, Wes Crawford, and N. Scott Robinson. Jake earned a Bachelor of Music degree as a scholarship student at Goucher College, where he was awarded the Robert Hall Lewis Prize for extraordinary achievement in music. He has performed throughout North America with the Baltimore-based Soul musician, Bosley. He has served on the OrchKids program for the Baltimore Symphony Orchestra. He is on the faculty of Music For The Young Child and teaches privately in the Baltimore region.
Friday, September 6 11:15am-1pm  BJA Soundstage
KEYSTONE JAZZ QUINTET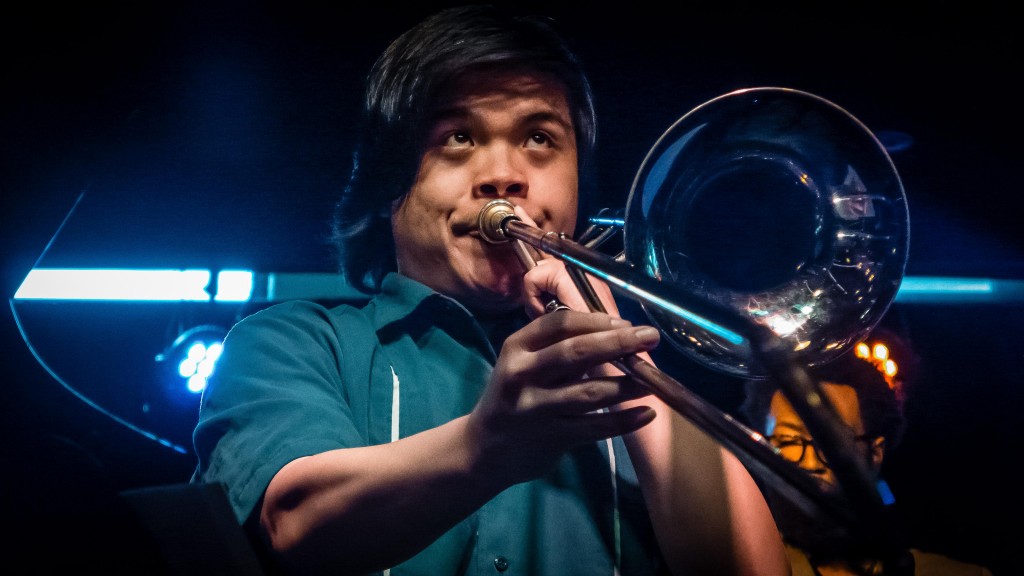 KEYSTONE KORNER, Sponsor
This talented lineup of Baltimore-based and Baltimore native jazz all-stars kicked off a thrilling summer season at the Keystone Korner. The group is comprised of Christian Hizon, trombone, Anthony Pocetti, organ, Gavin Horning, guitar, and Eric Kennedy, drums.
Friday, September 6 3-5pm BJA Soundstage
DARLA JEAN AND THE SOMETHIN' OR OTHERS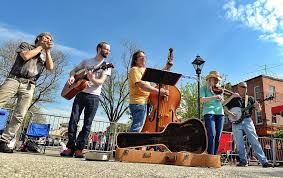 VINCE AND JULI PISCOPO, Sponsors
Baltimore-based acoustic band, Darla Jean and the Somethin' or Others is a 5-piece ensemble founded in 2010, playing old timey music (think 'O Brother Where Art Thou') with some traditional bluegrass, blues, Americana, and original songs thrown in for good measure. Known for their tight harmonies and audience interaction, the band's unique and diverse repertoire ranges from The Carter Family to Old Crow Medicine Show. Besides their bi-weekly residency at the Fells PointFarmer's Market, they've played countless festivals, benefits, weddings and hoedowns in the region and are guaranteed to bring a foot-tapping smile to your face!
Darla Jean and the Somethin' or Others are:
Darla Jean German – Fiddle, Mandolin, Vocals
Bill "Lump" Sutherland – Upright Bass, Vocals
Jason Laing – Guitar, Vocals
Howie Ehrenfeld – Harmonica, Vocals
Rick Samuel – Banjo, Vocals
Sunday, September 8 11am-1pm BJA Soundstage
CARL GRUBBS ENSEMBLE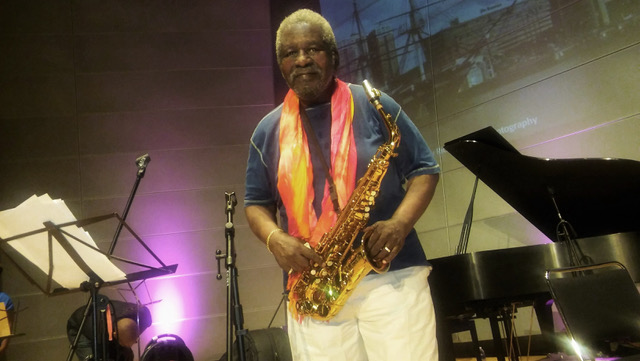 CONTEMPORARY ARTS, INC., Sponsor
Enjoy bebop at its finest as international recording artist and local jazz legend Carl Grubbs performs. Jazz saxophonist Carl Grubbs has toured with his ensemble in major cities world wide. Early in his career, he received extensive training from one of the music world's greatest legends in jazz, John Coltrane.
Mr. Grubbs is a former member of the Julius Hemphill Saxophone Sextet.  This group toured the U.S. and Europe performing two productions: Hemphill's Long Tongues: A Saxophone Opera and Bill T. Jones/Arne Zane Production: Last Supper at Uncle Tom's Cabin: The Promised Land
Mr. Grubbs was a guest soloist at the Philadelphia performance of Reggie Workman's project, African Brass, A Tribute to John Coltrane. He has performed with Odean Pope's Saxophone Choir at the Blue Note in New York City. The Philadelphia Jazz Project (The Painted Bride) commissioned a new arrangement of his composition "In My Youth" for jazz/string ensemble for inclusion in its annual "Frosty 2" event.
Mr. Grubbs has received numerous awards in recognition of his work. He has twice been the recipient of the MSAC Traditions award as a jazz master, working with apprentices to pass on the traditions of improvised jazz music. His organization, Contemporary Arts Inc. received a 2009 MSAC Traditions Project grant that culminated in his collaboration with Lafayette Gilchrist in a CD of the music of Marylanders who made significant contributions to the art form of jazz. In 2009, Mr. Grubbs received the Mary Sawyers Baker Award from the Greater Baltimore Cultural Alliance and William G. Baker, Jr. Memorial Fund. In 2014, he was awarded a Rubys Project Grant from the Greater Baltimore Cultural Alliance, founded by the Deutsch Foundation. His Rubys Project Grant enabled him to revise and expand his original work, The Inner Harbor Suite Revisited: A Tribute to Baltimore for Jazz/String Ensemble.
Saturday, September 7  5-7pm BJA Soundstage
STONE HILL ALL-STARS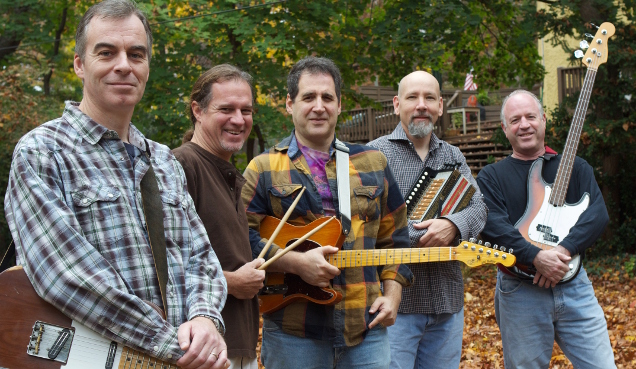 JIM AND JULI WOLF, Sponsors
Songwriter and guitarist Paul Margolis and accordionist John Shock have been playing music together for almost 30 years. Starting with Shock's band Two Legs, then The Polkats, and now with The Stone Hill All-Stars, they have been at the helm of some of the best roots-rock bands in Baltimore.  Their blend of cajun-flavored polka lies somewhere between Ry Cooder, Los Lobos, and The Pogues—plus polka. They swashbuckled through a dozen different kinds of traditional music all while retaining a distinct Baltimore flavor. The Stone Hill All-Stars, Margolis' and Shock's most recent band, is the quintessential Baltimore band and Margolis is one of the city's smartest songwriters.
"This is what it's all about: great songs, inventive arrangements, and timeless kick-ass roots-rock by guys who can really play. I loved it. I'll bet Les Paul would have loved to sit in with the Stone Hill All-Stars. Tasty licks up the wazoo! Find out what these guys are smokin' and get some!" –Greg Kihn KUFX-FM, San Jose, California
Saturday, September 7 1-3pm BJA Soundstage
HARPOONER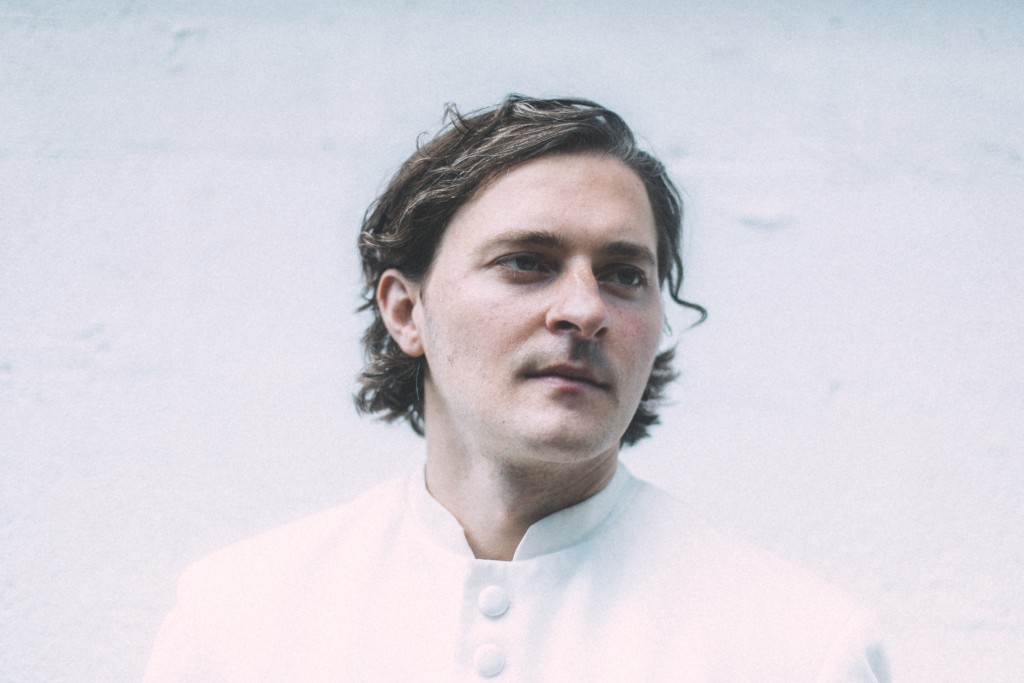 BROADCAST MUSIC, INC. (BMI), Sponsor
Nicely crafted and heavy on big, airy hooks that recall ELO at their grandest." NashvilleScene
"Dreamy pop tunes that linger in your mind long after hearing them." Glide Magazine
Rising chamber pop artist Harpooner (aka Scott Schmadeke) is gearing up for the release of his sophomore album, following his acclaimed debut Rose Park which landed the support of the high profile publications including KCRW, Native Magazine, Glide and Flood Magazine.
Harpooner was born in 2014 – the solo project and brain child of Scott Schmadeke an Indiana transplant in Nashville, who first cut his teeth as a side player, performing with national acts Houndmouth, Diane Coffee, Andrew Combs, and an exhaustive list of East Nashville groups.
Now, he opens as Harpooner for acts like Rayland Baxter, Margo Price, and Jessica Lea Mayfield exemplifying Harpooner's crossover capacity to find a connection to a diverse audience.
Those years touring with other bands helped him develop his eclectic style in music which has been described as chamber groove-pop, with a unique blend of handsome string quartet arrangements, piano power ballads, and Nilsson-worthy melody writing. The resulting live show unfolds in waves and movements with a complexity that has already drawn a diverse range of comparisons to artists including: Jeff Lynne, Carole King, George Harrison, Chet Baker, alongside modern acts such as Tobias Jesso Jr, Andy Shauf and Ariel Pink.
Friday, September 6 5-7pm BJA Soundstage
MARK NADLER IN "THE OLD RAZZLE DAZZLE: AN EVENING OF LIES, LYING & LIARS"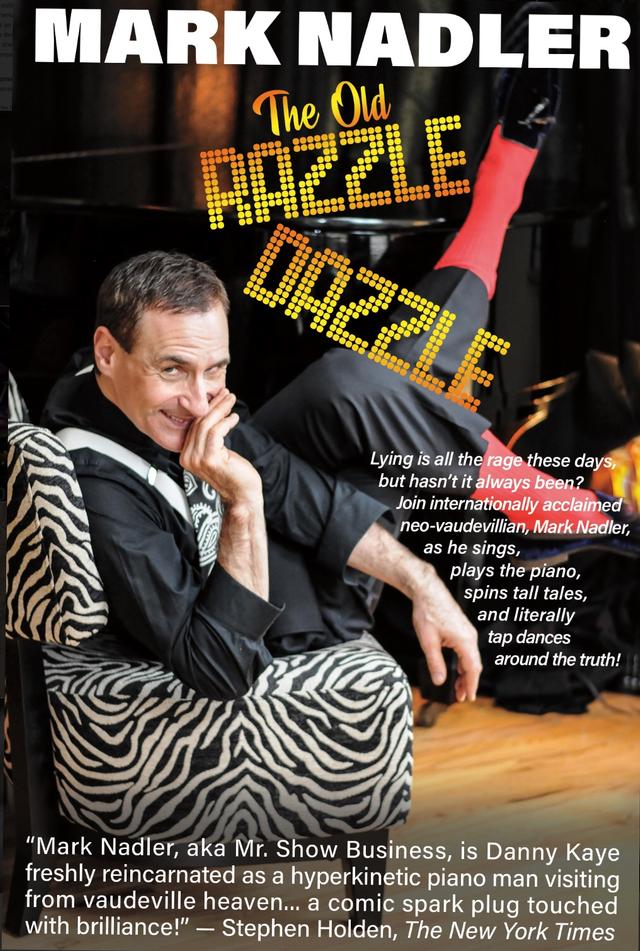 Lying is all the rage these days but hasn't it always been? Join internationally acclaimed neo- vaudevillian, Mark Nadler, as he sings, plays the piano, spins tall takes and literally tap dances around the truth!

"Mark Nadler, aka Mr. Show Business, is Danny Kaye freshly reincarnated as a hyperkinetic piano man visiting from vaudeville heaven…a comic spark plug touched with brilliance!"
Stephen Holden, The New York Times
Friday, September 6  6pm  Cabaret at Germano's
Gold Circle Seating $30
Preferred Seating $20
COLD SPRING JAZZ QUARTET: A JAUNT THROUGH JAZZ HISTORY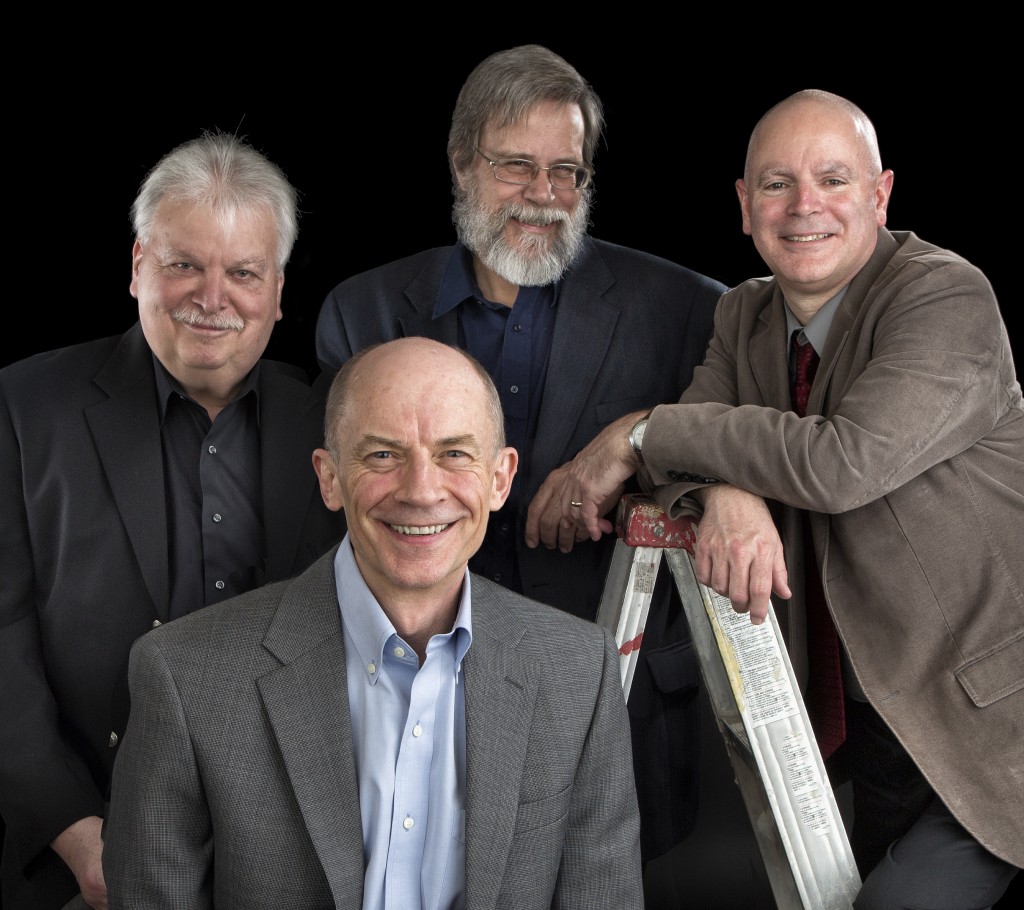 Come along with Cold Spring Jazz Quartet as they take us on a dynamic journey through the history of jazz. Tap your feet to the swing music of Duke Ellington. Snap your fingers to bebop classics by Charlie Parker and Thelonious Monk. Groove to hard bop classics by Horace Silver and Art Blakey. Travel to South America and chill with bossa nova, then swing your hips to some samba. Get moody with modal jazz by John Coltrane and Miles Davis. And then shake your booty to some funk. Leader and vocalist Mark Osteen spices up these musical servings with amusing stories and historical introductions. From "'A' Train" to Coltrane, from Monk to funk—you're sure to enjoy the trip!
Saturday, September 7 6pm  Cabaret at Germano's
Tickets $20
FRANK VIGNOLA and VINNY RANIOLO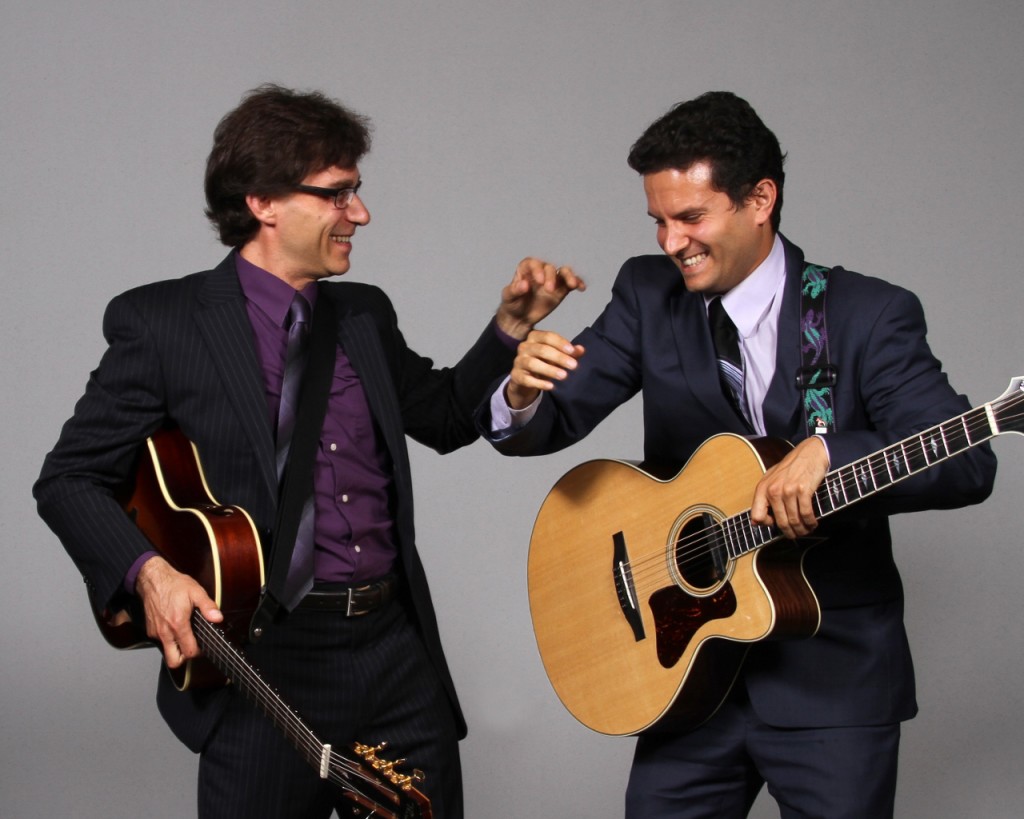 ITALIAN AMERICAN CIVIC CLUB, Sponsor
In the nine years they've been performing as a duo, acoustic guitarists Frank Vignola and Vinny Raniolo have become one of the most popular and sought-after duos on the international music scene. Their dynamic genre-spanning music has brought them to 14 countries on three continents performing in some of the world's most illustrious venues, including the Sydney Opera House in Australia, The Palace of Fine Arts in San Francisco, New York's Lincoln Center and the world's oldest indoor concert hall, Teatro Olimpico in Vicenza, Italy. Often featured on National Public Radio, Frank and Vinny have also become familiar figures on Public Television. Previously featured on three popular shows including the heavily programmed Tommy Emmanuel and Friends, Frank and Vinny's own PBS special, Four Generations of Guitars premiered in 2014. There is very little improvisation, but a sense of spontaneity, imagination and virtuosity that are hallmarks of jazz are fully present in all of Frank Vignola's performances.  A typical performance will take the audience on a breathtaking whirlwind tour of musical history. Bach, Mozart and Beethoven will be freely mixed with Ellington and Waller, blended with Gershwin and Carmichael, peppered with Bob Marley, Led Zeppelin, Sting and Lennon/McCartney and spiced with Rodrigo and Lecuona.
"How versatile is Frank Vignola? He's collaborated with Lionel Hampton and Madonna, covers Mozart and Black Sabbath on the same record and is one of Les Paul's favorite guitarists." – Joan Anderman, Boston Globe
"Guitar virtuosity at its highest level- a must hear!" djangoblog.com
Sunday, September 8  1-3pm  BJA Soundstage
KINGS OF CROWNSVILLE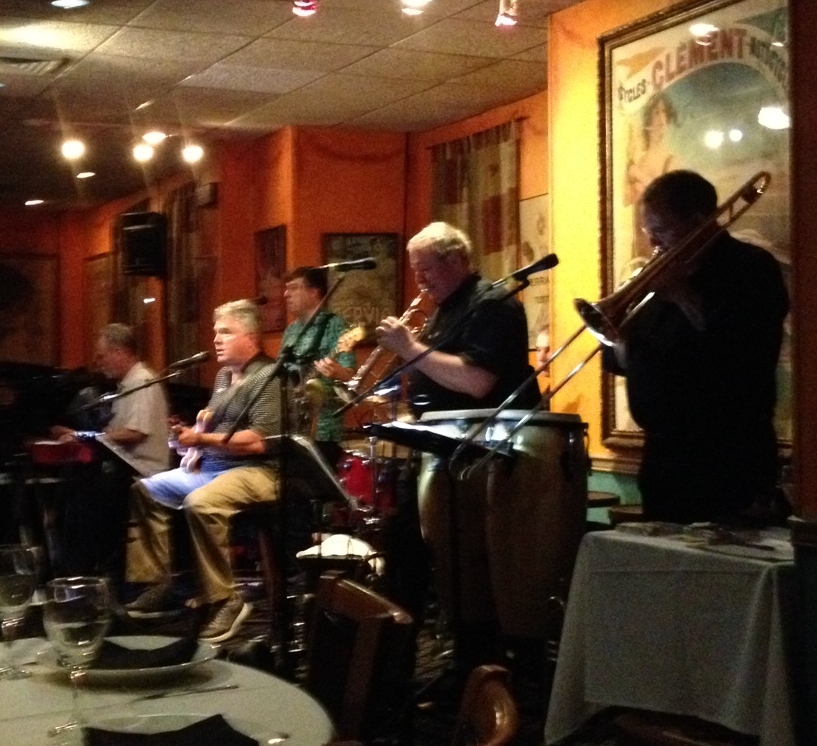 CABARET AT GERMANO'S Sponsor
Annapolis-based act Kings of Crownsville are a roots Rock band with a New Orleans flavor. The brainchild of New Orleans-raised guitarist/singer/songwriter Steve Johnson, the Kings play a rollicking, entertaining set that stirs Americana, Blues, and Jazz into the mix.
Their signature horn section transports listeners to the streets of the Big Easy, while they also add precise three- and four-part harmonies to their musical gumbo. Think Louis Armstrong meets Steely Dan.
The Kings of Crownsville features Johnson backed by Ed Justice on trumpet, flugelhorn and vocals; Jim Tavener on trombone, percussion, and vocals; Mike McCormick on keyboards and vocals; David Vermette on bass and vocals; and Rob Creath behind the drums. Johnson's songs are destined to become classics.
"Homegrown Americana boogie blues and big band rockin' swing jazz is a chunky description of the Kings.  The 6-piece band lends guitar, bass, drums, piano, trumpet, trombone, and vocal harmony.  The result is a robust, polished sound that makes for easy toe-tapping and dancing."
Saturday, September 7   3-5pm  BJA Soundstage
THE MARK KRAEMER QUARTET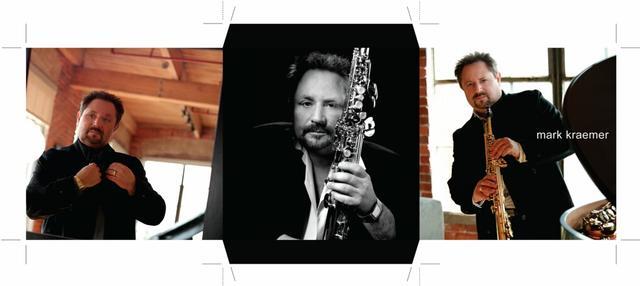 IRV WALKER, ESQ., Sponsor
Jazz saxophonist, recording artist, and composer, Mark Kraemer brings an exhilarating sense of passion and intensity to live performances. His sound is rich in texture and blends traditional Be-Bop, and modern Jazz with Latin and R&B influences.   Mark's commitment is inspiring and must be experienced.    He plays alto, soprano tenor saxophones, piano and wind controller.   Mark comes from a musical family.   His aunt taught him piano at age 6.  His father,  was a multi-instrumentalist, taught him clarinet at age 7,  At age 8, he performed his first jazz piece  with an upright bass, piano and drummer.  Mark attended the Peabody Institute studying clarinet.
Mark's brother, the late great Neal Kramer, was a masterful guitarist; Mark's cousin Jeffrey Steinberg is a prolific composer, arranger symphony conductor and Grammy award winner.  At age 12, Mark picked up the alto saxophone and started his own group.   At 15, he joined a popular show band 4-piece horn section with 5 vocalists.   He then played various R&B and rock bands, until moving to Los Angles.   While in L.A., he studied with saxophonist studio musician Terry Harrington who played baritone on the Bart Simpson show. He then studied theory and improvisation with vibraphonist and recording artist Charlie Shoemake.
After returning to Baltimore, he studied with legendary saxophonist and recording artist and Grammy Award winner Gary Bartz.  Mark launched his career performing with various groups at venues and events in the Baltimore-Washington areas, New York city, Baton Rouge and New Orleans.
Having recognized his potential, producer Jacques Burvick, who has produced and arranged for international recording artists, such as Lonnie Liston Smith, Norman Connors, Marion Meadows, Jon Lucien, the late Grover Washington, Jr., and a host of others, recorded Mark on the soon to be released CD. Mark's CD is a collection of Jazz compositions that bring a fresh approach to this genre of music.   The tracks were mixed by 4-time Grammy nominated engineer David Rideau, who has mixed gold and platinum projects for artists such as Janet Jackson, Sting, Tom Scott, Al Jarraeu, and others.
At the Festival, Mark is joined by George Gray on drums, Gary Richardson on bass and Justin Taylor on piano.
Friday, September 6 1-3pm  BJA Soundstage
TIME FOR A CHANGE JAZZ QUARTET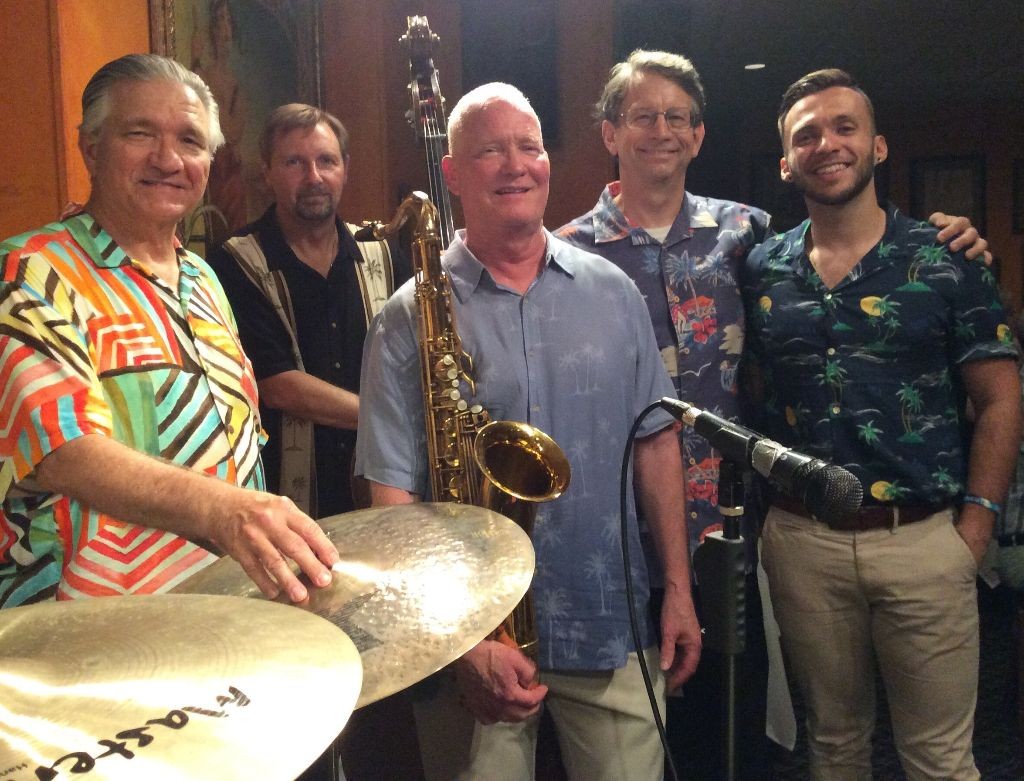 BEN FREDERICK REALTY, Sponsor
Playing Jazz Favorites, Swing, Showtunes, and songs from the "American Songbook", Time for a Change is a hit wherever they perform.  Comprised of four of the finest jazz musicians in the Baltimore-Washington area, they bring you back to the days of Swing, Big Band and Bebop. From Sinatra to Charlie Parker, they are comfortable in all popular music from today and yesterday.  Leading the sound is Jim Voshell on the Tenor Saxophone.  Backing up his formidable technique is Larry Haavik on the piano and synthesizer, Mike Morris on drums and Bill Pachucki on the Upright Bass.  Larry Haavik and Jim Voshell sing as well.  There are many songs that they do which would not be complete without hearing the wonderful lyrics. Joining the band this evening is featured local guest vocalist, Joey Haavik.
Saturday, September 7 11am-1pm BJA Soundstage
PARK SCHOOL OF BALTIMORE A CAPPELLA ENSEMBLES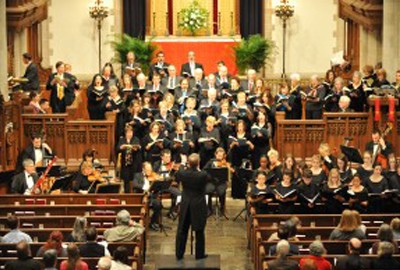 The Little Italy community is proud to welcome back the Park School of Baltimore  a cappella ensembles, the Eightnotes and the Vocal Chords, who warm our hearts during the winter holidays as they go caroling among the Little Italy Restaurants.  The Eightnotes, the auditioned female a cappella ensemble and the Vocal Chords, the auditioned male a cappella ensemble perform traditional and contemporary songs.   Singers  create original arrangements tailored to the group, and often participate in competitions and festivals. The a cappella vocalists will be performing along S. High Street during the Festival.
Saturday, September 7  12-2pm  S. High Street
THE BALTIMORE MANDOLIN QUARTET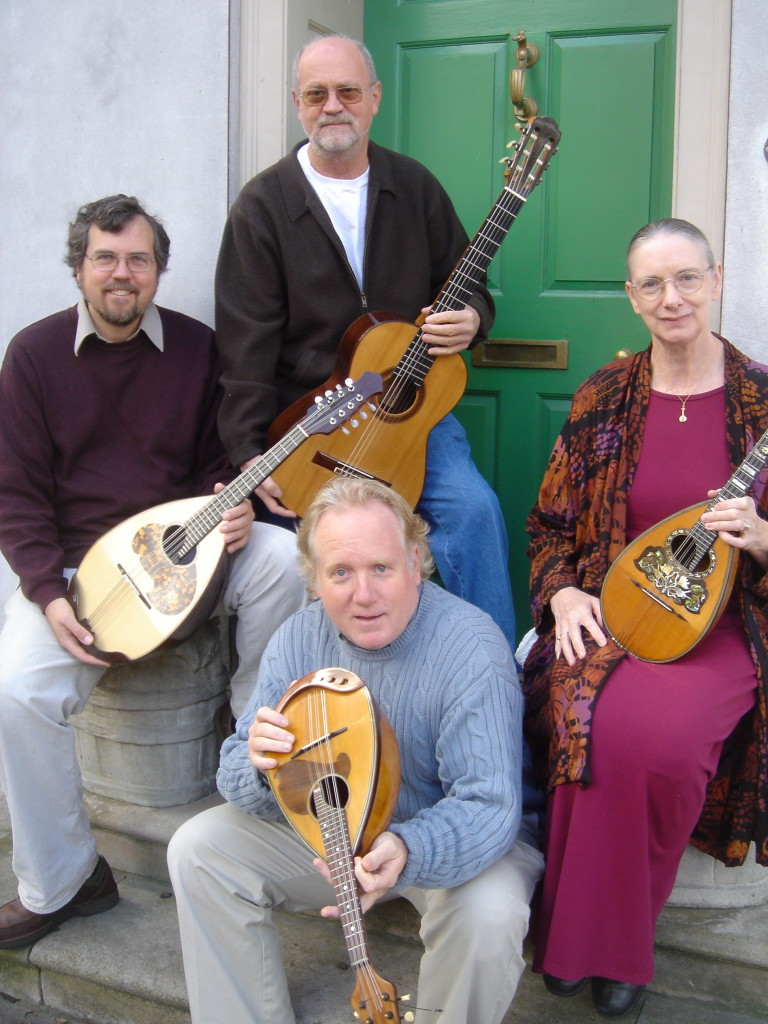 A rarity in North America, the Baltimore Mandolin Quartet is a "Quartetto Romantico" in the Italian tradition, combining bowlback mandolins and mandola with classical guitar. Their repertoire includes many pieces composed for this combination by mandolin giants Raffaele Calace and Carlo Munier, as well as original compositions and transcriptions of classics from the symphonic and operatic literature. Their arrangement of "Stormy Weather" has been heard many times on the public radio program "Marketplace," signalling a downturn in the stock market.
Since 2000 they have appeared at a variety of concert venues in the Baltimore / Washington D.C. area, and performed at the CMSA conventions of 2003 and 2004.
David Evans, 1st mandolin
Laura Norris, 2nd mandolin
Jonathan Jensen, mandola
Tony Norris, guitar
At the Festival Dave, Laura and Tony will perform as a trio.  Tony and Laura  will also be performing with the Mando Kids.
Sunday, September 8 12-2pm S. High Street
MANDO KIDS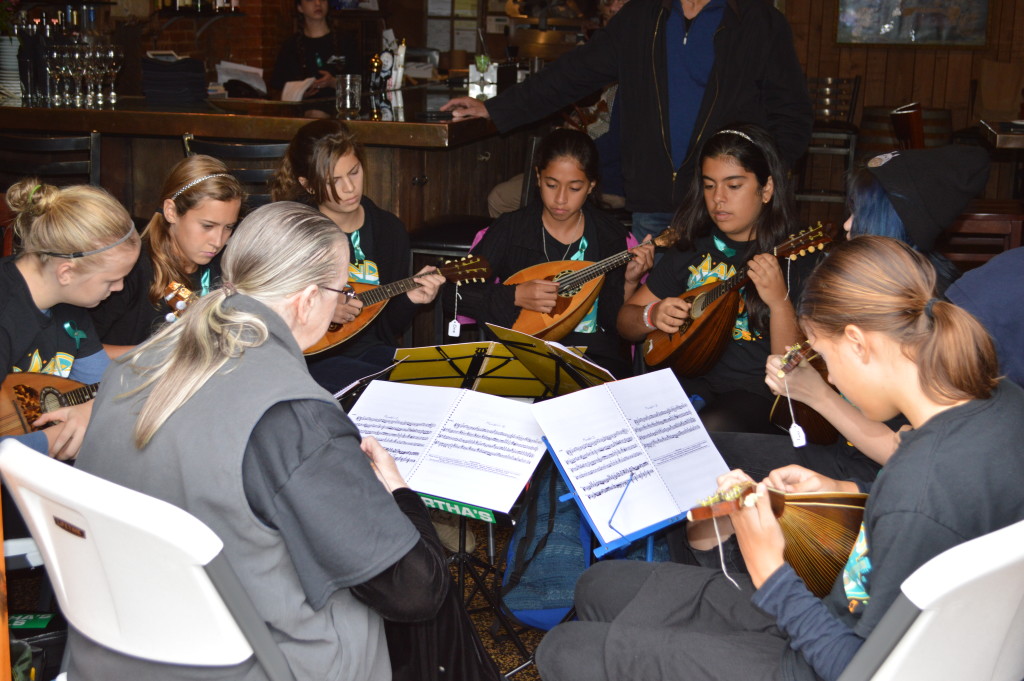 The youth program of the Baltimore Mandolin Orchestra was originated by Laura Norris, Joyce Adams, Kitty and Lorin Brown and established in the Spring of 2010.
Mando for Kids is supported by grants from The Classical Mandolin Society of America and The Baltimore Mandolin Orchestra. Thank you!
Mando for Kids is a no cost program run by volunteers. The target is elementary schools.with hands-on workshops and and  comprehensive curriculum suitable for group or individual instruction.
The Mando Kids will be joined by  Laura and Tony Norris as they perform along the art footprint.
Saturday, September 7  2-4pm  S. High Street
NO STRINGS ATTACHED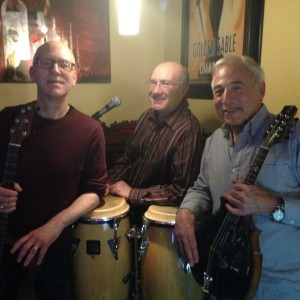 The bond they have outside of music is Mt. St. Joseph High School in Baltimore. It was during their high school years that they first performed together. Now, more than forty years later, their sound is unique, exciting, and smooth. Their take on classic pop music is often unpredictable. Their secret weapon is the mandolin!
While they each went into different careers, a doctor, an attorney and a broadcaster, they have always found time to regroup to create musical memories for their faithful following.
Alan Reisinger has mastered the mandolin and takes the lead on 7 decades of familiar favorites.
Jeff Pecore picks a steady rhythm on guitar and creates recognizable introductions to favorites from Sinatra to, The Beatles, The Eagles, and Santana.
John Patti backs them both with the beat of a cajon and congas.
At the Festival, Alan and Jeff will perform as a duo.
Sunday, September 8 2-5pm S. High Street
NATALIE CONTE, SOPRANO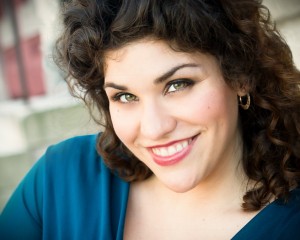 Described as "magnanimous and powerful", soprano Natalie Conte is an award-winning performer of opera, art song, and oratorio.
In 2017 she won first prize in the National Federation of Music Clubs' Young Artist Competition, in 2016 the Maryland Lyric Opera Competition, and in 2013 the Vocal Arts D.C. Discovery Art Song Competition.
She has sung in works with the former Lyric Opera of Baltimore, Two Rivers Chamber Orchestra, Bay Atlantic Symphony, and the Russian Chamber Art Society, among others
Beyond the local stage, Natalie has performed in her hometown Detroit, Michigan as well as internationally in Rome, St. Petersburg, and Moscow.
Natalie has had the honor of working in master classes with such renowned singers as Marilyn Horne, Montserrat Caballé, Sherrill Milnes, and Aprile Millo.
This year she completed her fourth season as an extra chorister with the Metropolitan Opera and makes her Stern Auditorium Carnegie Hall debut this May singing the soprano solo in Haydn's Lord Nelson Mass.
Natalie is a professor of voice at Shenandoah Conservatory.
Saturday, September 7 6-6pm in and outside the Little Italy restaurants.
COLIN BRADY JOHNSON, BASS BARITONE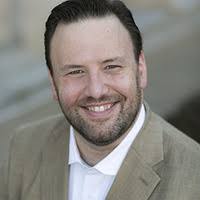 Colin Brady Johnson, bass-baritone, has performed with numerous opera houses and concert venues across the country, in Germany, and Italy. In the role of Figaro in Le Nozze di Figaro, he was described as "ebullient in voice and manner." His Carnegie Hall debut was in 2008 as the Norman Carlberg Award winner in the Liederkranz Foundation Competition. Mr. Johnson also was an award winner in the Connecticut Opera Guild Competition in 2006 and the Denver Lyric Opera Competition in 2005. His roles include Méphistophélès in Faust, Caspar in Der Freischütz, Sam in Trouble in Tahiti, and Figaro in Le Nozze di Figaro. He has performed with such opera companies as Opera Naples, Des Moines Metro Opera, Opera Colorado, Connecticut Opera and Sarasota Opera. Mr. Johnson also has performed Beethoven's 9th Symphony and Rossini's Stabat Mater. His other concert works include Baritone Soloist in Brahms' Requiem, Elijah in Mendelssohn's Elijah, Bass Soloist in Bach's Christmas Oratorio, and Handel's Messiah. Mr. Johnson is also a devoted Lieder singer. He was honored to perform Schubert's Winterreise in 2010 and Schumann's Dichterliebe in 2013 with Dr. John Bowen. Mr. Johnson is currently pursuing his Master of Music in Vocal Pedagogy from Shenandoah University and holds a Bachelor of Music from the University of Iowa.
Saturday, September 7 6-6pm in and outside the Little Italy restaurants.
MARC DESIMONE, MANDOLIN, AND VINCE PISCOPO, ACCORDIAN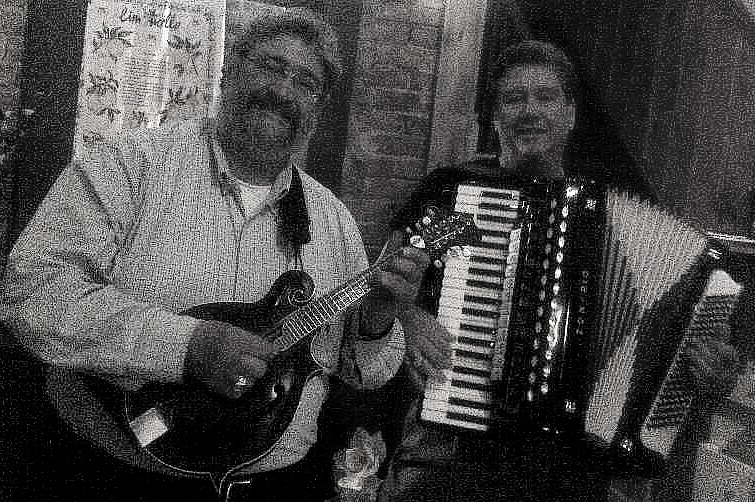 Join Marc DeSimone and Vince Piscopo for authentic Italian music. "Every day that the weather is nice, we play," said DeSimone, who grew up in Hamilton and has been playing music for 40 years at weddings and other events. His 'day job' is as a consultant and president of International Leadership Development Consortium. DeSimone, on mandolin, is accompanied by  Piscopo, on accordian.
Friday, September 6 2-5pm S. High Street
BIG WHIMSY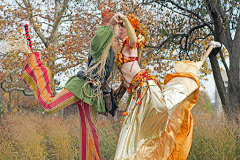 Interactive and Professional Stilt Walkers, Nina Amayo and JOFFREY THE GIANT, join the festivities Friday and Sunday!
Friday, September 6 5-7pm  AIAC Children's Chalk Center
Sunday, September 8 2-4pm AIAC Children's Chalk Center
BIG BIZ ENTERTAINMENT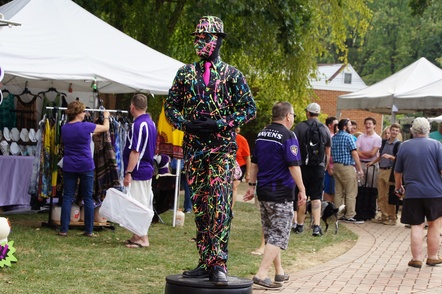 Artistic Stilt Walker extraordinaire, Michael Horne, entertains on Saturday!
Saturday, September 7 2-4pm AIAC Children's Chalk Center
THE ENCOUNTER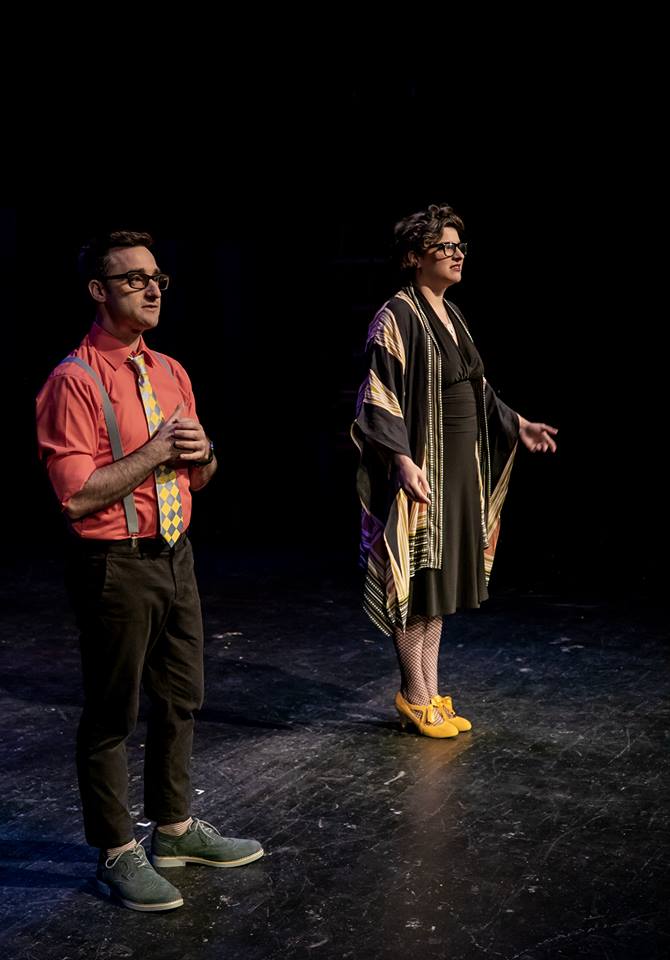 The Encounter, the two-person team of Brian Kehoe and Annie Montone, will be performing magic along the art footprint. The Encounter is vintage-inspired, upscale magic with a narrative twist.  Brian and Annie  spread the joy they take in working with one another to their audiences.  They are also the founders of the Baltimore Academy of Magic, a school for aspiring magicians.
Saturday, September 7 2-5pm AIAC Children's Chalk Center
Sunday, September 8 2-5pm AIAC Children's Chalk Center
HILARY CHRISTIAN, KALEIDOSCOPE AMUSEMENTS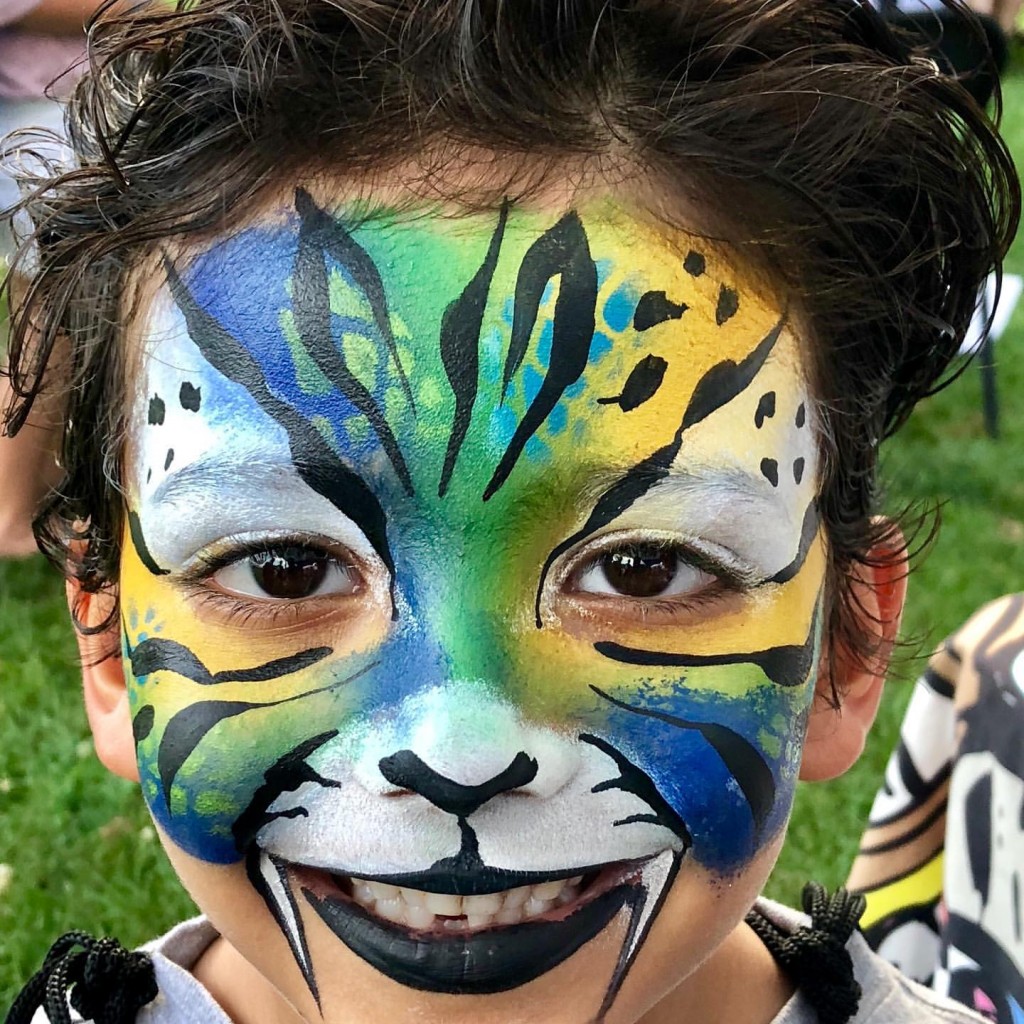 Artist Hilary Christian and team will provide some artful facepainting.  Kaleidoscope Amusements offers refined entertainment from professional artists, face artistry, henna, glitter tattoos, balloon sculpting and more.
Friday, September 6-Sunday, September 8 AIAC Children's Chalk Center
THE CHALK BUS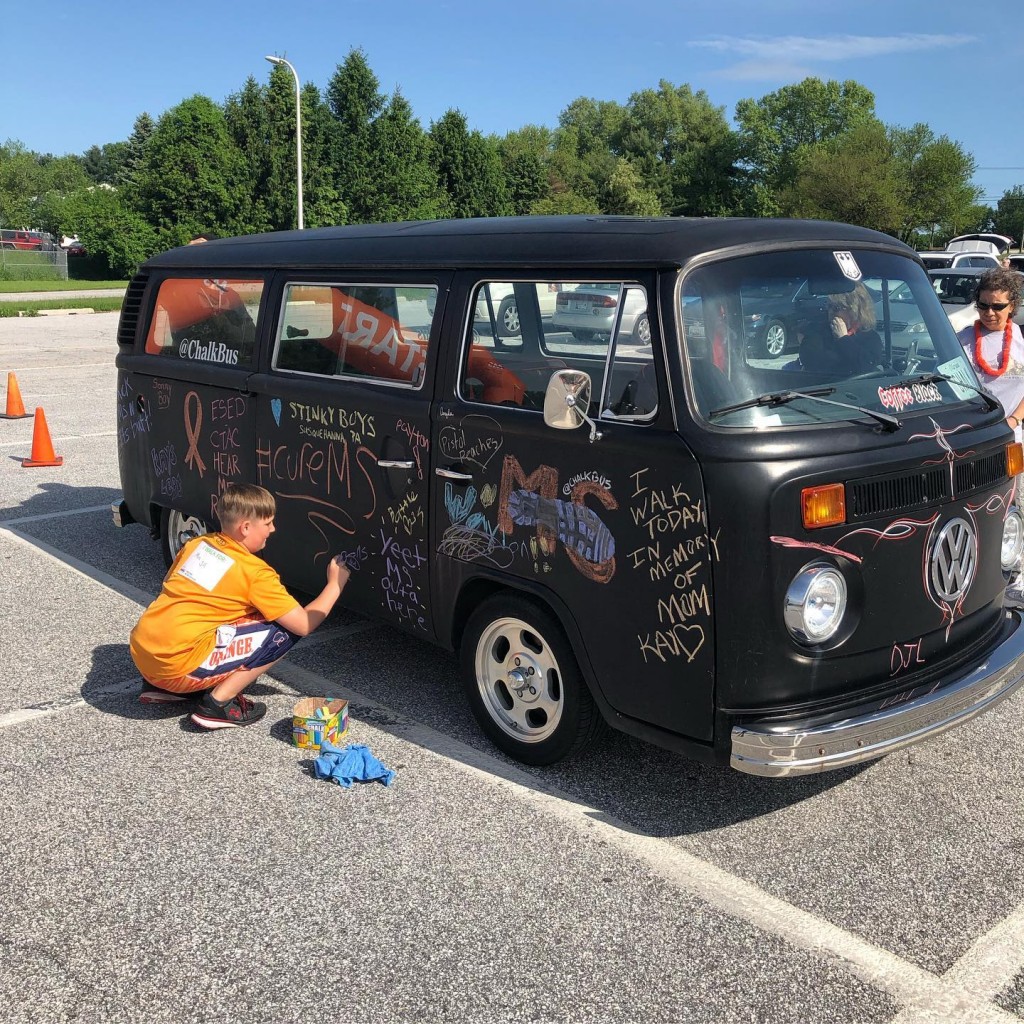 We are delighted to welcome  The Chalk Bus as an attraction at this year's Festival.  The Chalk Bus (and its freestanding photo booth) will be located on the art footprint at S. High Street and Pratt Street.  Chalk is provided.  Express yourself!  Gratuities welcome.
The Chalk Bus and photo booth are available for rent.  A portion of the profits are shared with local art and music teachers to purchase additional supplies for their classrooms.
thechalkbus.org  Facebook @chalkbus  Instagram @chalkbus
Friday, September 6-Sunday, September 8 11am-7pm S. High Street at Pratt Street
JAMES B. ASTRACHAN, ESQ. "THE ART OF THE COPY: A COPYRIGHT BREAKFAST TALK"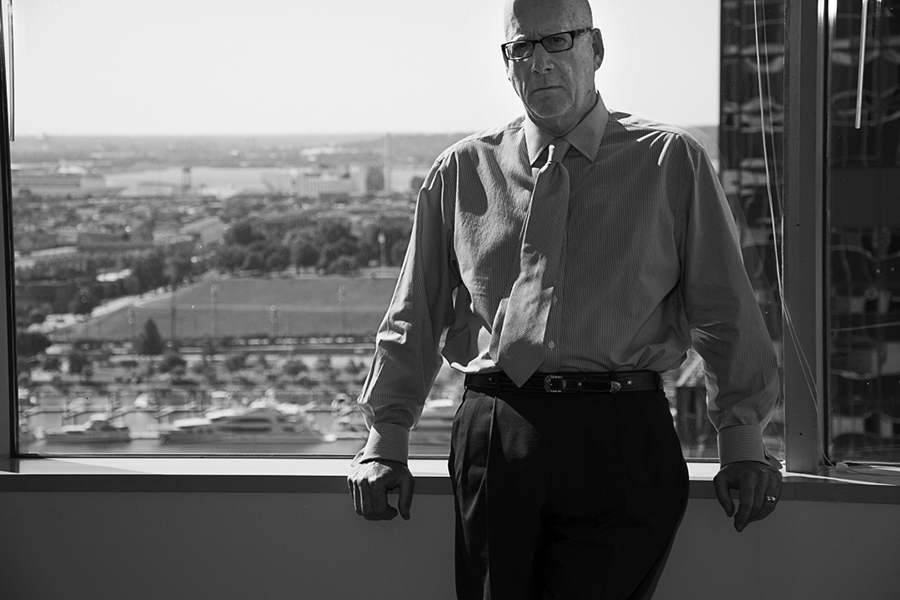 Street painting is inspired by classical or iconic contemporary art but there is always an element of originality and sometimes a completely new design.  Likewise, tunes and lyrics penned by others find their way into the subconscious of songwriters.  We have asked renowned copyright attorney, Jim Astrachan, to talk about the legal implications of copying and available protection for the artist over lunch on Friday in the Madonnari Artists Commissary and Information Center at the St. Leo's School Hall. 
Jim is a Life Fellow of the Baltimore City Bar Foundation, the Maryland Bar Foundation and the American Bar Foundation. He has been an adjunct professor since 1979, teaching IP courses at the University of Maryland and University of Baltimore Schools of Law, University of Baltimore Graduate School of Communications Design, and taxation subjects at Loyola's Sellinger School of Business.
Since 1999, his teaching has focused on Copyright and Trademark and Unfair Competition at the University of Maryland Frances King Carey School of Law and the University of Baltimore School of Law. Jim also wrote a course called Gun Control and the Second Amendment and taught it at Johns Hopkins University (2016) and Washington College (2016 and 2017) and the University of Baltimore School of Law (2017). He organized with the University of Baltimore Law Review a symposium called "Do We Have a Gun Problem? If Yes, What Are the Solutions?"  The symposium expressed the views of national experts in the field.
Jim speaks nationwide on intellectual property topics, including advertising law, branding, trademark protection and copyright protection. He and wife and former law partner, Julie Rubin, co-hosted with Dan Rodricks a bi-weekly radio show on the law on public radio, WYPR, 88.1 from 2011 to 2013.
Jim mediated complex cases for the Circuit Courts of Baltimore City, Baltimore County and Queen Anne's County and for Creative Dispute Resolutions. In 2015 he was appointed to the trademark mediator panel of the International Trademark Association (INTA), in recognition of his mediation skills and substantive trademark knowledge.
Jim and Donna Thomas are the authors of THE LAW OF ADVERTISING AND MASS COMMUNICATIONS, a six volume treatise published by Matthew Bender Lexis/Nexis since 1972. (Click Here for more information.) In 2003, Jim co-authored Snake-Oil Security Claims, The Systematic Misrepresentation of Product Security in the E-Commerce Arena, published in the Michigan Telecommunications & Technology Law Review (See Article) and the text book The Essential Intellectual Property Primers: The Law of Trademark, Copyright and Advertising, published by The Graduate Group. In 2013 Jim devised and edited for the MSBA The Patent, Copyright, Trade Secret, Right of Publicity, Trademark Handbook for Maryland Business and Litigation Lawyers; a second edition of this work is ready for submission.  His CV reveals hundreds of articles and lectures. His article, Who Will Protect the Consumers of Trademarked Goods? was published in 2017 by the University of Baltimore Law Review (See Article). His article, The Bumpy Road to the Supreme Court: Does the Second Amendment Prevent States from Prohibiting Ownership of Assault-Style Rifles and High Capacity Magazines was published in Summer 2018 by the University of Baltimore Law Review (See Article).  His article, Unlawful Use in Commerce and the Affirmative Defense to Infringement: When Trademark Rights are Not What They Appear to Be, has been accepted for publication by Syracuse Law Review.
Jim is annually named one of the Best Lawyers in America© and a Super Lawyer® through a national nomination process (advertising and intellectual property law). In 2011 he was named by Best Lawyers® the premier copyright lawyer in Maryland and in 2012 premier trademark lawyer. Jim is a 2013 honoree of The Daily Record's Leadership in Law, and he gladly serves on the Baltimore City Sitting Judges' Reelection Committee.
Jim was a member of the Executive Committee of the Bar Association of Baltimore City, and is the founding and former Chair of the Intellectual Property Committee of the Maryland State Bar Association. He serves on the Peer Review Committee for the Maryland State Bar Association Grievance Committee, the Editorial Advisory Board of the Maryland Bar Journal, the Legal Advisory Committee of the Association of American Advertising Agencies, chairs The Daily Record Editorial Advisory Board, and is a Director of the Baltimore Bar Library. Jim is a recipient of the Crystal Prism Award and the Silver Medal Award for outstanding contribution to the advertising industry, awarded by the American Advertising Federation. Jim is a Trustee of the Baltimore Bar Foundation, Inc., chairs its Strategic Planning Committee, was a Director of Free State Justice, an LBGTQ advocacy group, through 2017 and was the Grand Puh Bah of the Serjeants' Inn Law Club.
Jim's clients include advertising agencies, advertisers, architects and designers, technology and communications firms and educational institutions nationwide. He wears many hats as a copyright lawyer, trademark attorney, and IP attorney and business lawyer.
jastrachan@agtlawyers.com
410.783.3520
Friday, September 6 12 noon Madonnari Artists Commissary and Information Center at the St. Leo's School Hall. 
Noah Stone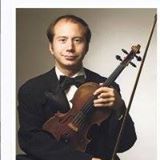 Noah Stone is a violinist, Bass-Baritone, musician with Color Light Theory, Church of The Guardian Angel, Cathedral of the Incarnation, and Concert Artists of Baltimore. He is a graduate of the Peabody Institute of the Johns Hopkins University. He is the Music Director of the Tuesday Noon Service of The Episcopal Diocese of Maryland.  Noah will perform classical pieces on violin at the Festival.
Sunday, September 8 1-3pm along the art footprint
MIKE 'N' IKE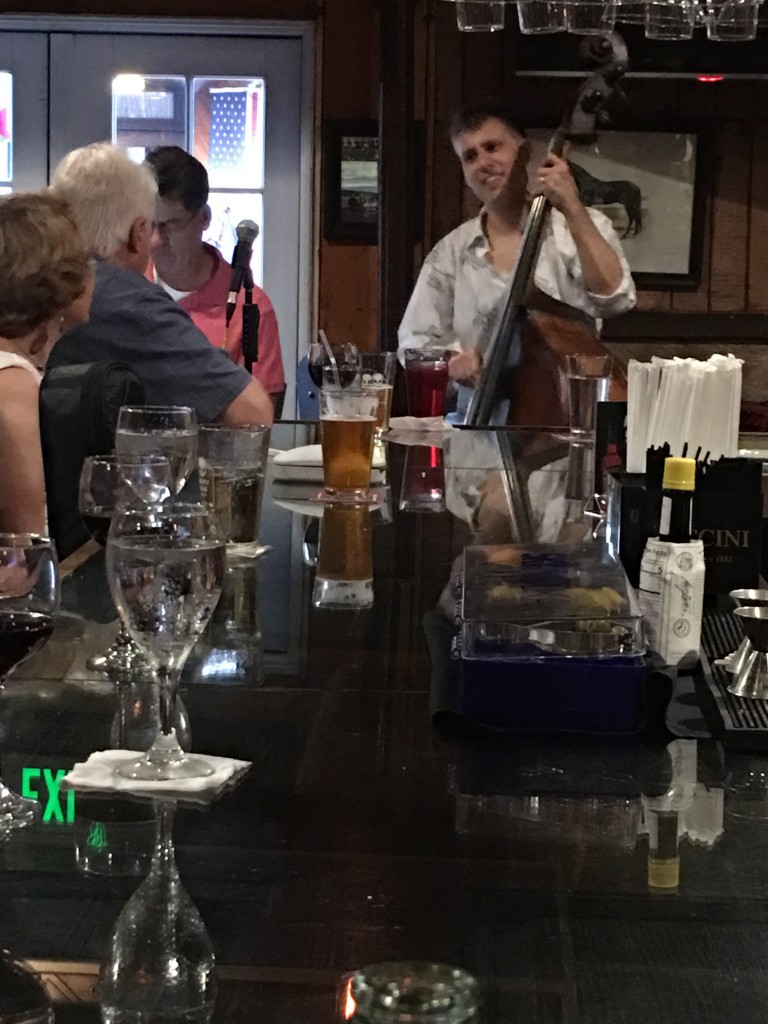 Mike 'n' Ike are Michael Banham, guitar and Ian Rashkin, bass and James Deshler, drums and  a revolving cast of talented musicians who call the Jazz Jam Session in the Bar at Germano's home on Sundays 7-10pm.  We are kicking off the festivities on Thursday night and closing the Festival on Sunday night with two jam sessions and everyone is welcome!
Thursday, September 5  7-10pm Bar at Germano's PIATTINI
Sunday, September 8  7-10pm Bar at Germano's PIATTINI
ANTHONY CAPPETTO: 3D ART WORKSHOP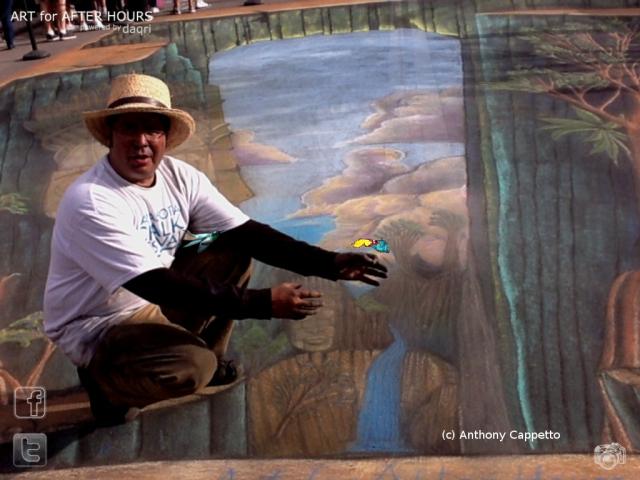 Anthony Cappetto is an internationally recognized 3D street painting artist working in chalk and paint sharing his art form throughout the USA and internationally including the United Kingdom, Belgium, Switzerland, India, UAE, Japan, Uruguay, Germany, Mexico, and Italy. Cappetto has been a guest of the US State Department in South America, lecturing and mentoring University students in Montevideo, Uruguay, as well as students in South Carolina, Georgia, and New York.  An early adopter/pioneer in the use of 4D emerging technologies since 2007 such as augmented and virtual reality as an integrated part of his 3D anamorphic illusions Cappetto has created public 3D/4D installations in Mumbai, India, Florida, South Carolina, and California with new AR initiatives under development.
Cappetto was invited and participated as part of a select group of world class 3D street painters for the first Dubai Canvas Festival in 2015 and has been a team member of two Sistine Chapel re-creations in California and Mexico. "It is very important to me as a 3D street painter to design and create 3D interactive art where the public can pose with and be in the art when the sizes allow.  I look forward to sharing my 3D art with everyone at the Madonnari Arts Festival."  See more of Cappetto's 3D works at  artforafterhours.com.
Anthony offers a 3D workshop in which students and artists new to the genre are able to work with him in part for the drawing segment to give them a brief experience in being involved in the development of a 3D street painting.  He also discusses the history of street painting and basic 3D layout mechanics.  He will also discuss the social media aspect of the art form.
Friday, September 6 at 9am at the intersection of S. High Street and Fawn Street
PAT HOOK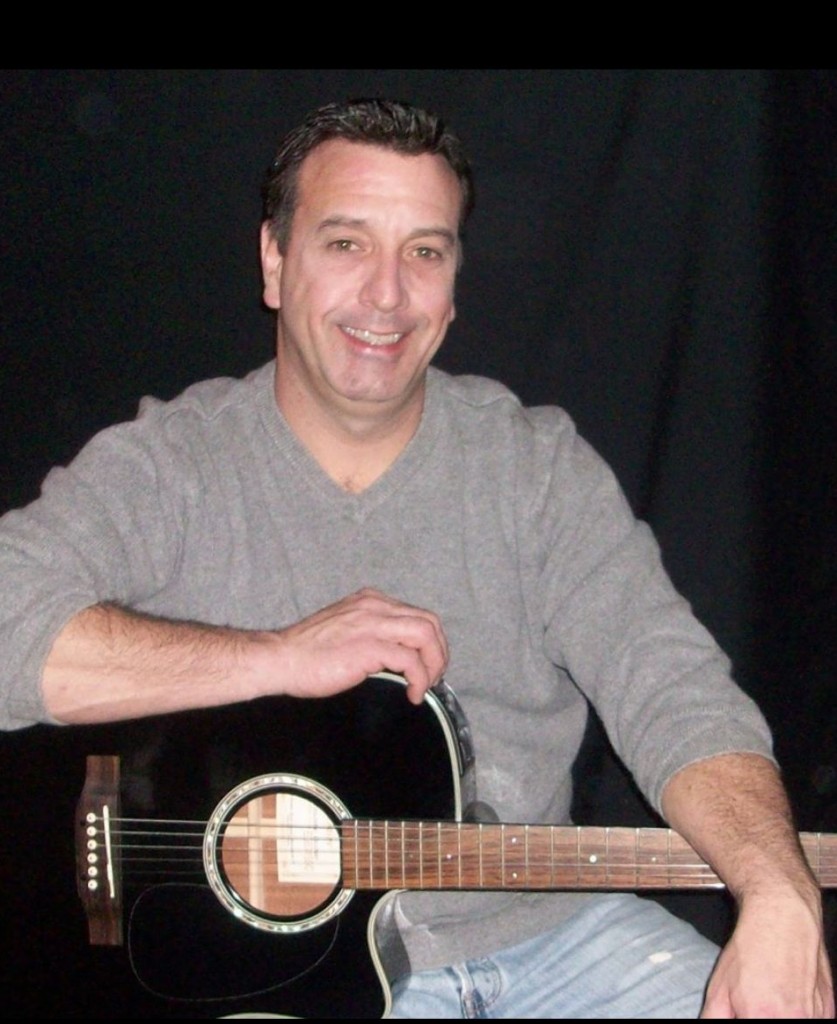 Pat Hook is a solo acoustic guitarist and vocalist, performing a wide variety of music ranging from oldies, country, classic rock/pop to today's hits.
Saturday, September 8 6-9pm  Amicci's of Little Italy
JAKE RUTH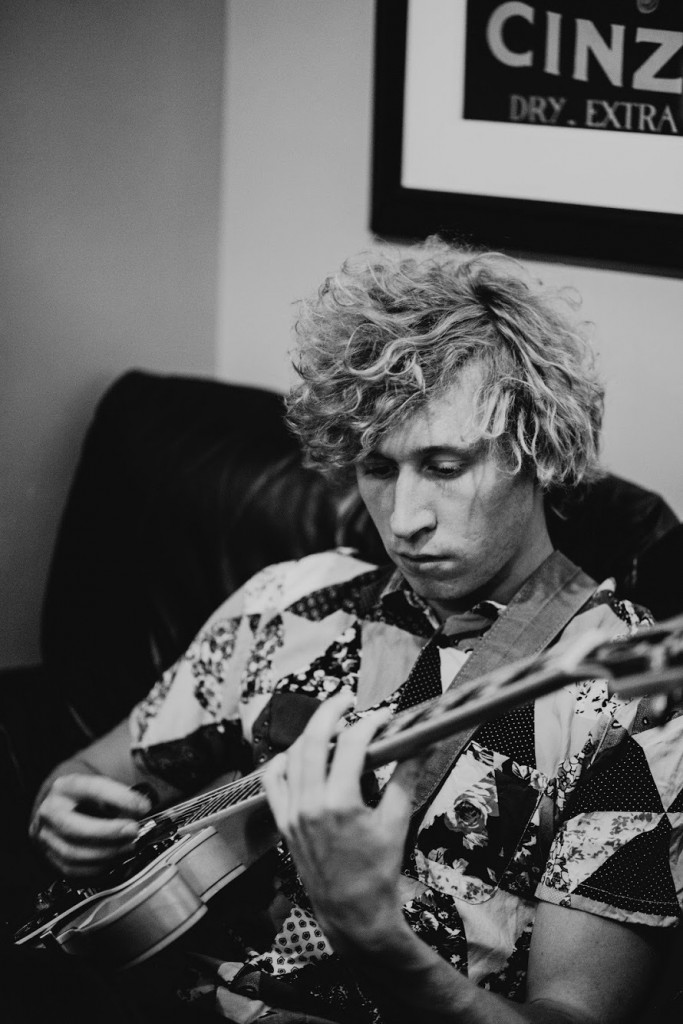 Jake Ruth is an accomplished and sought after guitarist  has been playing in the DMV area for over 10 years with a variety of groups. He draws influences from many modern jazz players such as Pat Metheny, Gilad Hekselman, and Jonathan Kreisberg and his goal is to bring a fresh sound to the artform. He will be playing jazz and bosssa nova, solo on his nylon string guitar at the Festival.
Saturday, September 7  12-2pm along the art footprint
JAKE DUHN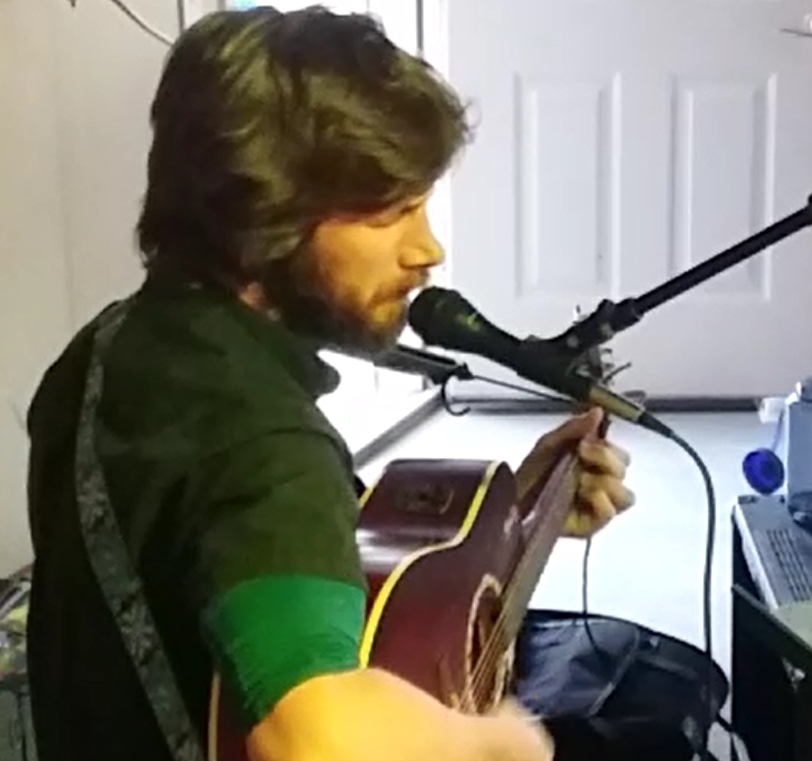 Residing in Wyoming, Maryland and Colorado, Jake Duhn sings folk on the acoustic guitar. A disciple of Bob Dylan and American music, he plays original material and subtle forms of alternative rock.
Friday, September 6 and Saturday, September 7  along the art footprint.
Friday, September 6 and Saturday, September 7  7pm Vaccaro's Italian Pastry Shop
MATT ANDREWS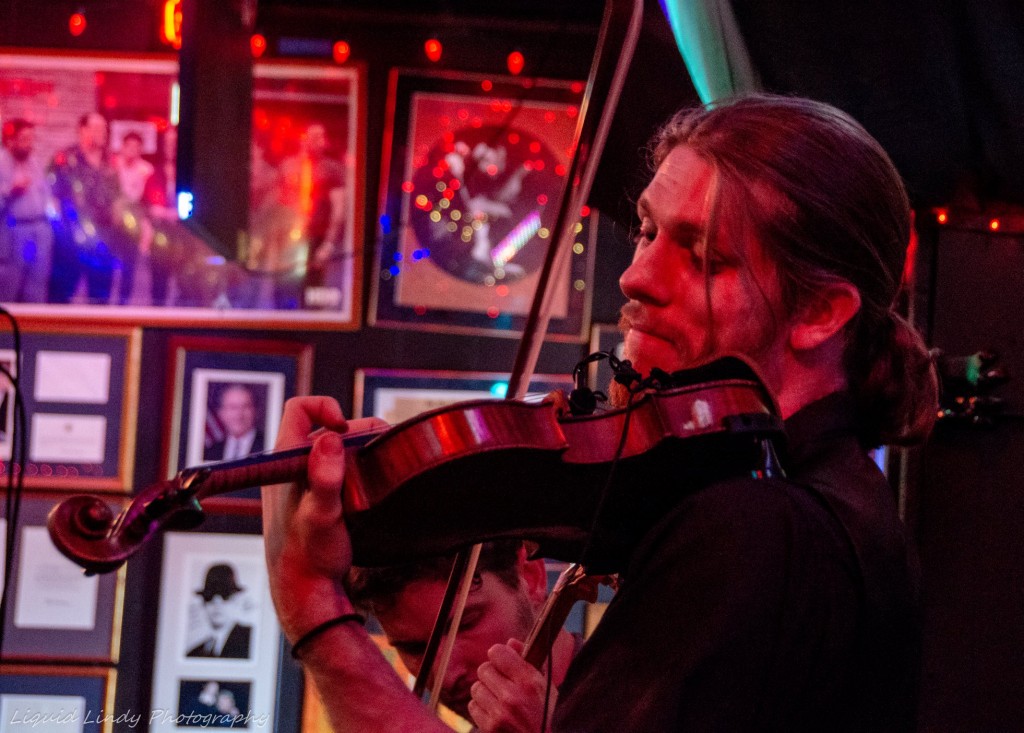 Jazz violinist Matt Andrews tours with various bands around the country and regularly performs and teaches locally around the Baltimore-Washington area. He is a member of Baltimore's premier "Trad" jazz group, Tongue in Cheek Jazz Band, as well as Baltimore's most notable gypsy jazz group, the Hot Club of Baltimore (a.k.a Ultrafaux) with whom he can be found jamming every Monday night at the Baltimore Gypsy Jazz Jam. Matt is has several of his own projects including the Violins of Baltimore (with Nataly Merezhuk on violin), the Baltimore Django Collective (with Sami Arefin on guitar and Zach Serleth on bass), and the Matt Andrews Trio. He regularly collaborates with other prominent musicians and bands nationally and locally.
Friday, September 6 12-2pm along the art footprint