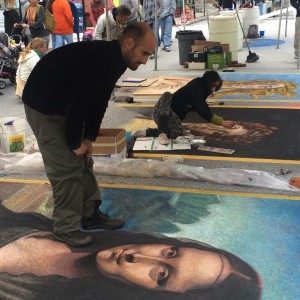 EVENT SUMMARY.  This 3-day cultural event will showcase elaborate chalk paintings created by artists directly on the streets of Little Italy. The free outdoor chalk festival includes live music, street performers, participatory art, an art market and al fresco dining in a celebration of the contemporary renaissance of Baltimore's historic Italian neighborhood.
Our model for this event originated in Italy in a tradition that dates back to the 16th century — the art of street painting. Historically, i madonnari were wandering artists in Italy who traveled village to village to earn their livelihood at various festivals and on various holy days. The artists often depicted religious images in their paintings, thus earning their name. Such a festival was first introduced in America in Santa Barbara, California in the 1980s. Today, street painters create breathtaking traditional and expressionistic compositions using the street as their canvas and chalk pastels as their medium.
VISUAL ARTS.  Artists will create exquisite classical and contemporary 3D chalk paintings on Little Italy's South High Street on Friday, Saturday and Sunday.  This year, the  theme of the art is "The Power of Women." Professional and student artists will become i madonnari for the celebration. Little Italy proudly hosts  Madonnari from around the globe; the previous year's artists included Flavio Coppola, Matteo Appignani, Andrea Starinieri, Tiberio Mazzocchi, Carlos Alberto GH, Sharyn Chan, Anthony Cappetto and Wendy Stum, Sonja Mazereel, Erik Greenawalt, Julie Jilek, Ken Mullen, Aislyn Mullen, Beatrice Flaig, Nicole Flaig,  Abraham Burciaga,  Holland Winslow, Sara Wenger, Tonya Youngberg, Jeff Pilkinton, Jasmine Pilkinton, Lissette Aguirre, Zuleika Hodges, Erika Thurkins, Chelsea Ritter-Soronen, iVann Garc, Holly Lynn Schineller, Lisa Michelle, Graham Curtis and Maryland artists, KC Linn, Barbara Gruber, Jean Razulis,  Martha Simons, Bridget Cimino, Nas the Artist,  Elizabeth Humphries and Gurmannat Kalra. Teams of art students from local  schools and the Girl Scouts of Central Maryland will also create street paintings. The art will remain vibrant on the street for viewing on Monday.
PERFORMING ARTS. Local, national and international performing artists,will participate in a series of indoor and outdoor events sponsored by the Little Italy restaurants. The Festival is presented by the Little Italy Neighborhood Association and the Baltimore Jazz Alliance and will offer a stellar lineup of  continuous live music on the BJA Soundstage on Fawn Street between S. High Street and Albemarle Street. The previous year's lineup included internationally renowned guitarists Frank Vignola and Vinny Raniolo.  Harpooner from Nashville.  Eric Byrd Trio,  Carl Grubbs Ensemble, Mark Kraemer Quartet, Otherworld, Keystone Jazz Quintet, A Time for Jazz Quartet, Donna Jean and the Somethin' or Others, Stone Hill All-Stars and  Kings of Crownsville. In addition to the music on the soundstage, street performers  will busk throughout the art footprint. Laura Norris, founder and instructor of Mando for Kids, will lead her young Baltimore City musicians as they play Italian and contemporary music on bowlback mandolins. Buskers included the extraordinary musicians who comprise the Baltimore Mandolin Quartet, No Strings Attached, folk singer Jake Duhn, Noah Stone, violin, Jake Ruth, jazz guitar and Marc DeSimone, mandolin, and Vince Piscopo, accordian. Roving opera singers, Natalie Conte, Soprano  and Colin Johnson, Bass Baritone and the Park School of Baltimore a cappella ensembles, The Eightnotes and The Vocal Chords, will also perform in and outside the Little Italy restaurants.  The Apple Scruffs perform on Sunday evening from the roof of Germano's PIATTINI in an ode to the 1969 Beatles rooftop concert. Jam sessions in the bar of Germano's PIATTINI with Mike 'n' Ike and our international guests will kick off the festivities on Thursday night and close the Festival on Sunday night.
MADONNARI CHILDREN'S CHALK CENTER.  Also on the weekends, the MADONNARI Children's Chalk Center, a family Madonnari arts area, will be the site of children's arts and crafts, face painters and stilt walkers from Big Whimsy and Big Biz Entertainment, magicians Brian Kehoe and Annie Montone.
A comprehensive schedule of art workshops, lectures, music and theater events will be published on the LittleItalyMadonnari.com website and posted in the Little Italy restaurants.
AL FRESCO DINING. Attendees will enjoy al fresco dining at Amicci's of Little Italy, Angeli's Pizzeria, Chiapparelli's Italian Restaurant,  Germano's PIATTINI, Isabella's, Joe Benny's, La Tavola Ristorante Italiano, Little India, Sabatino's Italian Restaurant, Tagliata and Vaccaro's Italian Pastry Shop.
ART MARKET.  Local artists and artisans will sell paintings, prints, metalwork, woodwork and upholstered furnishings and wearable art.
SPONSORS. The Festival is organized and sponsored by the Little Italy restaurants, businesses, organizations and individual patrons of the arts including Amicci's of Little Italy, Angeli's Pizzeria, Chiapparelli's Italian Restaurant,  DiPasquale's Italian Marketplace, Germano's PIATTINI and Cabaret at Germano's, Isabella's, Joe Benny's, La Tavola Ristorante Italiano,  Little India, Sabatino's Italian Restaurant, Sotto Sopra, Tagliata, Vaccaro's Italian Pastry Shop, Blanc Noir Bed and Breakfast/Segs in the City, Central Acceptance Corporation, DiPasquale's Espresso, Coffee and Tea, Dr. Frank C. Marino Foundation, Hospital Support Services, Inc., Kennedy Personnel Services, Masonry Solutions, International, National Lumber, CCPress, Work Printing and Graphics, Acme Paper Supply, Inc.,   Jonathan G. Willen's Vintage Affairs, Perry Hall Insurance Brokers, Inc.,  KOHLER Signature Store and Thos Somerville Co., FVC Bank, BGE, an Exelon Company, Miles & Stockbridge, Banfi Vintners Foundation, Workshop Development, Kaiser Permanente, Gruppo Campari, Gemma di Luna, Key Brewing Company,  Shanklin Media and the Baltimore LED Art Billboard, Italian American Civic Club, OSIA Little Italy Lodge, Associated Italian American Charities of Maryland, Columbus Celebrations, Inc., the Promotion Center for Little Italy, Astrachan Gunst & Thomas, Lou and Christopher Mazzulli, Vince and Julie Piscopo, Michael and Susan Gallerizzo, Bill and Carol Martin, Tom and Jacque Iacoboni, Alfredo and Pamela Massa, Alberto and Pamela Pecora, Dr. Thomas M. Scalea, Fischer Investments, LLC, Lavazza Premium Coffee Corp., Sudano's Produce, LLC., Prudential Advisors  and Charlestown Retirement Center. Days Inn Baltimore, Hyatt Place Baltimore Inner Harbor, Fairfield Inn and Suites, Baltimore/Inner Harbor, Lord Baltimore Hotel, and Hilton Garden Inn  are the Official Festival Hotel Sponsors. Parking Authority of Baltimore City is the Official Festival Parking Partner. Baltimore Magazine is our Official Media Sponsor.  Our music sponsors are Baltimore Jazz Alliance, Jim and Juli Wolf, Cabaret at Germano's, Keystone Korner, An die Musik, Contemporary Arts, Inc. Ben Frederick Realty, BMI, Instant Seats, Vince and Julie Piscopo and the Italian American Civic Club.  Our museum partners are the American Visionary Art Museum and the Walters Art Museum.  The St. Leo's School Hall (Pandola Learning Center) is the site of our Madonnari Festival Artists Commissary and Information Center. Thank you to Fr. Jason C. Worley, Pastor of Saint Ursula Catholic Church, for administering the Blessing of the Chalk at this year's Festival. The Festival is generously supported in part by grants from Governor Larry Hogan and the Maryland State Arts Council msac.org and Mayor Brandon Scott and the Baltimore Office of the Performing Arts promotionandarts.org.
OUR MISSION.  The mission of the festival is to showcase the exceptional talent, camaraderie and creative spirit of Baltimore.  The heritage of the neighborhood of Little Italy is celebrated and artists with new ideas are welcomed in this forward thinking creative community with its enduring traditions.
EVENT DATES & HOURS
Friday- Sunday, September 9-11, 2022 (tentative)
11am – 10pm
In the event of rain the art and music will continue inside the participating Little Italy restaurants and venues which will host "art studios" where patrons can meet and greet the artists and watch them at work and enjoy the live music.  An updated schedule of events will be posted on this website.