Flavio Coppola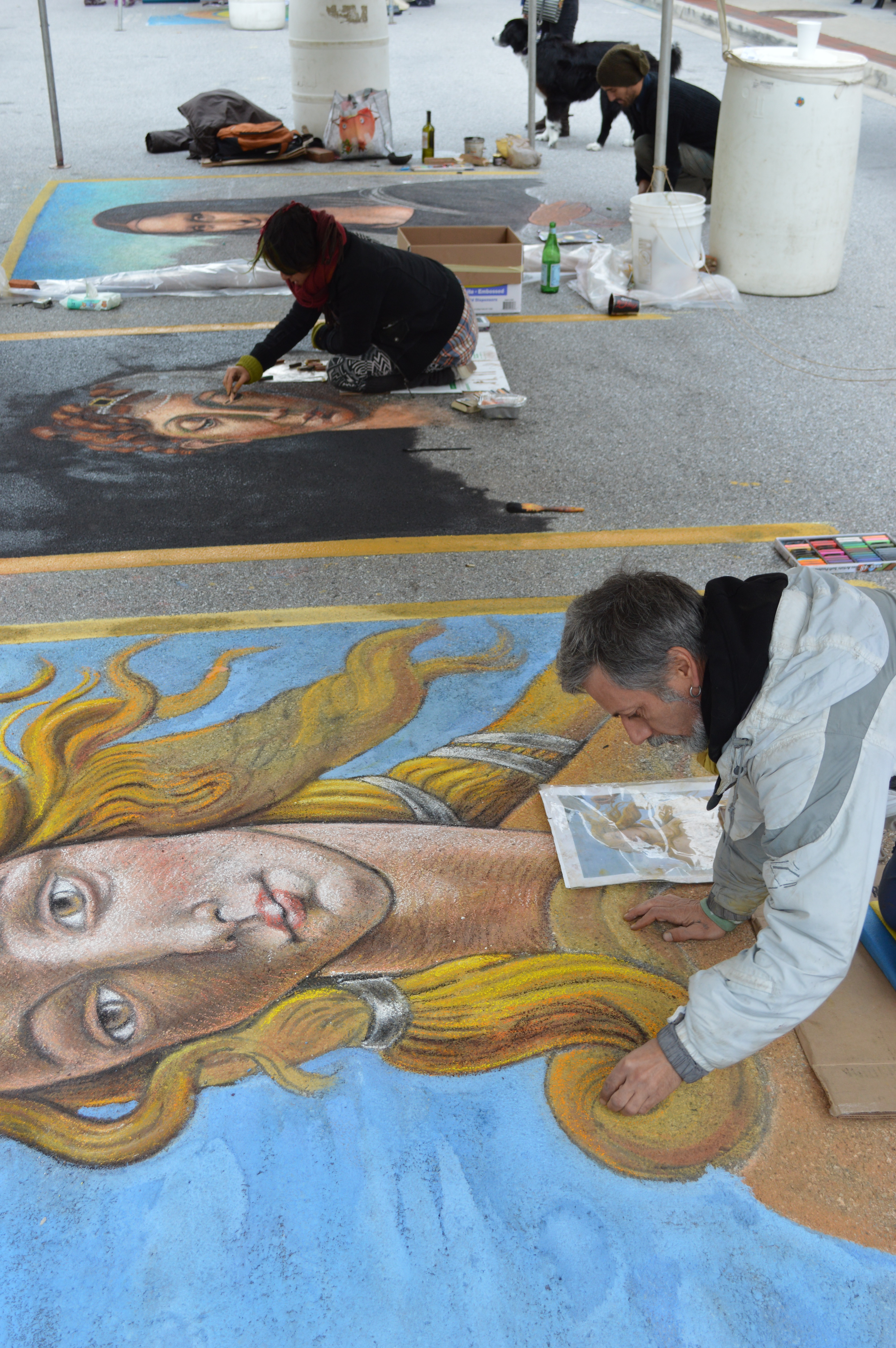 Flavio Coppola, painter, muralist and street artist, lives and works in Florence, Italy. Born in Venezuela in 1962, he  qualified in Artistic Liceum  in 1980 and received a Diploma in Advanced Studies in painting at the Fine Art Academy of Rome in 1984. He worked as a restorer of frescos, stucchi and wall decorations, in various churches in the Liguria region and for private clients.  He has participated at numerous art-shows, performances and installations, both group and individually, in the Florence and Romans scene. Active as a street-artist since early 1990, he introduced a new spirit to the well known 'Madonnaro' discipline in Florence and many locations in Italy and Europe and all over the south of Italy and was invited to participate at the following street-art festivals: Mercantia  Certaldo nelle edizioni  from 1998 to 2005; Antica Fiera delle Grazie nelle edizioni from 1990 to 2001 e from 2009 to 2014, Linzer Pflasterspektakel  (Austria) in 2007, The Colours of Valkenburg (Olanda) in 2008 and the Sarasota Chalk Festival (US) in 2011.
Francesca Arsi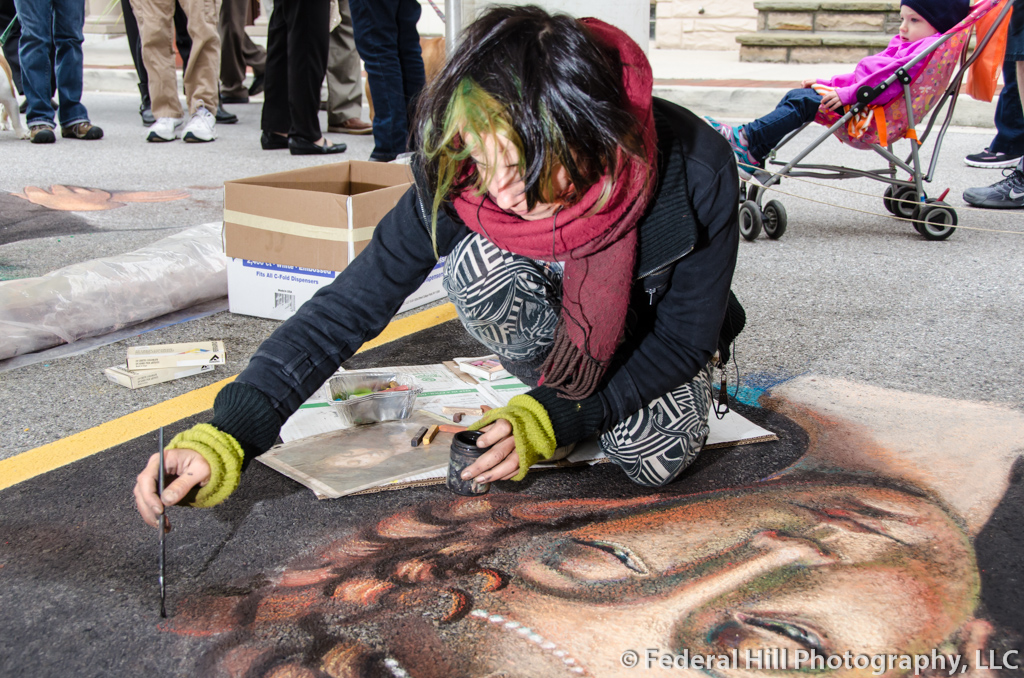 Francesca Arsì, painter, musician, street artist, lives and works in Assisi, Italy. Born in Genova in 1984, she is qualified in restoration and wall-painting in 2005. She worked as restorer of frescos, stucchi and wall decorations,  in various churches in the Liguria region and for private clients. She has a Batchelor's degree in painting at the Academy of Genova in 2009 and graduated in superior studies in painting at the Academy of Torino in 2012.  She has participated at numerous art-shows, both group and single in the genovese and torinese scene. Her work selected for Athens Art 2010 and she has had shows in the gallery Marena Project, Torino and at "The Others" (Torino 2013).  Francesca performs musical decomposition along with Hairi Vogel. (2013 -) Active as a street-artist since early 2014, she introduced a new spirit to the well known 'Madonnara' discipline in Florence, Assisi, Siena and all over the south of Italy and was invited to participate at street-art festivals in Toulon, Almere and Scheveningen. At the yearly 'Antichissima Fiera delle Grazie' in Curtatone , Italy, (the world's biggest reunion of traditional 'Madonnari') her work was awarded by the Rotary Club.
Michael Kirby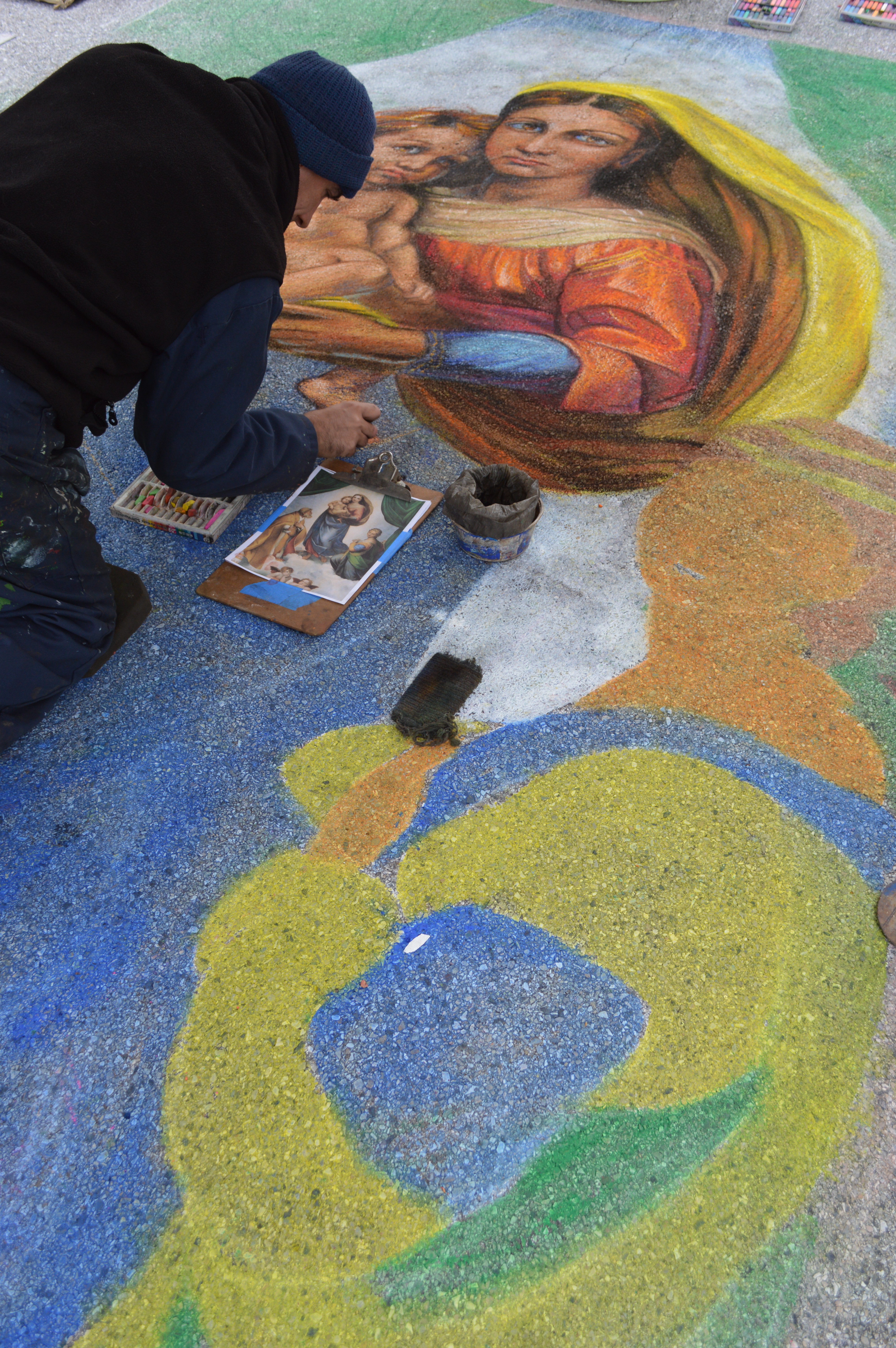 Michael Kirby is considered to be one if not the top street painter in the world. Mr. Kirby has been creating and developing the art form for over 15 years. He has competed and won the majority of the street painting festivals in the world including festivals in Italy, Germany, Holland, USA and others.  The majority of the work created by Mr. Kirby for the streets and pavements of the world uses one point forced perspective. This technique is more commonly called 3D art. Mr. Kirby and his studio, Murals of Baltimore, are leaders in this new development in the art form. He is able to create work that seems to lye below ground or set like a pop up book. The themes are generally conceived by the client and the studio. Michael Kirby enjoys creating work that deals with social and local issues. His goal is to use the visual arts to help solve these issues. Street painting is a unique way to be able to achieve these goals due to the "in your face" aspect of the art form. The streets are a daily necessity of people and a street painting utilizes this space to show its ideas.
Tomoteru "ToMo" Saito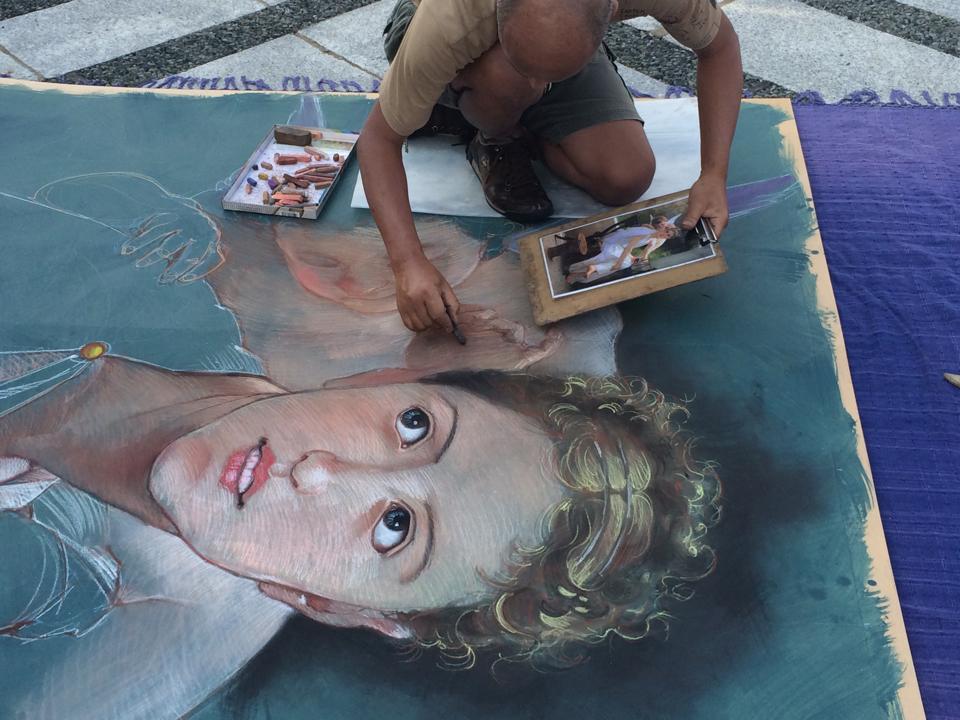 Tomoteru "Tomo" Saito was born and raised in Osaka, Japan and now lives and works in Florence, Italy. He studied at the Designer's School in Osaka and worked as an architect in Tokyo before moving to Italy where he is now a "Madonnaro," or street painter. Besides classical 2-D street painting, he also creates anamorphic 3-D street painting. He holds some of the most prestigious awards in street painting, most notably from the Grazie di Curtatone Madonnari Competition in Mantova, Italy, where he was awarded 1st place among "Maestri Madonnari" in 2000 and 2001. He participates in street painting festivals throughout Europe, the U.S., Mexico, Hong Kong, Dubai and more.
Jennifer Chaparro and Mercedes Chaparro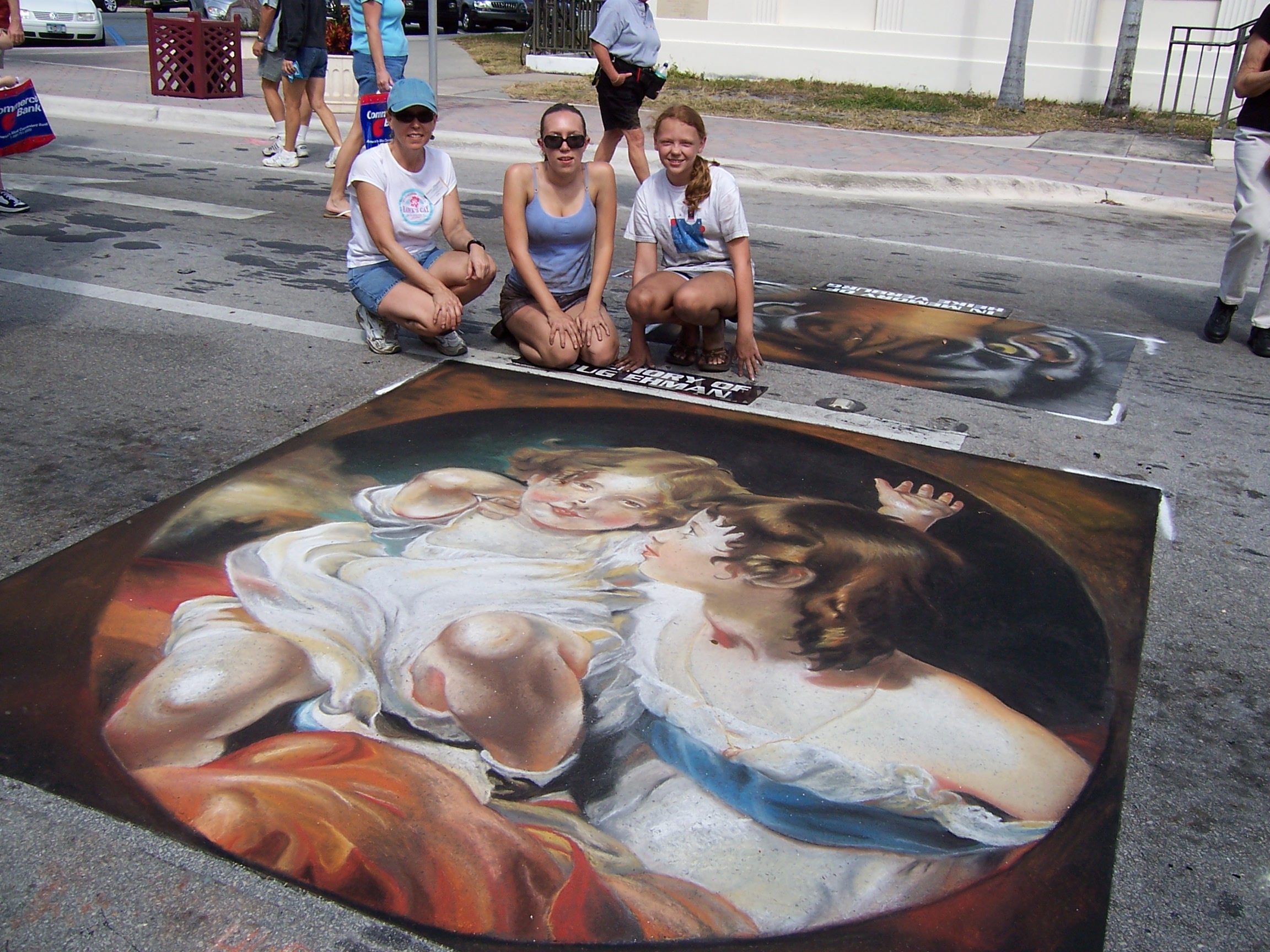 Jennifer Chaparro is an internationally recognized award-winning street painter/madonnara from South Florida.  She grew up in San Diego and has a degree in Design from UCLA. Her daughter, Mercedes Chaparro, has a degree in Architecture from Carnegie Mellon University in Pittsburgh and now lives and works in the Washington DC area.  Jennifer began street painting in 2004 as something fun to do with her daughter, but then turned it into a business and now travels the world creating custom works of art for festivals and special events.  Jennifer received her Maestro Certification in 2011, and is known for her exquisite portraiture, but also for exciting 3D anamorphic street art that boggles the mind. You can see more of her work on her website at www.AmazingStreetPainting.com.
Ever Galvez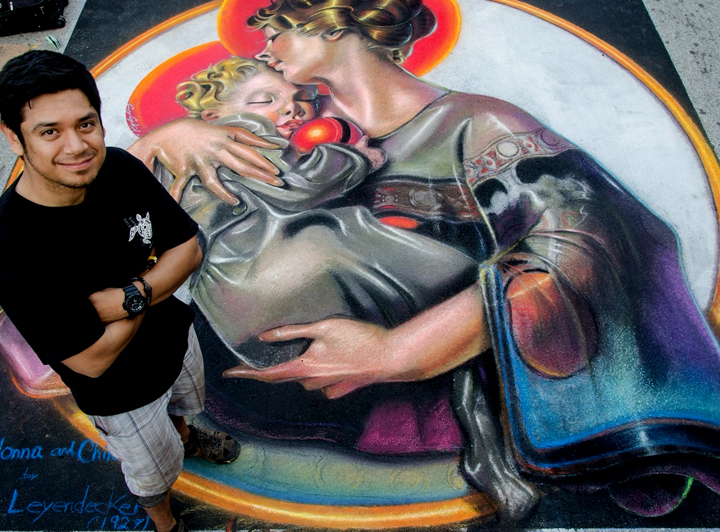 Ever Galvez is a fine artist, classically trained in painting, drawing, sculpture and traditional  animation. He is known most prominently for his award winning Chalk Street Painting talents. He began his journey enriched by the vibrant colors of Mexico and eventually the multicultural influences of Southern California. Through his art, he shares an interpretation of colors  that goes beyond what the naked eye can see in all that surrounds him. He combines this with his deep respect for the traditional arts and artists like Alphonse Mucha, Lorenzo Bernini, J.C. Leyendecker, William A. Bouguereau, Caravaggio, and Michelangelo among others. In doing so, he creates a form of realism  that he believes brings a subject's true colors and emotions to the surface for all to experience.
"The true colors of an object is the interpretation of our own experiences in life. My surroundings made me achieve those experiences through the years. Through art, I can capture a moment in time and transform and express it for everyone to see."
Andrea Starinieri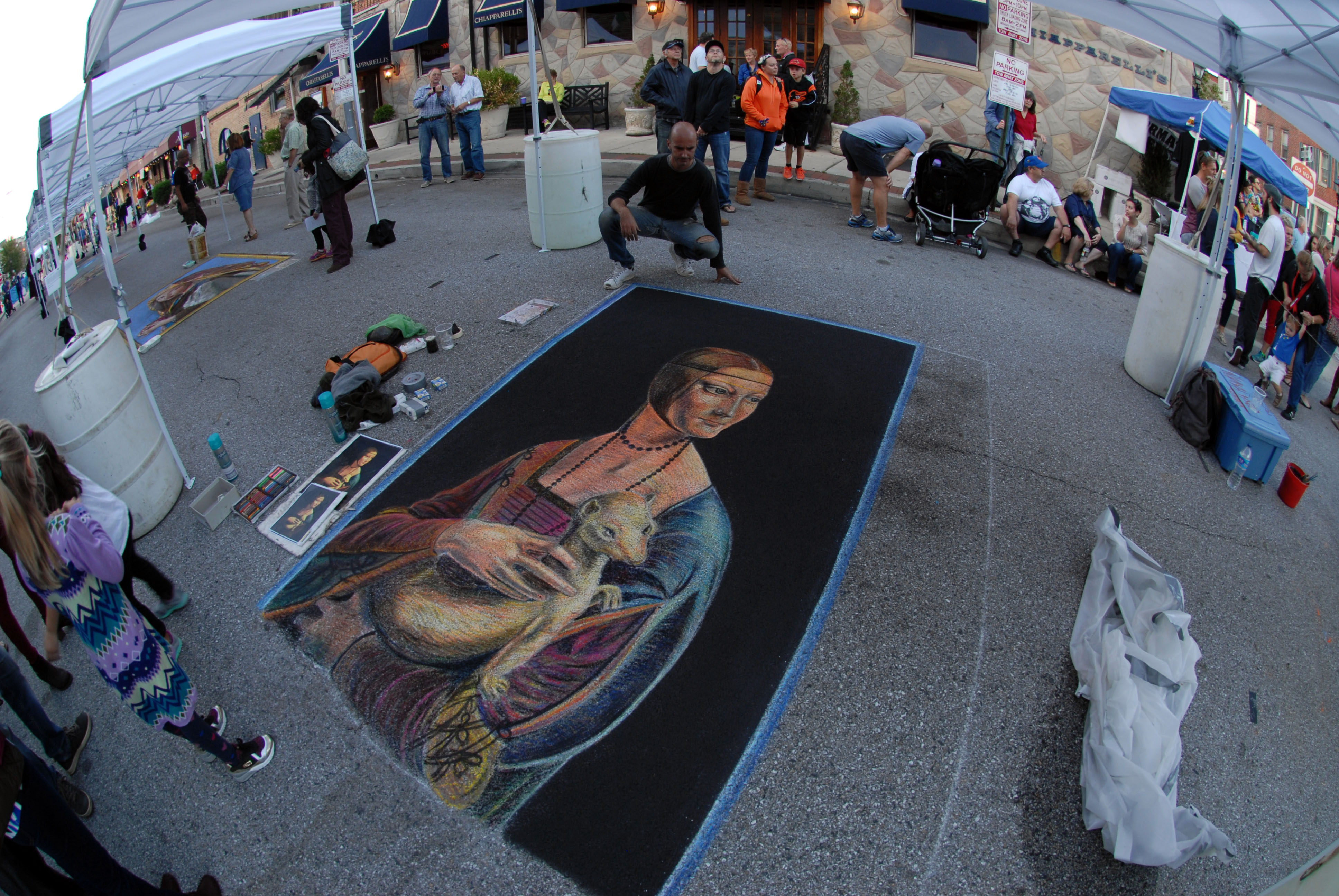 Andrea Starinieri was born in 1977 in Pescara, Italy. He graduated art school in his hometown before moving to Florence, Italy, to attend the Fine Art Academy. After receiving his degree in 2002, Andrea went on working in a number of art galleries in Florence and Granada, Spain. He actually lives in Pescara with his wife Lara and their two kids. He works as a "Madonnaro" (pavement artist) mostly along Via del Corso in Rome.
Ketty Grossi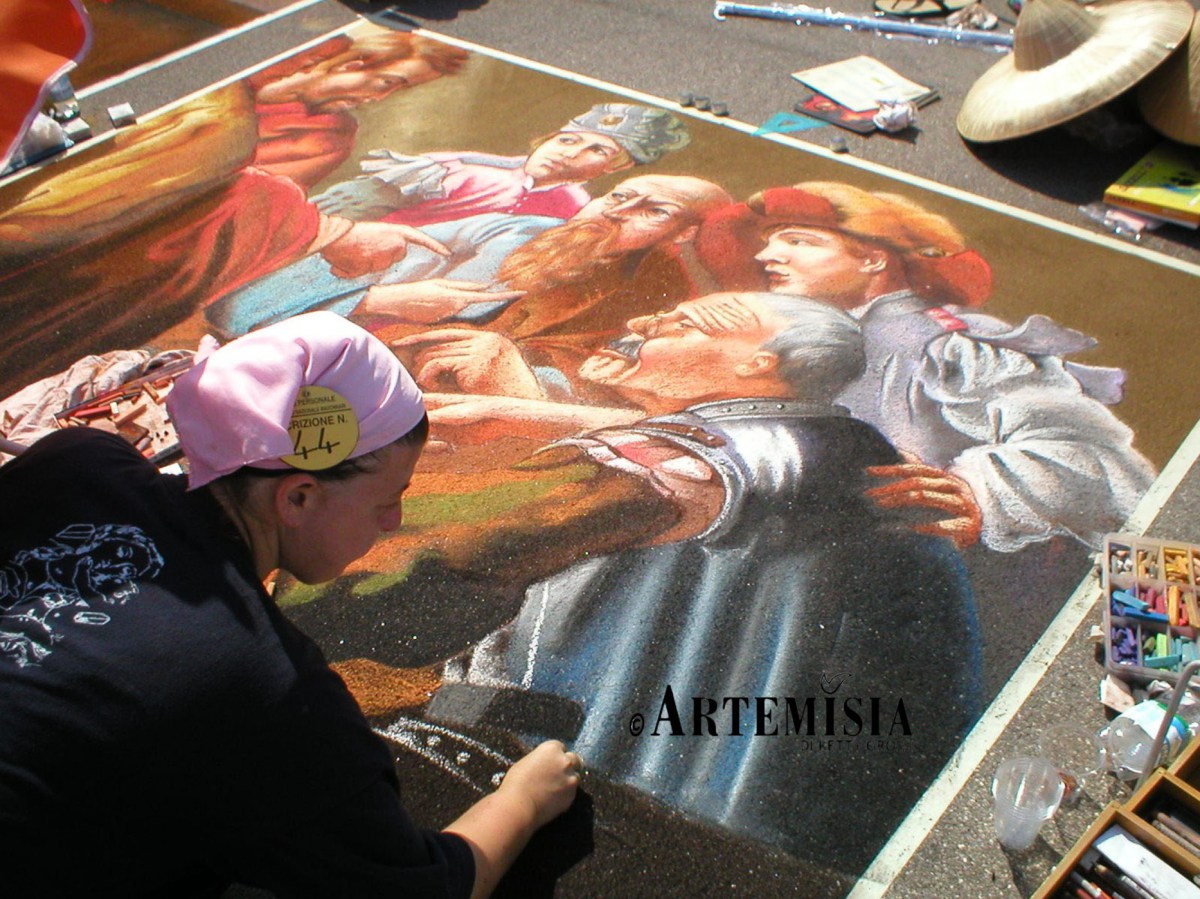 Born and raised in Mantua,Italy, Ketty Grossi took a school-leaving certificate in Antique Decorative Arts at the Art Institute in Mantova and in 1997 she graduated in Mantova on Conservation and maintenance of works of art, paintings on canvas, frescos, panel paintings and sculptures in polychrome wood.
Currently, she is a freelancer and is engaged in decoration and restoration, realizing classic and modern decorations, art fakes and personal projects and decorations for private persons, shops, public places and residential estates.
Says Ketty, "As a child my father used to take me each year on 14th of August to see an international competition of pavement paintings in front of the Santuario delle Grazie di Curtatone (Mantova) in which every artist has to propose a religious representation made with chalk colours.
"I  was so fascinated I [wanted to wanted  to try and become myself an artist of this ephemeral and ancient painting technique."
She is a co-founder of Centro Culturale Artisti Madonnari (Madonnari artists cultural centre).
She  took part in various exhibitions and she performed in several Street Art events all over the world winning awards in Italy becoming Maestra Madonnara, Switzerland, Netherlands, France, Germany,Denmark, Florida, California, Texas, Russia and Mexico.
Her chalk work is also featured in the books:
'Sidewalk Canvas' by Julie Kirk Purcell – London 2011
' The Art of Chalk' by Tracy Lee Stum – Rockport Publishers 2016
She had the honor to help some days the crew that created the largest anamorphic 3D street pavement piece, brooking the Guinness World Record!The Guinness Book 3D installation took place at the Venice Municipal Airport Festival Grounds.
Carlos Alberto GH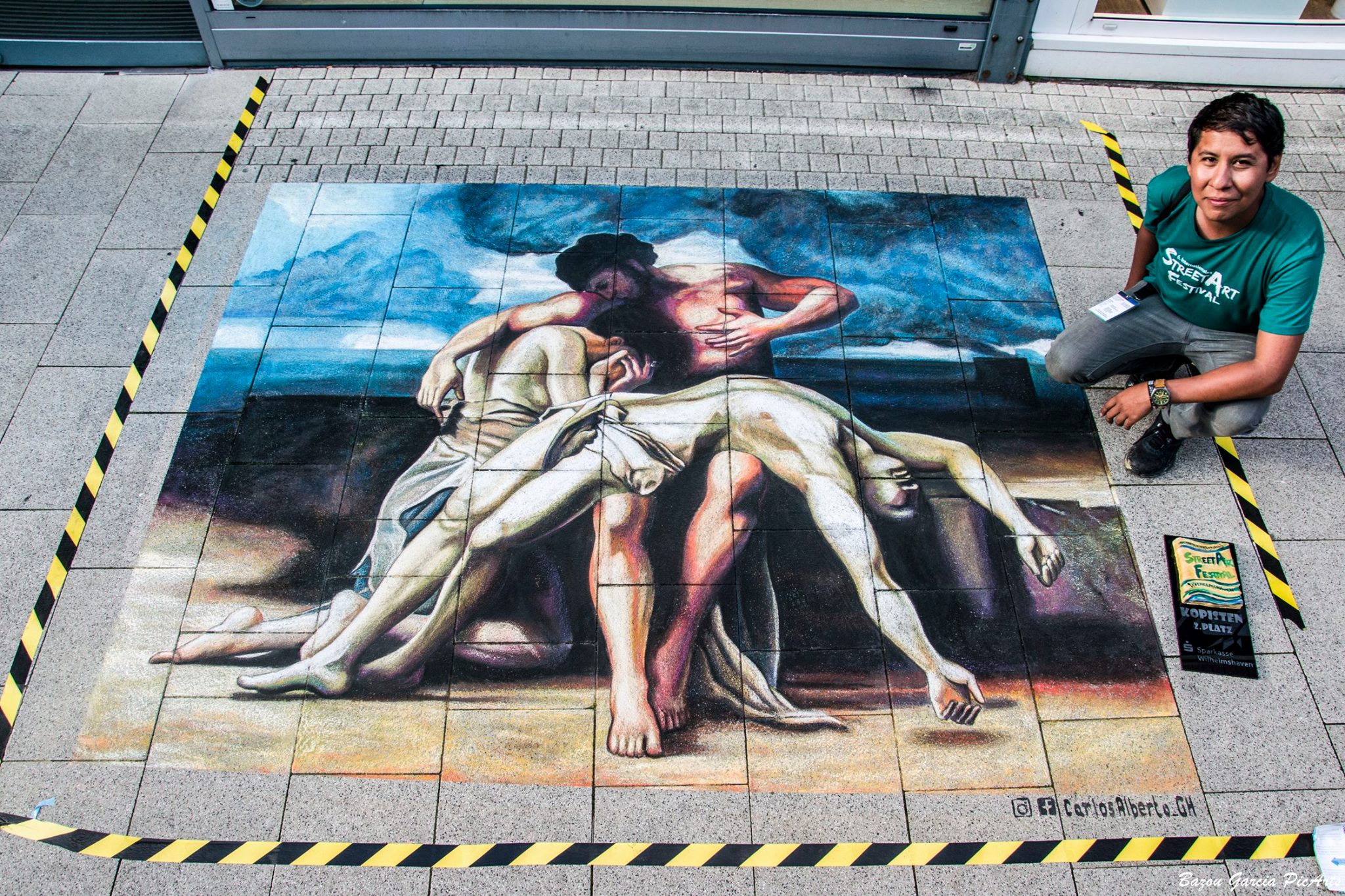 Carlos Alberto GH is an artist  from Guadalajara, Mexico who was introduced to street art by his sister, Adry del Rocío, with whom he frequently collaborates. They have participated in international street painting and mural expositions all over the world including in the United States, Cuba, Sweden, Spain, the Netherlands, Germany, Russia and at home in Mexico. Carlos is a former archaeological restorer on the Mayan peninsula.
Erik Greenawalt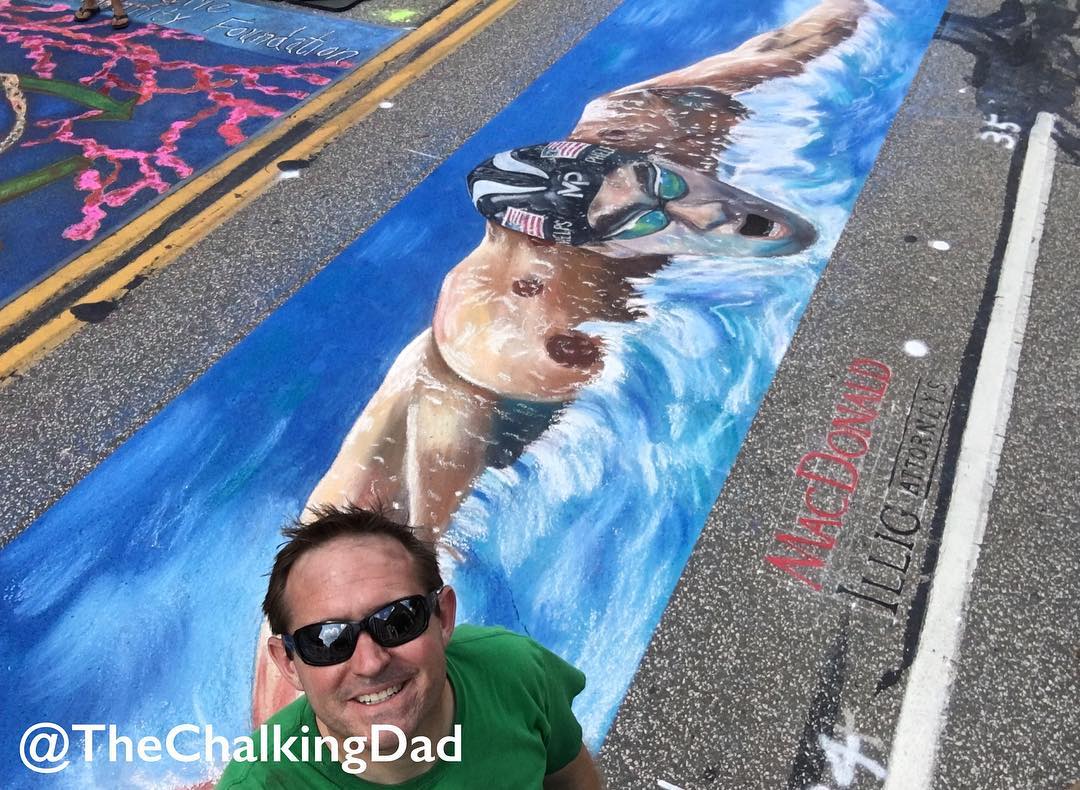 By day, Erik Greenawalt is a CPA (the boring debits and credits type) working in corporate finance for a large Pittsburgh-based grocery chain. But on weekends, he puts on his other CPA hat – Chalk Professional Artist — and adds life to driveways, streets and sidewalks from New York to Florida. Erik's interest in chalk art began about a decade ago when doodling in the driveway with his then-toddlers, Jaycie and Jenna. Crude stick figures began morphing into more-sophisticated Disney princesses and, last year, 3D renderings of Olaf and Emmet the Lego Man. He became known in the neighborhood as "The Chalking Dad" – and the name has stuck. He still takes most of his drawing orders from his daughters (who sometimes chalk alongside him at festivals), which results in fun, colorful pieces — and not just cartoons anymore. You can follow his work at instagram.com/TheChalkingDad.
Katie Better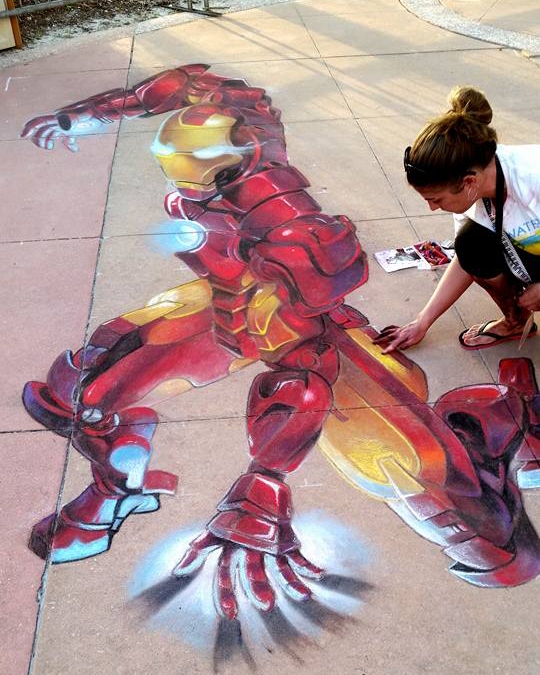 Katie is a native of Maryland and has been chalking since 2012. She is inspired by animation, wildlife, art history and public art. Her first community arts project was "Traum Baum" an interactive sculpture collaboration exhibited at the BMA in Baltimore. She's been working in video games for 5 years and currently lives in New York as a senior motion capture animator for Rockstar Games. She lives by "Take chances, make mistakes, and GET MESSY!"
Check out Katie's work at www.katiebetter.com
Anthony Cappetto and Wendy Stum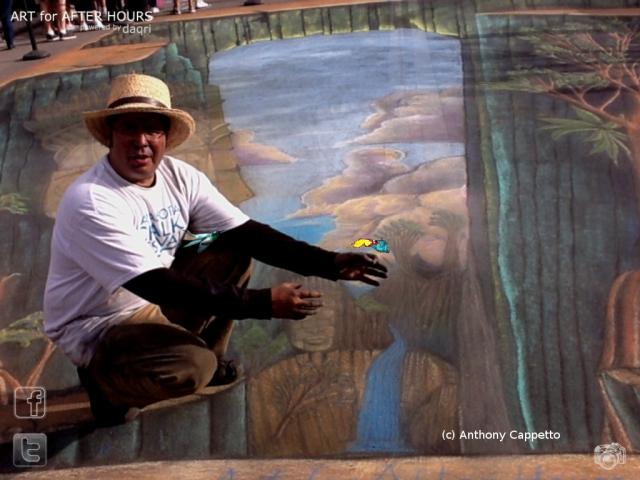 An internationally recognized 3D street painting artist working in chalk and paint who shares his art form throughout the USA and internationally including India, UAE, Japan, Uruguay, Germany, Mexico, and Italy. Anthony Cappetto over the years has been a guest of the US State Department in South America, lecturing, mentoring University students in Montevideo, Uruguay, South Carolina, and Georgia.  An early adopter/pioneer in the use of 4D emerging technologies since 2007 such as augmented and virtual reality (see animated computer model butterflies in Cappetto's hands – picture) as an integrated part of his 3D anamorphic illusions having done public 3D/4D installations in Sarasota, Florida, Mumbai, India, and other locations internationally.  Cappetto was recently invited and participated as part of a select group of world class 3D street painters for the Dubai Canvas Festival earlier in 2015.  Team member of two Sistine Chapel re-creations in California and Mexico.  It is very important to me as a 3D street painter to design and create 3D interactive art where the public can pose and be in (and sometimes within) the art when the sizes allow.  I look forward to sharing my 3D art with everyone at the Festival.   anthonycappetto.com
Wendy Stum attended her first street panting festival in the late 1990's and started photographing, then video interviewing the artists at work as a way to share the art form with the public. Documenting these festivals eventually led to Blog Now, a street painting themed online journal which covers and promotes festivals and artists worldwide in addition to street painting TV, an online video channel.
KC Linn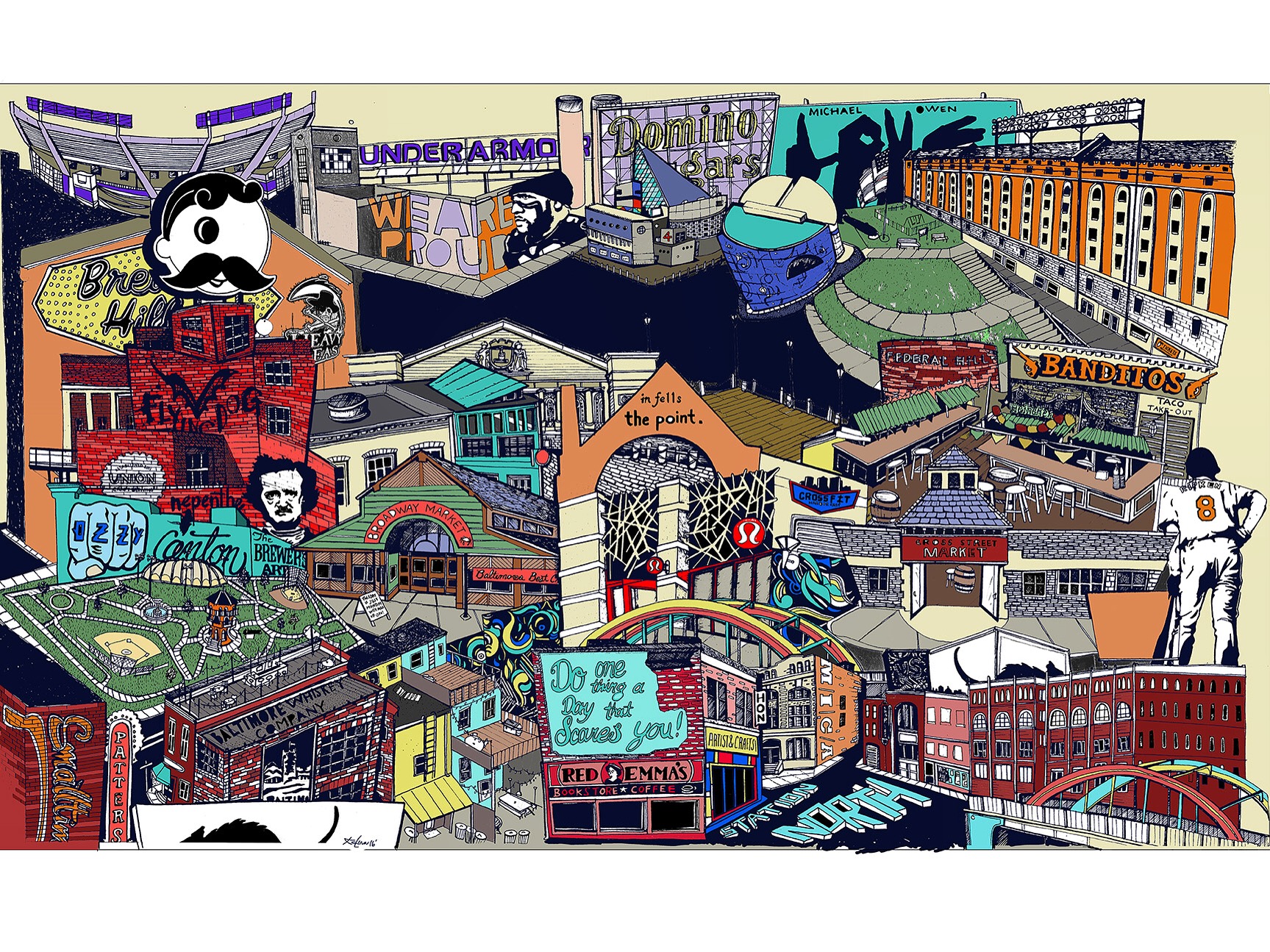 KC Linn is a Baltimore based artist who dabbles in illustration, design and typography as well as traditional art forms such as painting and drawing. Growing up in small town Maryland she has always been attracted to visual stimulation of all shapes, sizes and colors. Her creative adventure began after her 12th birthday when she received a blank skateboard deck and transformed it into the first piece of merchandise for her new business. Mastering skateboard design at age 12 lead to a creative obsession that unknowingly shaped her future.
KC attended Shepherd University where she participated in college athletics and studied painting. In her senior year she joined the Navy where she was a Hospital Corpsman for four years. During this time KC's creative exposure was elevated through world travel and exposure to new experiences. From bootcamp to her last day in the Navy she continuously contributed her skills to multiple projects and was responsible for numerous logo designs, t-shirt, poster and flyer graphics.
KC has exhibited in numerous galleries across the United States as well as abroad including The French Embassy Art Gallery in Saõ Tomé Africa, Walter Reed Wounded Warrior Memorial in Bethesda Maryland, Red Brick Gallery and Phaze 2 Gallery in West Virginia, The Grotto Cafe in Cave Creek Arizona and Spur Gallery in Baltimore, MD. She has done logo design for Stevenson University as well as store graphics for Lululemon. Her illustrative work and paintings depict visual narrations from her past military experience juxtaposed with contemporary culture depicted through parallel realities. She is motivated by daily visions and experiences. Using obscure line work, luminous color palettes, questionable lyric and/or sarcasm, she wants her viewers to feel the same temporary relinquishment from generic life. Her biggest influences are Jessica Hische, Mike Perry, Chipp Kidd and Mr. Bingo. KC currently resides and works in Baltimore Maryland.
Barbara Epstein Gruber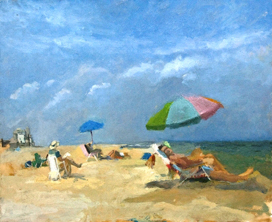 A native of Baltimore, Barbara Epstein Gruber attended Catonsville Community College, received a BFA in painting from the Maryland Institute College of Art, studied in the graduate fine arts program at the University of Pennsylvania and earned her MFA from Brooklyn College. Her work can be found in private and corporate collections throughout the US, Europe and the UK and has been featured in numerous local and national publications. Ms. Gruber's work has won Best in Show and Honorable Mention at national and regional levels by such esteemed jurors as Klauss Kertess of the Whitney Museum, Bernard Chaet, Samuel Hoi, George Gurney of the Smithsonian and Doreen Bolger of the BMA. She is currently an instructor at the Maryland Institute College of Art, The Johns Hopkins University and The Yellow Barn. Most recently, she was a finalist for the William and Trafford Klots residency in Brittany, France.  Ms. Gruber's work has appeared in the New York Times Art Review, New American Paintings, The Baltimore Urbanite, and the covers of the Bluefield Daily Telegraph, The Huntington Arts Review and the Baltimore Messenger and been featured in videos for The Loudoun Times Mirror. Her work can be seen in private and corporate collections throughout the United States, Washington, D.C., Europe and the UK and she is represented in galleries in Maryland, New York, Massachusetts, California and Virginia. Ms. Gruber has been a guest juror for noted arts organizations and is frequently invited to participate in arts fundraisers. Barbara Gruber is currently an instructor at the Maryland Institute College of Art, and the Johns Hopkins University, The Yellow Barn and The Griffin Art Center. She has taught at Anne Arundel Community College, Stevenson University and Howard Community College.
Bridget "BK" Lyons
Bridget "BK" Lyons is a Florida Artist who focuses on colors in her paintings. That love of color has become a staple in her choices for street painting.  Over the years, she has moved on from flat, bright images to develop her passion for colors and just how far she can push the limits.  Her style continues to evolve in street painting, by her mixed use of carefully selected reproductions and inspired original pieces. Aside from street painting, BK also enjoys photography and painting in acrylics.
Social Media:  Twitter:@chalkdirtytome Instagram:chalk_dirty Facebook:chalk dirty to me
Paul Mericle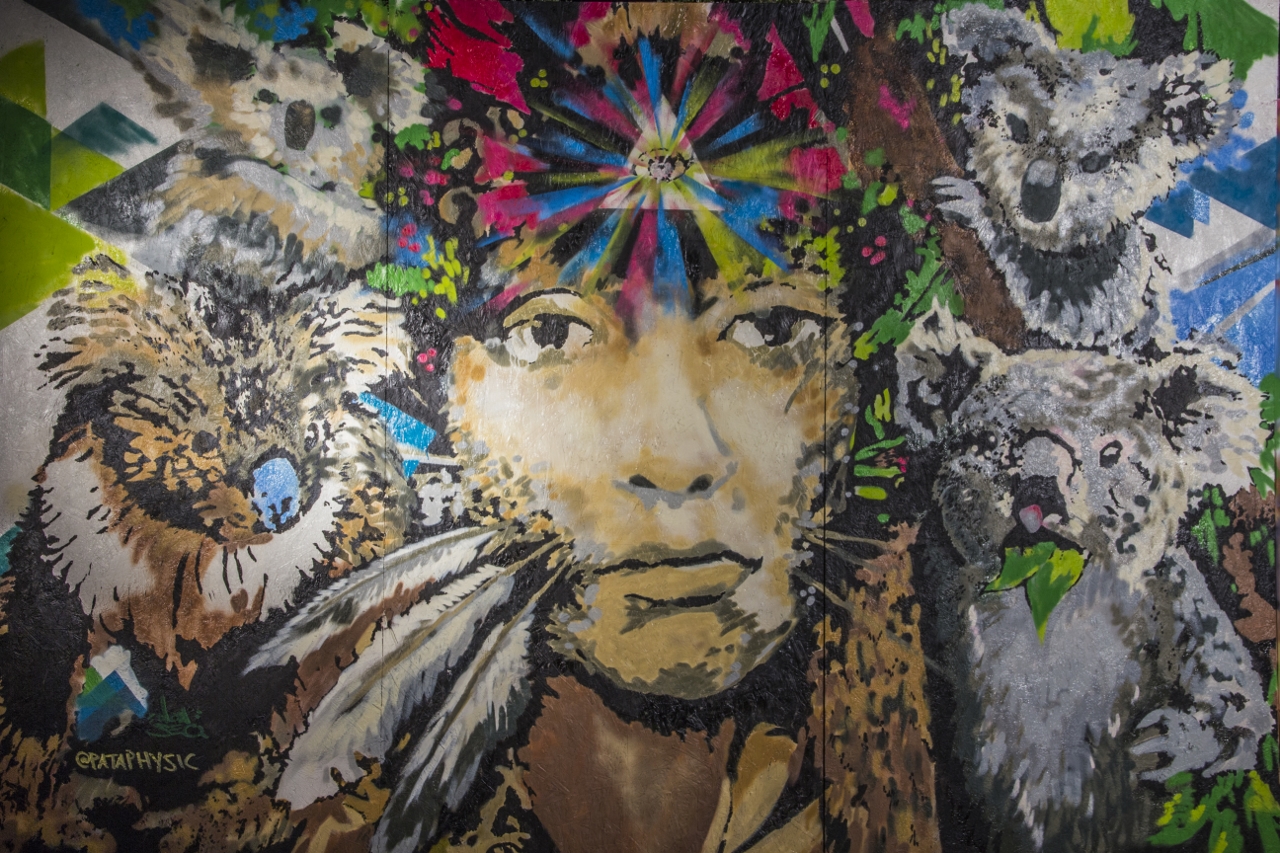 Paul Mericle is a sculptor, painter, and installation artist who lives and works in Baltimore City. His work often builds upon found objects, creating relief sculptures from materials salvaged from construction sites, vacant homes, and other discarded items. As an art teacher for Baltimore City Schools, he created the One Piece Project alongside his students.
Holland Winslow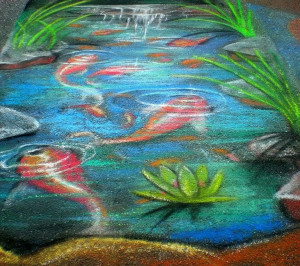 Holland Winslow is passionate about color and expresses this through her vibrant and deep hues in her artwork. She graduated from East Carolina University with numerous art awards and scholarships along the way. She lives in Williamsburg, VA where she is a full time graphic designer for the Commonwealth of VA and owns a small business "Hollandesigns," which focuses in graphic design, streetpainting and murals.
Holland started street painting in 2007. In 2008, she won Best in Show for her "Koi Fish" and many more awards have followed. Since then, she has "taken to the streets" with her chalking, traveling for competitions and commissions, working in both 3D and 2d installations. Through streetpainting, she has gained friends from all over the world and coming together at events is so rewarding and life is like a box of pastels!
Chaya Schapiro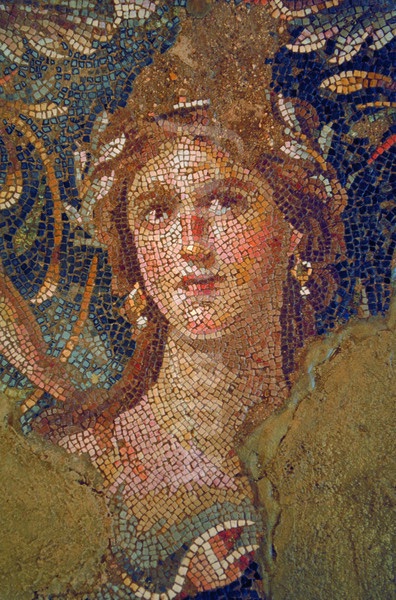 As a painter living in Columbia, MD for 25 years, my art reflects personal journeys and sensibilities. I am interested in exploring art not only as painting for its sake but also as a communication tool to listen to an inner feeling or sensation. The social, historical and cultural context is important to today's individual both in introspection, reflection and how the individual tries to access one's motivation to make choices and responses. As the artist, I have explored and considered my own reactions and choices and how I can relate the abstract thoughts to the body of work. The influences to my work have been varied and considered for a long time. My work in the beginning of my painting journey was a derivative of past painting styles, content and philosophies. The more recent work in the past three years is a description from my lifestyle, personal experiences, philosophy, nature and culture. Our culture's inner voice is often silenced either in our everyday busyness; work environments or general malaise and is ready to be found. The inner voice directs one to make decisions and choices based on ones evolvement as a person. The painting is a way of awakening and provoking the thought in order to listen to our inner voice. I hope to achieve a way to be enlightened, connected and fulfill individuals through the lens of my art. — Chaya Schapiro
Jean E. Razulis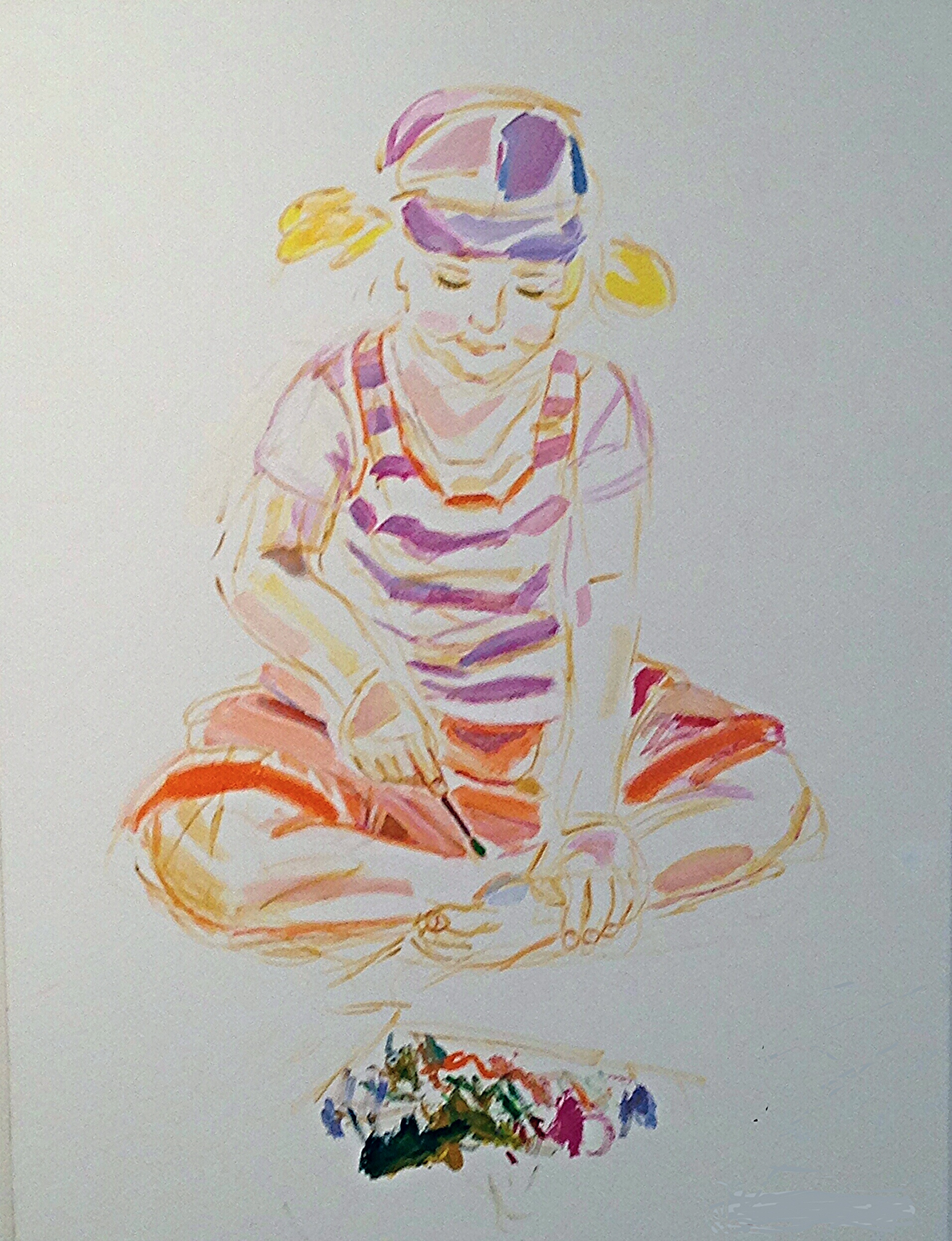 Ms. Jean E. Razulis is an artist currently using acrylic paint on stretched canvas to create large, bold, colorful figurative works of art.  An underlying theme of her work is the energy of life. As a child, Jean studied oil painting and pastels at the Randallstown Fine Arts Academy.  On a full Seagram's Scholarship, Ms. Razulis earned a Bachelor of Arts in Studio Arts at the University of Maryland.  She later attained an MFA from the Mt Royal School at MICA.  Ms. Razulis has displayed her work at local, regional and national venues, including the Palm Springs Desert Museum where she won the Chavant Award.  She has created commissioned pieces for businesses and groups, including Crabtown Project crab  sculptures for the University of Baltimore and Loyola University.
Tanya Ziniewicz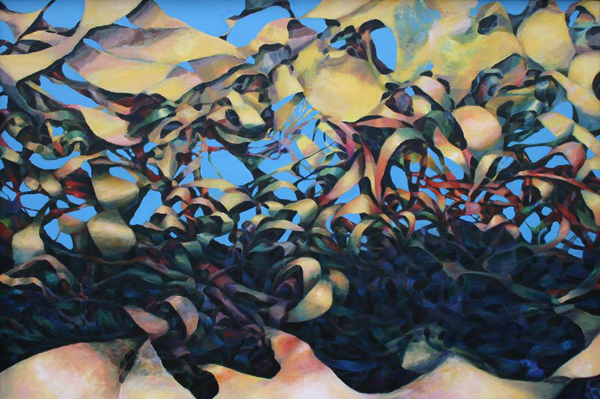 Tanya Ziniewicz investigates subtleties of human interaction, imagination, and transience through a network of organic linear forms that are continually emerging, growing, reaching, and intertwining.  Her images build and traverse paths between observation and invention, logic and emotion, similar to a mind filled with thoughts that sprout and extend, curl and unfurl, tangled like a mass of unwound string or a clustered mound of roots. The forms are invented, stemming from things such as rhizomes, ribbons, neurons, or strands of muscle tissue.  Tanya earned a BFA in Drawing from Cleveland Institute of Art in 2003 and an MFA in Printmaking from Rhode Island School of Design in 2006. She currently resides in Baltimore, MD and has been teaching at Towson University since 2008.
Vann Garz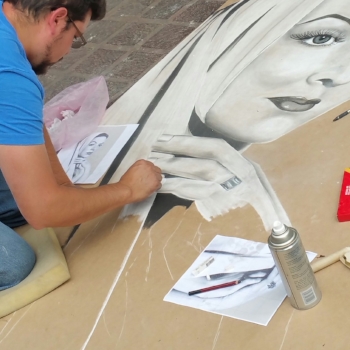 Born in Mexico City, residing between Guanajuato MX and California USA. Vann Garz started painting since he was 8 years old, but after studying advertising design he stopped practicing some of the arts, but thanks to the 2015 Madonnari festival, his passion was reignited. He enjoys interacting with people, to cause them a moment of happiness when they see the art he is creating. He really enjoys those moments. Also, He likes to see how children get so excited about  chalk art. Art for Vann Garz is a way of expression that brings people of the world closer to each other.
Katie Bush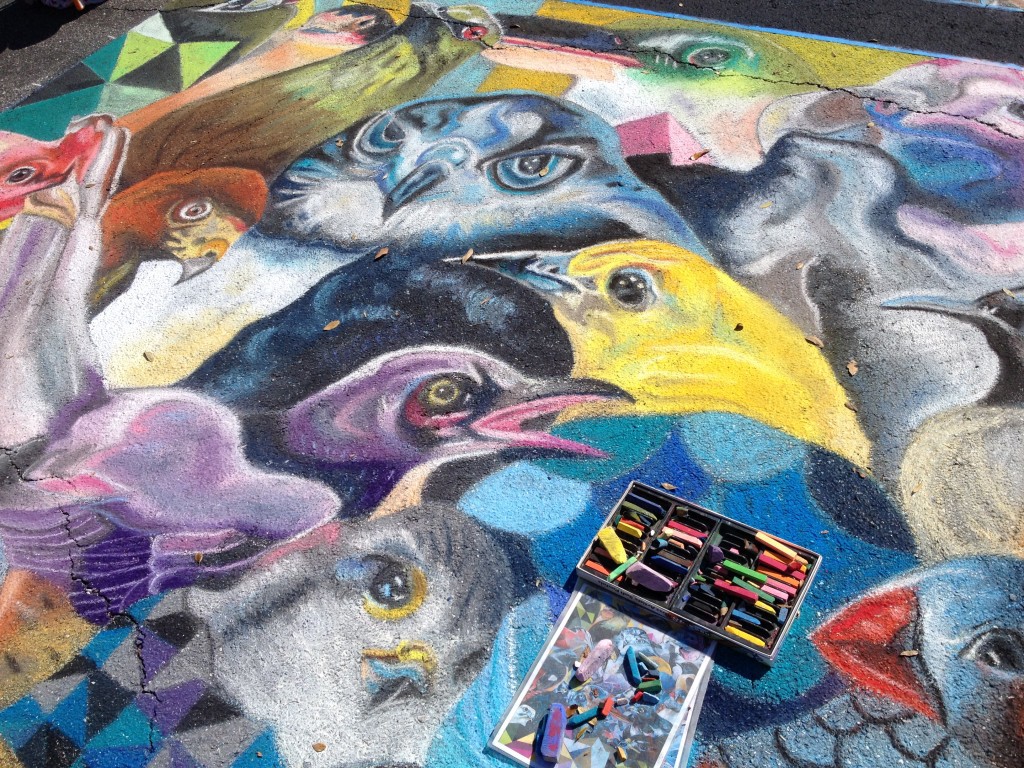 Katie Bush is an artist born and raised in Atlanta, GA. She received both her BFA and MAEd in Art Education. She began chalking in 2013 and has won multiple awards for her creations. In 2015, she became a freelance chalk artist and launched Aqua Aura Chalk Designs, where she can be hired for street paintings, hands-on chalk demos, chalks for retail spaces and corporate events, restaurant menus, and more. In her spare time, she loves to practice yoga, skydive, travel, and cook vegan food.  http://www.atlantachalkartist.com/
Sharyn Chan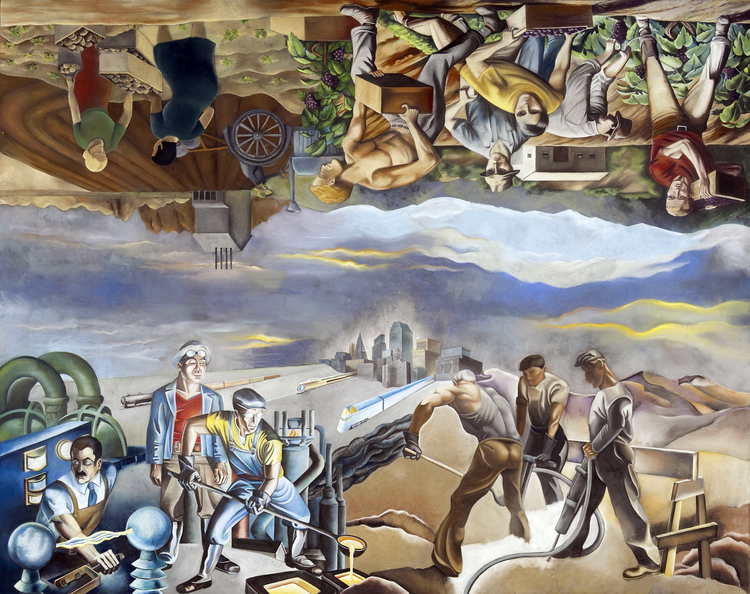 Sharyn Chan Namnath is a unique blend of scientist, artist, hip-hop dancer, and a motorcycle racer. Currently she works as a street artist and hip hop dance instructor as well as a government contract project manager. She has always loved art, but her career path took a different turn in college where she graduated with a computer science degree and stayed in that field for 30+ years. She dabbled in the artistic side of computers diving into Photoshop and graphic arts on the side, but, it was not until she met world-class street painter Tracy Lee Stum in 2001 that she learned about the ancient art form of street painting. Rekindling her passion for art, Sharyn began street painting in her hometown of Santa Barbara and has traveled all over the world with Tracy street painting to her heart's content.  http://www.sharynchanart.com
Maria Mendoza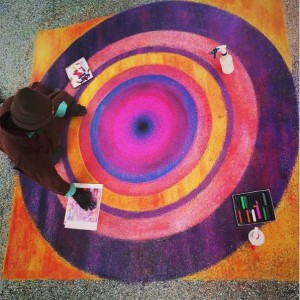 Maria Mendoza was born in Miami, Florida in 1987 and is a multidisciplinary artist based in Baltimore, Maryland. She earned a BFA from the Maryland Institute College of Art. Maria's work combines painting, printmaking, paper-engineering, pattern design and performance art. Her current work, "Transcentricity" takes on the form of multi-layered concentric circles constructed, cut and collaged from her original paintings.  She is influenced by astronomy, ritual, material construction, surface design, and the bold risk-taking and commitment involved in aerial acrobatics. Maria's work has been exhibited in Miami, Baltimore and Washington, D.C.
Daniel Stuelpnagel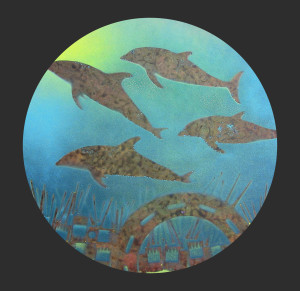 Daniel Stuelpnagel has participated in more than 100 exhibitions from coast to coast, primarily involving geometric abstractions and spectacular portrayals of the Aquasphere.
TOVEN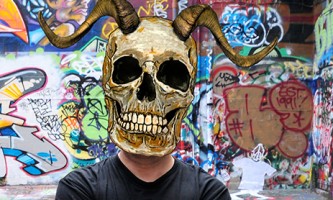 TOVEN is a Baltimore native who began writing graffiti at age 15. He moved to New York City to attend NYU where he discovered the wider world of street art of downtown Manhattan. He has brought the influences of graffiti, street art, and illustration back to Baltimore where he divides his time between art on the streets and street inspired art in galleries.
Alex Fine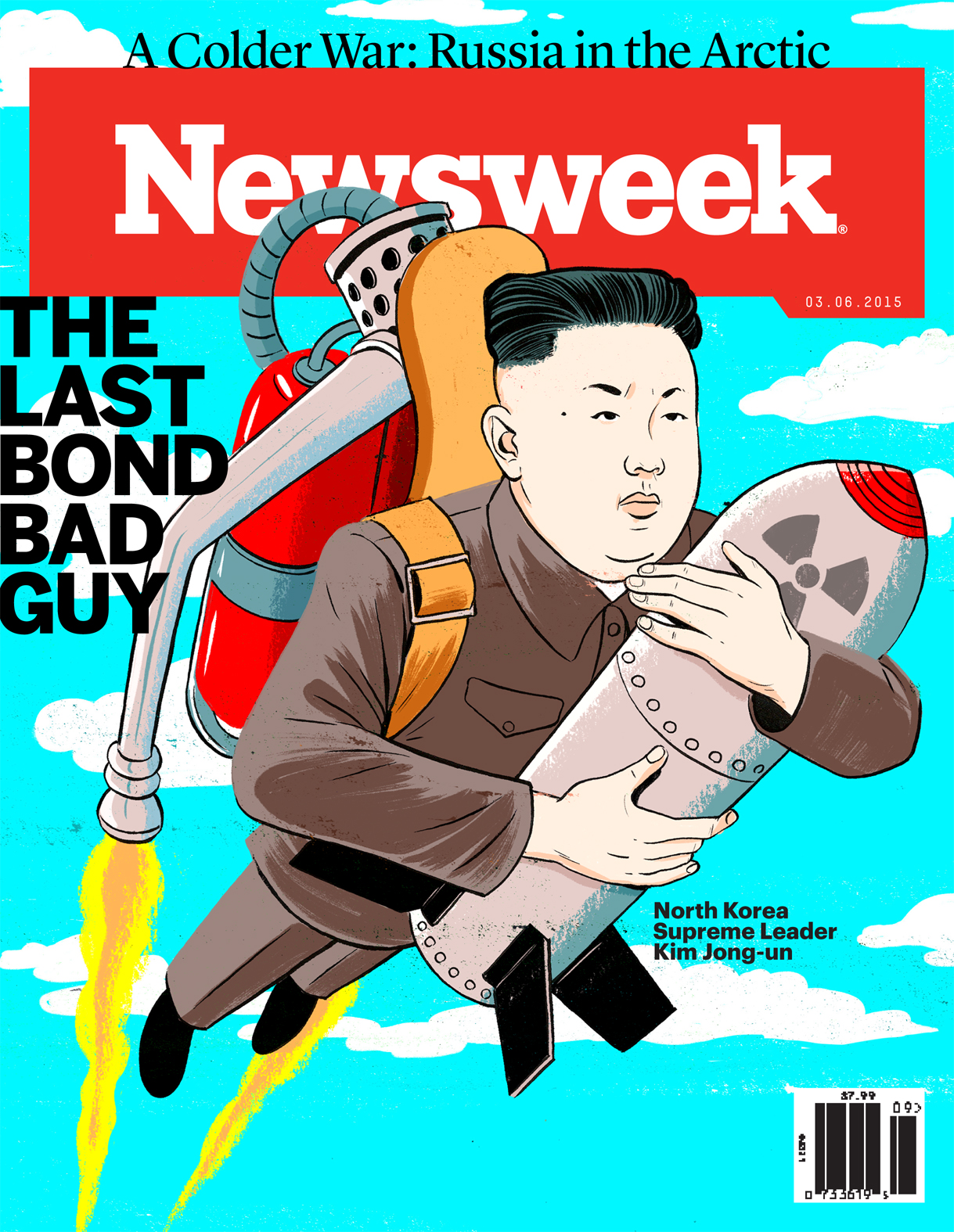 Alex Fine was born and raised in the suburbs of Washington, D.C. Upon graduating from MICA in 2004, he decided to stay in Baltimore where today he lives and works as a freelance illustrator. Alex's clients include Time Magazine, Newsweek, WIRED, Boston Globe, Washington Post, The Hollywood Reporter, The New York Observer, and he has a weekly column that he illustrates for the Baltimore City Paper. His style reflects influences of vintage comic books, 90's rock posters, and various eras of editorial illustration.  alexfine.com
Chloe Elswick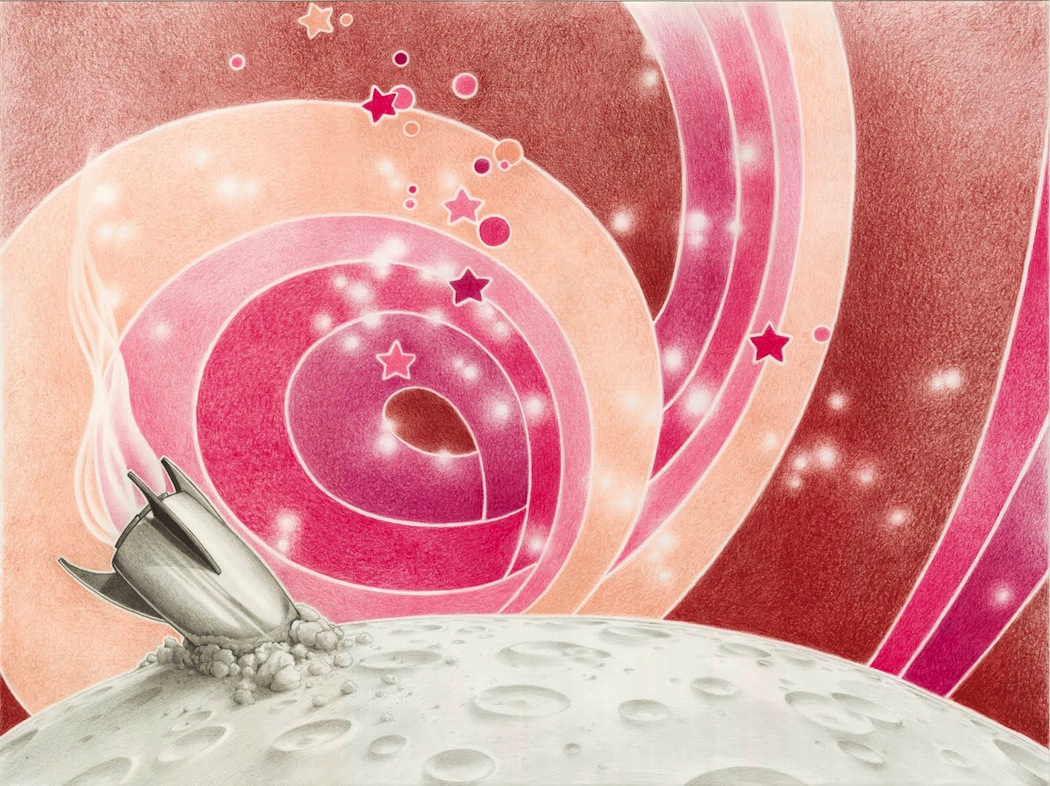 Chloe Elswick was raised in the DC area and moved to Baltimore in 2000 to attend MICA, where she mainly studied drawing and photography. Since graduating, she has done architectural model building, sign painting, CAD drafting, laser cutting, chalkboard art, and some unplanned woodworking. Her art is influenced by astronomy, architecture, planetary science, and shiny things.
Sebastian Sears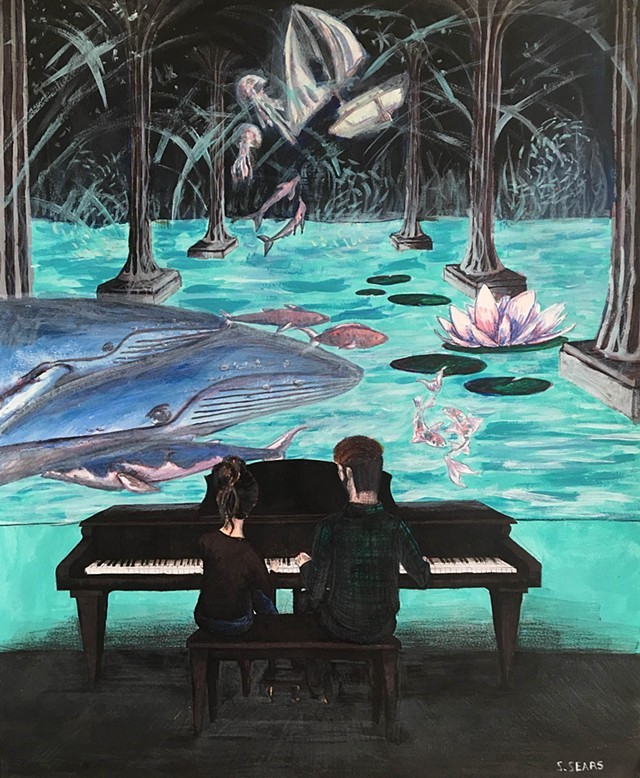 Sebastian Sears is a Baltimore-based artist focusing on themes of disassociation, technological sentience and the unlikeliness of being. In addition to creating several murals, his artwork has also been exhibited at Maryland Art Place, the Creative Alliance and Gallery 788. Sears is also a frequent contributor to local theater productions.
Keri Lounge Lombardo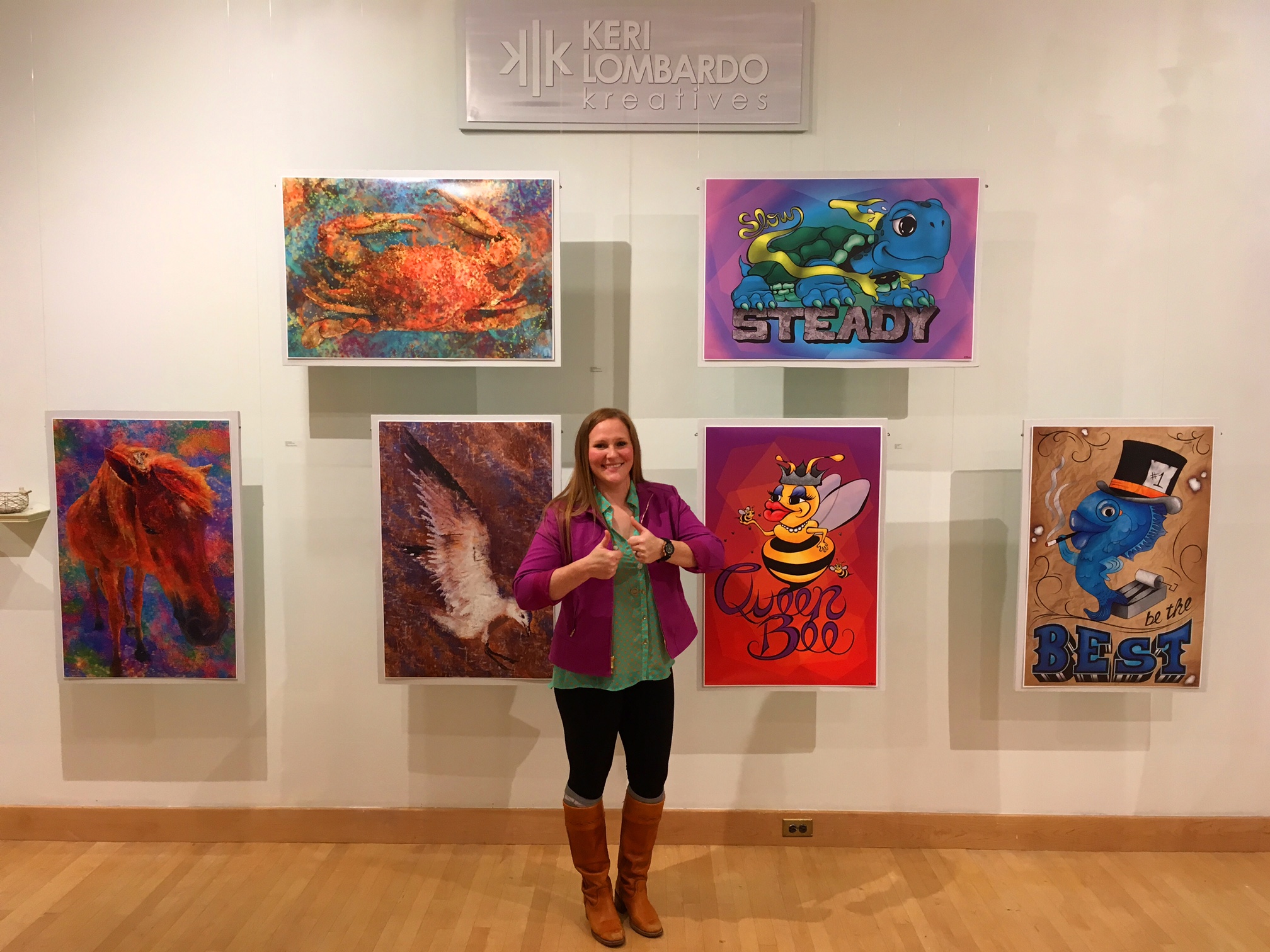 Keri Lounge Lombardo  is a graphic designer, painter, and street artist who lives and works on the Eastern Shore of Maryland. Born in Baltimore and raised in Pasadena, she is a local Maryland artist who is influenced by the shore life and eclectic happenings in the city of this beautiful state. After receiving a scholarship to play softball at the University of Maryland College Park, she graduated with a B.S. in Kinesiology. Studying movement of the body furthered her understanding of illustration and encouraged her to move forward with her art career. She completed a B.A. from Salisbury University with a concentration in Graphic Design where she received a number of awards. Currently, she designs for an apparel company while also exhibiting her colorful works of art in galleries on the Eastern Shore.
To view more of Keri's work please visit, www.klkreatives.com.
Andrea Carlson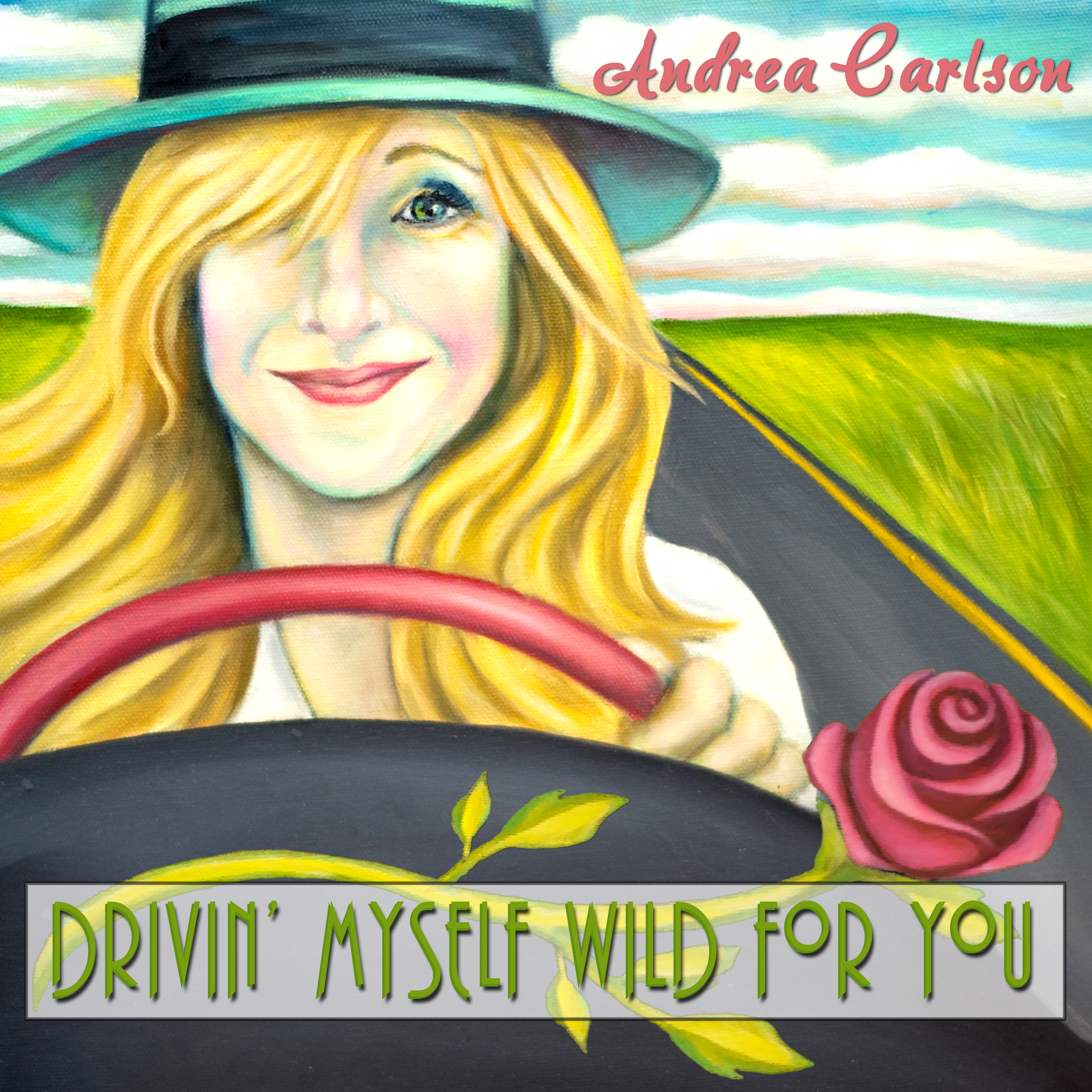 Before Andrea Carlson earned her degree in classical guitar at the American Conservatory of Music in Chicago, she was a fine art major at Columbia College (Chicago). She has continued to create art in a wide variety of mediums — sculpture, painting, pottery, and drawing. Her favorite souvenirs are now the plein air "sketches" she does in between concerts and music making. Her growing sketchbook contains street scenes of many European cites and towns, as well as her current home town, Doylestown, Pennsylvania.
Andrea is an award winning composer, guitarist, singer, and band leader of "Andrea Carlson and the Love Police!" She began touring Europe with her music in 2013 and has changed her itinerary each year, to include Paris, Lyon, Amsterdam, Brussels, Geneva, Berlin, Prague, Bratislava, Florence, Barcelona, London, and Edinburgh. This August she will perform for the 4th consecutive year in the Edinburgh Fringe Festival, at "The Jazz Bar" for a 5 night engagement, and at other venues in the city!
The stars will align for her in Baltimore when she performs with her "Love Police" at "Cabaret at Germano's" in the heart of Little Italy on Friday, September
 8th
.  Andrea will showcase her chalk painting by day on Saturday and Sunday, 
September 9th and 10th.
Graham Curtis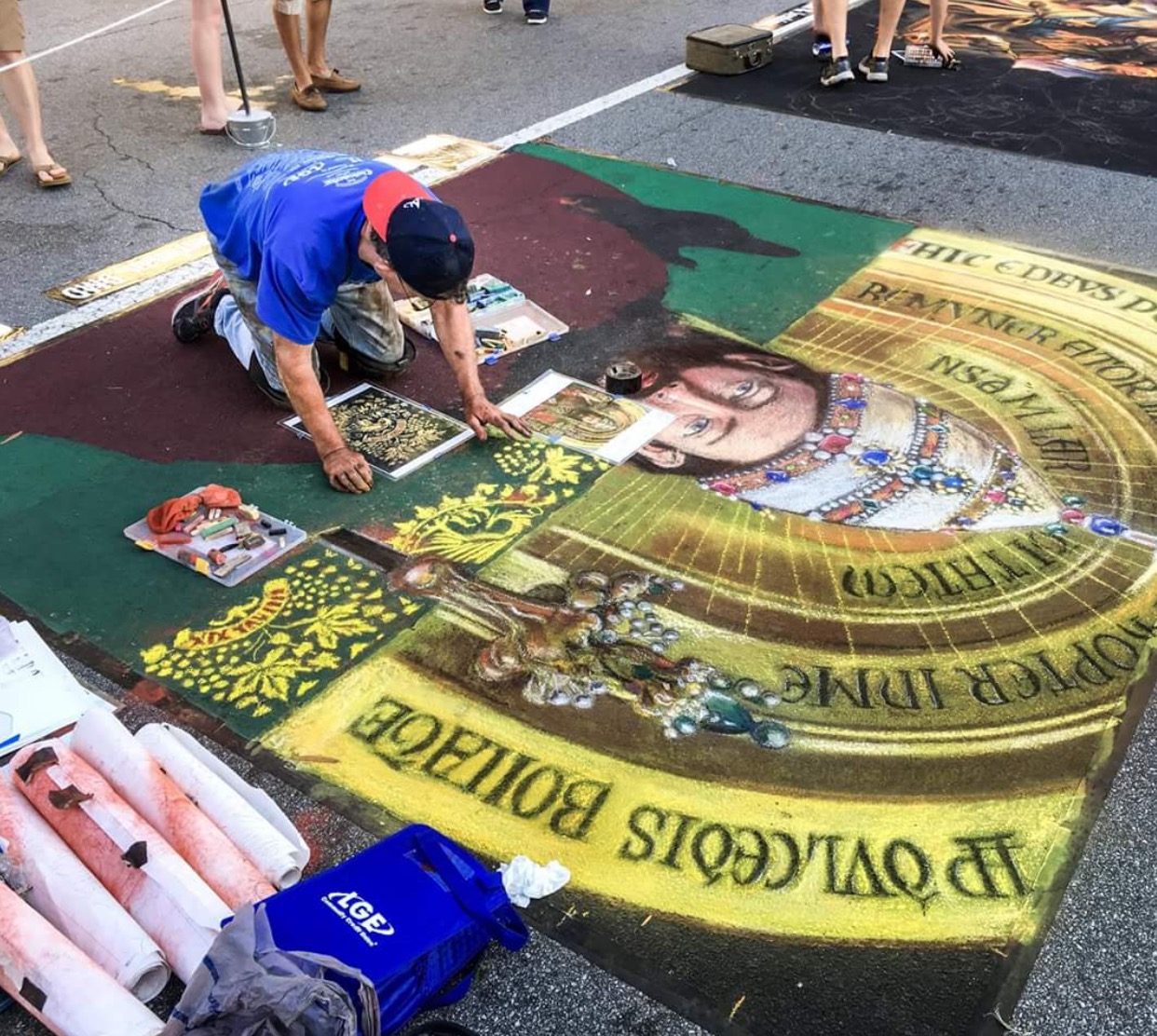 Concordia Preparatory School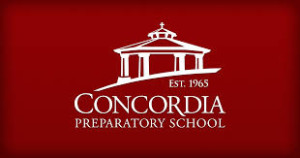 Concordia Preparatory School strives to  inspire its students to find broad, personal, unique and interdisciplinary solutions to whatever problem they choose to attack. "We want our students to get their hands dirty…" and we can't think of a more fitting project than the art of the Madonnari.  The team of students who will participate include Hannah Beasman, Abby Stephens, Cat Regan, Victoria Dodge, Jonathan Davis, Jamyah Foreman, Jarrod Connell and Login Corbin under the direction of Megan Chojnacki.
Baltimore School for the Arts

The BSA Visual Arts curriculum, under the direction of Archie Veale,  is designed to provide students with a strong foundation in basic skills and techniques as well as the means with which to think and talk about art. In the first two years students are introduced to a wide variety of media and techniques as well as the dynamics of composition. Upper level students build upon skills and techniques learned previously and are encouraged to experiment and discover a vehicle for personal expression.  Students gain a strong sense of professionalism through experiences in the school and in the art community, locally and regionally and acquire the skills necessary to produce portfolios aimed at gaining access to scholarships and the best art colleges.