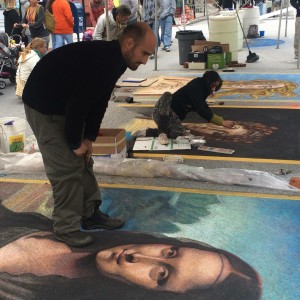 EVENT SUMMARY.  This 4-day cultural event will showcase elaborate chalk paintings created by artists directly on the streets of Little Italy. The event will be enhanced with Italian food, wine, music, theater and dance in a celebration of the contemporary renaissance of Baltimore's historic Italian neighborhood.
Our model for this event originated in Italy in a tradition that dates back to the 16th century — the art of street painting. Historically, i madonnari were wandering artists in Italy who traveled village to village to earn their livelihood at various festivals and on various holy days. The artists often depicted religious images in their paintings, thus earning their name. Such a festival was first introduced in America in Santa Barbara, California in the 1980s. Today, street painters create breathtaking traditional and expressionistic compositions using the street as their canvas and chalk pastels as their medium.
EVENT PROGRAM.  Artists will create chalk paintings on Little Italy's South High Street for the three event days (September 7-10). The street will come alive as it is transformed into fine works of art. This year, the  theme of the art is "Respect."
Professional and student artists will become i madonnari for the celebration. Little Italy proudly hosts  Madonnari from around the globe, including  ToMo, Flavio Coppola, Francesca Arsi, Carlos Alberto Garcia, Andrea Starinieri, Ketty Grossi, Ever Galvez and  Jennifer Chapparo and Baltimore's own Maestro Madonnaro, Michael Kirby.  Anthony Cappetto, known for combining 4d technology with  3d art, will also be featured among the exciting roster of participating visual artists. Artists are welcome to participate in a juried competition.
Local, national and international performing artists will participate in a series of indoor and outdoor events sponsored by the Little Italy restaurants.    Laura Norris, founder and instructor of Mando for Kids, will lead her young Baltimore City musicians as they play Italian and contemporary music on bowlback mandolins.  These emerging artists will be followed by the extraordinary musicians who comprise the Baltimore Mandolin Quartet.  The Park School a cappella ensembles, The Eightnotes and The Vocal Chords will perform on S. High Street. Our roving opera singers, Soprano Kimberly Christie and Baritone Jason Buckwalter will also perform in and outside the restaurants. Festival attendees will also enjoy bluegrass, folk, New Orleans and gypsy jazz and world music performances along S. High Street.  Confirmed performing artists include Ken and Brad Kolodner Quartet, Stone Hill All-Stars, Kings of Crownsville, Fireside Collective and Andrea Carlson.
The PNC Children's Chalk Center, a family Madonnari arts area, will be the site of children's art and free chalk will be provided to young artists who will be able to draw on the street alongside the masters.
This year the Festival will host a speakers series with topics including the First Amendment and the arts, copyright protection for artists, the historical and contemporary significance of the Madonnari artists, and a workshop for artists new to the street painting genre on 3D chalk drawing at the KOHLER Signature Store that will also serve as the Information Center for artists and attendees and the location where official Festival merchandise will be sold.
All of the foregoing events are free and open to the public.
Other musical events will include a dinner and performance by internationally acclaimed master mandolinist, Carlo Aonzo and his Trio at the Little Italy Madonnari Arts Festival Kickoff Cabaret the evening of September 7, sponsored by the Associated Italian American Charities and Columbus Celebrations, Inc. at the Cabaret at Germano's in Little Italy. Ticket proceeds will benefit the funding of the Columbus Wine Festival and Madonnari Arts Festival.  Carlo will also graciously appear on Saturday with the Mando Kids along the art footprint.  Festival attendees will also be treated to a live rooftop concert above Germano's PIATTINI by bluegrass sensation, Fireside Collective on Sunday after the announcement of the winners of the art competition. A comprehensive schedule of events will be published on this website and posted in the Little Italy restaurants.
The Festival is made possible by the generous assistance of the members of the Associated Italian American Charities of Maryland and Columbus Celebrations, Inc.  Major sponsors include the Little Italy restaurants and other local businesses, KOHLER Signature Store and Thos Somerville Co., PNC Bank, BGE, an Excelon Company, AvalonBay Communities, Workshop Development, Baltimore Magazine, MidAtlantic Media, LLC (Baltimore Style, Jewish Times, Baltimore's Child), JMORE, , Kaiser Permanente, Flying Dog Brewery,  Banfi Vintners Foundation, VOGA Italia, Folonari Wines, Shanklin Media and the Baltimore LED Art Billboard, the Promotion Center for Little Italy, Baltimore, Miles & Stockbridge, and The Walters Art Museum, Hyatt Place Baltimore, Fairfield Inn and Suites Baltimore/Inner Harbor, Days Inn, Royal Sonesta Harbor Court, Hotel Indigo, Pier V Hotel, Lord Baltimore Hotel, Hilton Garden Inn Baltimore Inner Harbor are the Official Festival Hotel Sponsors. The Parking Authority of Baltimore City is the Official Parking Sponsor.
OUR MISSION.  The mission of the festival is to showcase the exceptional talent, camaraderie and creative spirit of Baltimore.  The heritage of the neighborhood of Little Italy is celebrated and artists with new ideas are welcomed in this forward thinking creative community with its enduring traditions.
EVENT DATES & HOURS
Friday, September 7, 8 and 9,  2018
11am – 10 pm
Monday, September 10, 2018  – S. High Street will remain closed to vehicular traffic and visitors will be able to tour the art installations and enjoy al fresco dining all day and evening.