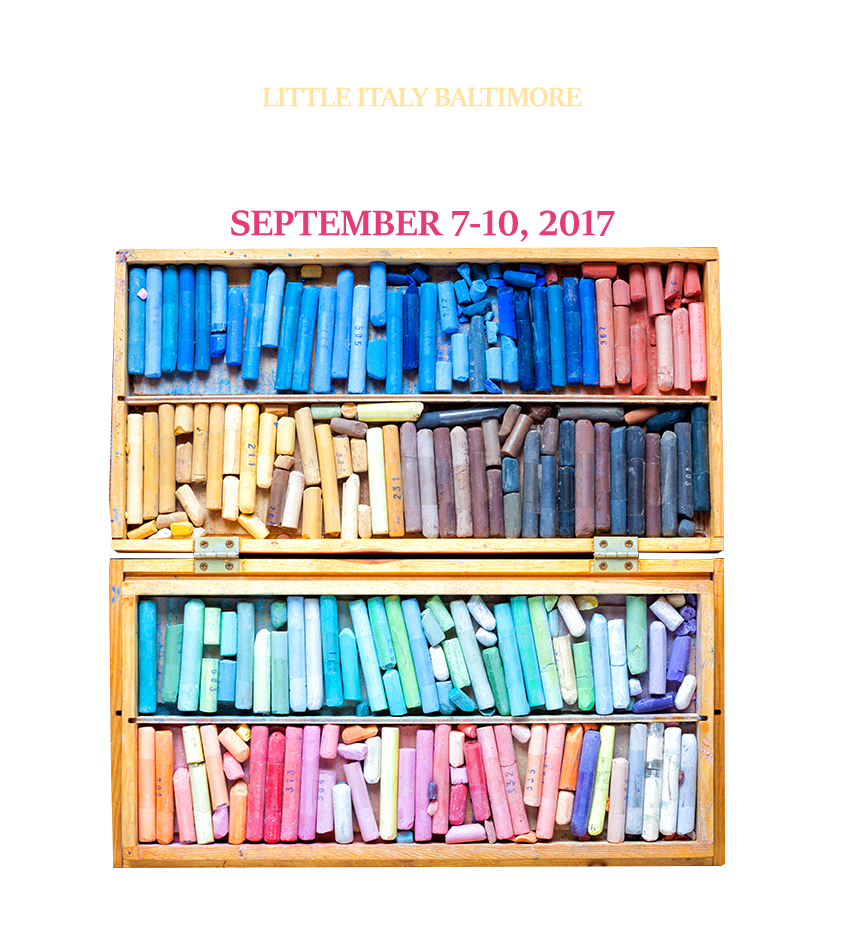 COUNTDOWN TO THE FESTIVAL. Raise a glass to Freedom!  Be a part of the creative process at the Third Annual Little Italy Baltimore Madonnari Arts Festival as 50 visual artists and 50 performing artists give vision and voice to this year's theme, Freedom.  The chalk has arrived, the press and social media are in motion, the banners are being hung, and we have an enthusiastic group of volunteers from the community of Little Italy.
Festivities begin on Thursday, September 7 as our out of town artists arrive in Baltimore.   Representatives of the Little Italy Restaurants and the Madonnari Arts Festival Planning Committee will be on hand at the Pratt Street Market from 10am – 2 pm.  The artists will begin chalking on S. High Street on Friday, September 8 and the Festival officially opens to the public at 5pm on Friday.  Follow us  #LIMadonnari, #LittleItaly, Little Italy Madonnari Arts Festival  @littleitalymadonnari
A TASTE OF LITTLE ITALY, A FUNDRAISER FOR THE 2017 LITTLE ITALY BALTIMORE MADONNARI ARTS FESTIVAL, was a great success! An evening of exquisite food, wine and beer, music and art and camaraderie with our artists, sponsors, organizers, volunteers, and extended Little Italy community at the stunning KOHLER Signature Store.  Gorgeous music by Dolce Duo (mandolinist Joel Michael-Schwartz and guitarist Christie Macdonald) filled the venue.  https://www.baltimoresnap.com/2017/01/31/a-taste-of-little-italy-little-italy-baltimore-madonnari-arts-festival/
CONGRATULATIONS TO ALL OF THE FABULOUS ARTISTS WHO PARTICIPATED IN THE 2016 FESTIVAL!  You distinguished yourselves with exquisite street paintings and a spirit that brought new life and beauty to our Little Italy.  We also thank the wonderful performing artists, culinary artists, the judges, sponsors, the members of Columbus Celebrations, Inc. and the Associated Italian American Charities of Maryland, the City of Baltimore employees, our press and promotional partners, our planning committee members and volunteers who contributed to our glorious Second Annual Little Italy Baltimore Madonnari Arts Festival!   Grazie!  You are each an honored member of our extended Little Italy community!
The winners of the competition are as follows:
Classical:  First Place – ToMo, Second Place – Andrea Starinieri, Third Place – Flavio Coppola
Contemporary: First Place – Carlos Alberto Garcia, Second Place – Jennifer Chaparro and Mercedes Chaparro, Third Place – K.C. Linn
People's Choice: Carlos Alberto Garcia
Congratulations to Matteo Appignani, our First Place winner and winner of the People's Choice award, to Katie Better, our Second Place winner, and Heejun Ahn and John Gingrich, our Third Place winners.
Thank you to the residents of Little Italy, to the owners,  operators and staff of the Little Italy restaurants and businesses, to our organizers, our sponsors, our volunteers, our judges, members of the press, city officials and most of all, to the artists who have changed Little Italy forever with their creative energy and enthusiasm.  The beautiful chalk drawings may fade but the memories of this exquisite event and the knowledge that we can work together as a community to stage a world class arts festival is a lasting gift.  This year's festival was the beginning of a new tradition in Baltimore…Get ready for the Little Italy Baltimore Madonnari Arts Festival 2016!
Cyd and Germano
October 12, 2015