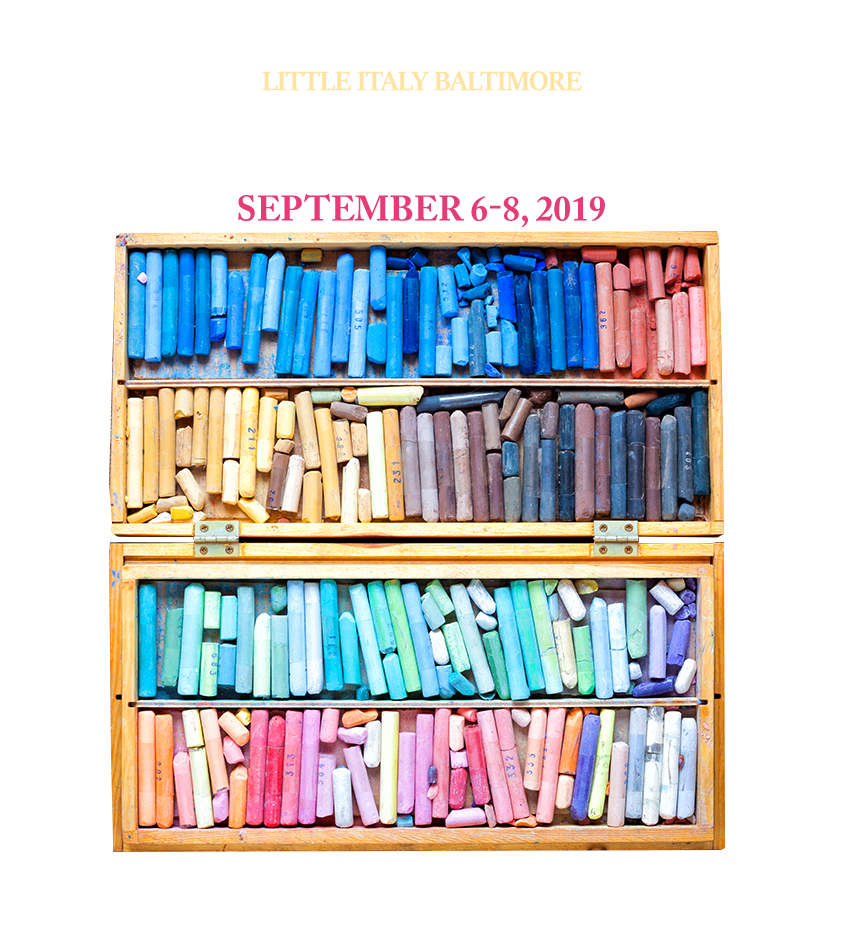 Little Italy Baltimore Madonnari Arts Festival 2018
MOTHER NATURE HAD A TANTRUM AND WE HAD A FESTIVAL!  As every respectable street painting chalk artist knows, a little rain can't wash away memories!
The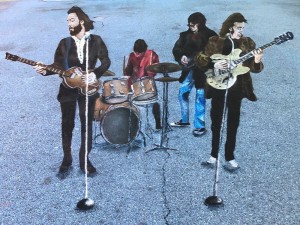 challenging Little Italy Baltimore Madonnari  Arts Festival 2018 was an overwhelming success on so many levels– the creativity and camaraderie of our artists, the kindness and enthusiasm of our Little Italy community and thanks to the virtual world of social media, the incredible art that was completed both on the street and in the studio— yes, the Little Italy Restaurants became working artist studios on Sunday to allow our talented group to express themselves— the art lives on!   You can see the art and the process  on Facebook and Instagram and on this website in our 2018 Media Gallery. Please continue to send us your best pics and we will display them.. Enjoy the newest masterpiece of The Chalk Guys, Hector Diaz and Ken Mullen, the definitive street painting of the
1069 Rooftop Beatles Concert, completed at our Festival!
Thank you to all who participated for your dedication, resilience and resourcefulness, for your commitment to the arts!
THE WINNER OF THE MADONNARI GRAND BARREL RAFFLE IS…RAPHAEL SANTINI!
Thank you Mary Ann Campanella, resident of Little Italy,  for selecting the winning raffle ticket!  Our sincere gratitude to all who participated in the raffle and the
Little Italy Madonnari Arts Festival!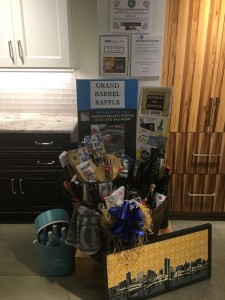 The MADONNARI GRAND BARREL RAFFLE  included more than $2500 of merchandise and $550 in gift certificates to Little Italy Restaurants, a $150 gift certificate to KOHLER Signature Store, guest passes to 25 major Baltimore attractions, including the American Visionary Arts Museum, the National Aquarium, the Maryland Science Center, a private tour for 10 to the Union Craft Brewery and Happy Hour, jeraboams of Banfi Chianti, Folonari Chianti, Ca Montini Pinot Grigio, a hatbox filled with Gemma Di Luna Pinot Grigio, VOGA Vodka, books, CDs, art by Barton, pasta, culinary equipment and more!  Thank you to our generous sponsors!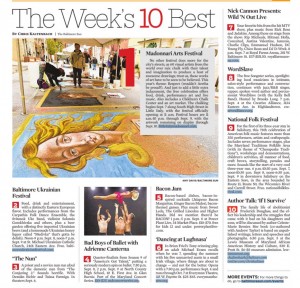 COUNTDOWN TO THE FESTIVAL. "R-E-S-P-E-C-T."  (RIP Aretha Franklin.) Be a part of the creative process at the  Little Italy Baltimore Madonnari Arts Festival 2018 as 60 visual artists and 100 performing artists give vision and voice to this year's theme, Respect.  The chalk has arrived, the press and social media are in motion, the banners are  hung, and we have an enthusiastic group of volunteers from the community of Little Italy.
Festivities begin on Thursday, September 6 as our out of town artists arrive in Baltimore.   Representatives of the Little Italy Restaurants and the Madonnari Arts Festival Planning Committee will be on hand at the Pratt Street Market from 10am – 2 pm.  Also on Thursday, time tba, chalk artist Naomi Haverland will create a chalk masterpiece at the American Visionary Art Museum, our satellite location, where Naomi will be the Resident Artist while in Baltimore for the Festival.  The artists will begin chalking on S. High Street on Friday, September 7 and the Festival officially opens to the public at 11am on Friday.   The Little Italy Baltimore Madonnari Arts Festival 2018 has been selected by Governor Hogan and the Maryland Office of Tourism to be a headliner for the State's Maryland Summer of Music initiative!    https://www.visitmaryland.org/summerofmusic Follow us  #LIMadonnari, #LittleItaly, #marylandmusic, #MDinfocus,  Little Italy Madonnari Arts Festival  @littleitalymadonnari
Thank you Rhea Feikin and Maryland Public Television for this great MPT Maryland Minute!
Read this terrific article by Kate Orgera for Culture Trip!
https://theculturetrip.com/north-america/usa/maryland/articles/baltimores-chalk-art-festival-celebrates-its-italian-community/
Little Italy Baltimore Madonnari Arts Festival 2017
WHAT AN INCREDIBLE WEEKEND! The Little Italy Madonnari Arts Festival 2017 exceeded all expectations in terms of quality and execution of art, personal expression of our desperate love of freedom, the emotional connection with the Festival attendees and the very special camaraderie of our artists–Thank You. Grazie. Gracias. Domo Arigatou Gozaimasu.  Our Little Italy community and the City of Baltimore are forever changed for the good because of the brilliance of our artists and all of you who visited us in Little Italy to enjoy the art, the music, the delicious food and libations and the spirit of our community!
All of the art was extraordinary and the full gallery of photos  is now posted.  Prizes were awarded as follows:
Contemporary Category
Ketty Grossi  for "Black Mamba"- 1st
Ever Galvez  for "Wild Horses"- 2nd
CarlosAlberto GH  for "Freedom to live without fear"- 3rd
Erik Greenawalt for "Cap. Harvey West, Our Guardian of Freedom"- 3rd
KC Linn for her rendition of the Shepard Fairey posters from the 2017 Women's March on Washington – Honorable Mention and People's Choice
Classical Category
Katie Better for "Harriet Tubman" – 1st
Tomoteru "ToMo" Saito for "Butterfly Fairy" – 2nd
Dave and Shelley Brenner for "The Birth of the Flag"- 3rd
Francesca Arsi for the "Renaissance Woman"- Honorable Mention
High School Awards
Concordia Prep for "Modern Madonnari" – Classical
Baltimore School for the Arts for "We must fight for our freedoms"- Contemporary
A warm thank you to our judges, Master Street Artist Michael Kirby, the wonderful Denise Koch, WJZ-TV anchor and reporter, and Christine Sciacca, Associate Curator of the Walters Museum.
Little Italy Baltimore Madonnari  Arts Festival 2016
CONGRATULATIONS TO ALL OF THE FABULOUS ARTISTS WHO PARTICIPATED IN THE 2016 FESTIVAL!  You distinguished yourselves with exquisite street paintings and a spirit that brought new life and beauty to our Little Italy.  We also thank the wonderful performing artists, culinary artists, the judges, sponsors, the members of Columbus Celebrations, Inc. and the Associated Italian American Charities of Maryland, the City of Baltimore employees, our press and promotional partners, our planning committee members and volunteers who contributed to our glorious Second Annual Little Italy Baltimore Madonnari Arts Festival!   Grazie!  You are each an honored member of our extended Little Italy community!
The winners of the competition are as follows:
Classical:  First Place – ToMo, Second Place – Andrea Starinieri, Third Place – Flavio Coppola
Contemporary: First Place – Carlos Alberto Garcia, Second Place – Jennifer Chaparro and Mercedes Chaparro, Third Place – K.C. Linn
People's Choice: Carlos Alberto Garcia
Little Italy Baltimore Madonnari  Arts Festival 2015
Congratulations to Matteo Appignani, our First Place winner and winner of the People's Choice award, to Katie Better, our Second Place winner, and Heejun Ahn and John Gingrich, our Third Place winners.
Thank you to the residents of Little Italy, to the owners,  operators and staff of the Little Italy restaurants and businesses, to our organizers, our sponsors, our volunteers, our judges, members of the press, city officials and most of all, to the artists who have changed Little Italy forever with their creative energy and enthusiasm.  The beautiful chalk drawings may fade but the memories of this exquisite event and the knowledge that we can work together as a community to stage a world class arts festival is a lasting gift.  This year's festival was the beginning of a new tradition in Baltimore…Get ready for the Little Italy Baltimore Madonnari Arts Festival 2016!
Cyd and Germano
October 12, 2015